It was only a matter of time before I combined two of my favorite things: smoked meat and meatballs. I haven't had a chance to smoke a brisket lately which means no burnt ends. This problem has led me to experiment with fill-ins such as chuck roast burnt ends and pork belly burnt ends. The second time I was mixing the pork belly burnt ends with the sauce it hit me, this method isn't too far removed from my spaghetti and meatballs. And BBQ meatballs were born.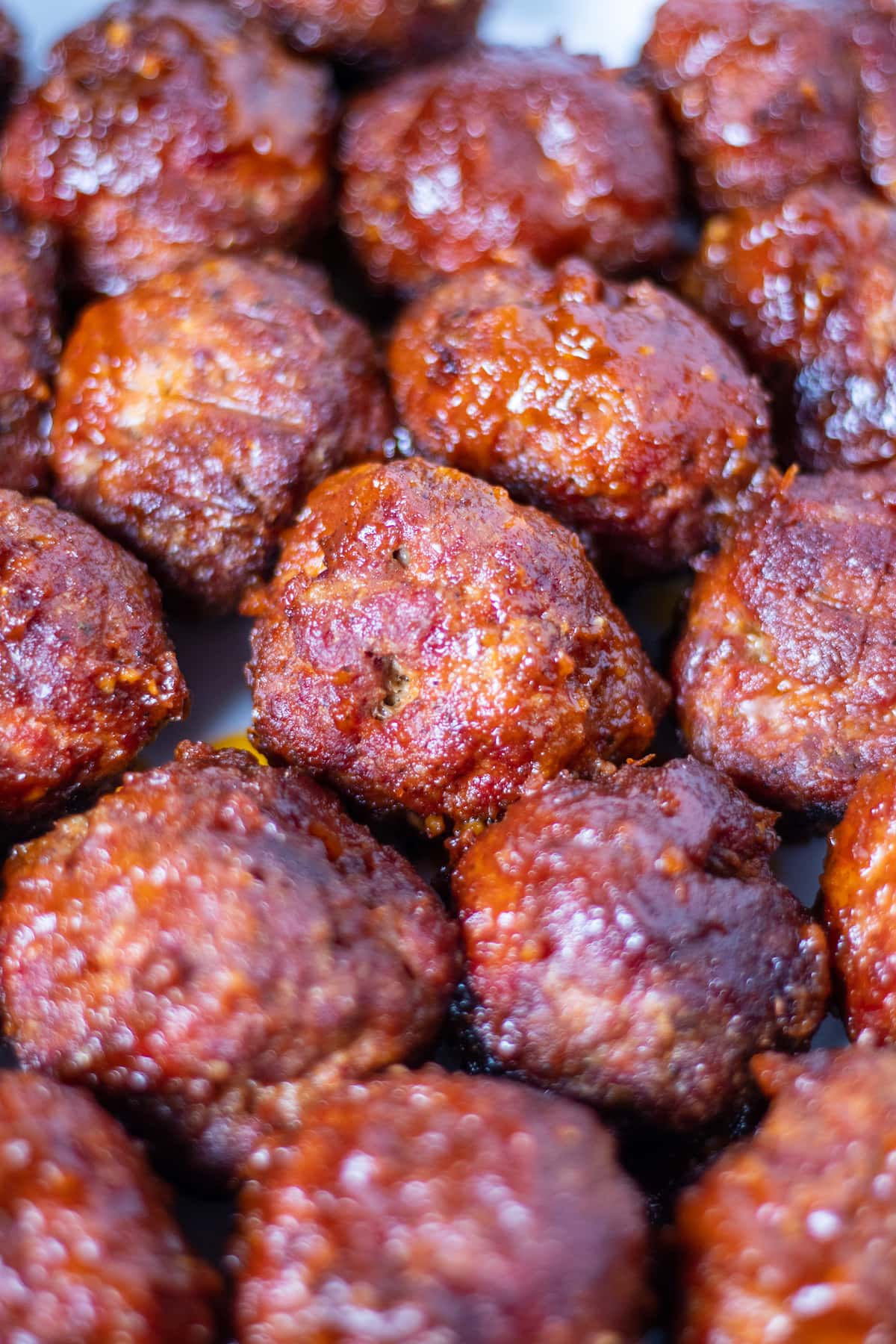 A smokey twist on a familiar favorite
BBQ meatballs start out like our Italian meatballs, but I downplay the Italian flavor and go for the bold flavors of chili powder and cumin. I also use ground pork instead of ground sausage to give the smoke more room to influence the flavor. Combine all your ingredients and combine well using your hands. This is a cold task, there's no way around that, but it's worth the sacrifice. Feel free to add more or less red pepper depending on your taste here.
Once you have your ingredients well-combined pull off chunks of your giant meatwad and begin rolling them into balls. This step goes better if you also listen to Willie Nelson's Roll Me Up and Smoke Me When I Die. I roll these a little larger than the Italian meatballs, about two ounces each, slightly larger than a golf ball. Once you roll each meatball place it on a wire rack that you can move directly to your smoker. I bought a cheap wire cooling rack at the grocery store for this purpose. If you don't have one you could use a disposable pan. I prefer the rack to something solid so the meatballs don't sit in the drippings.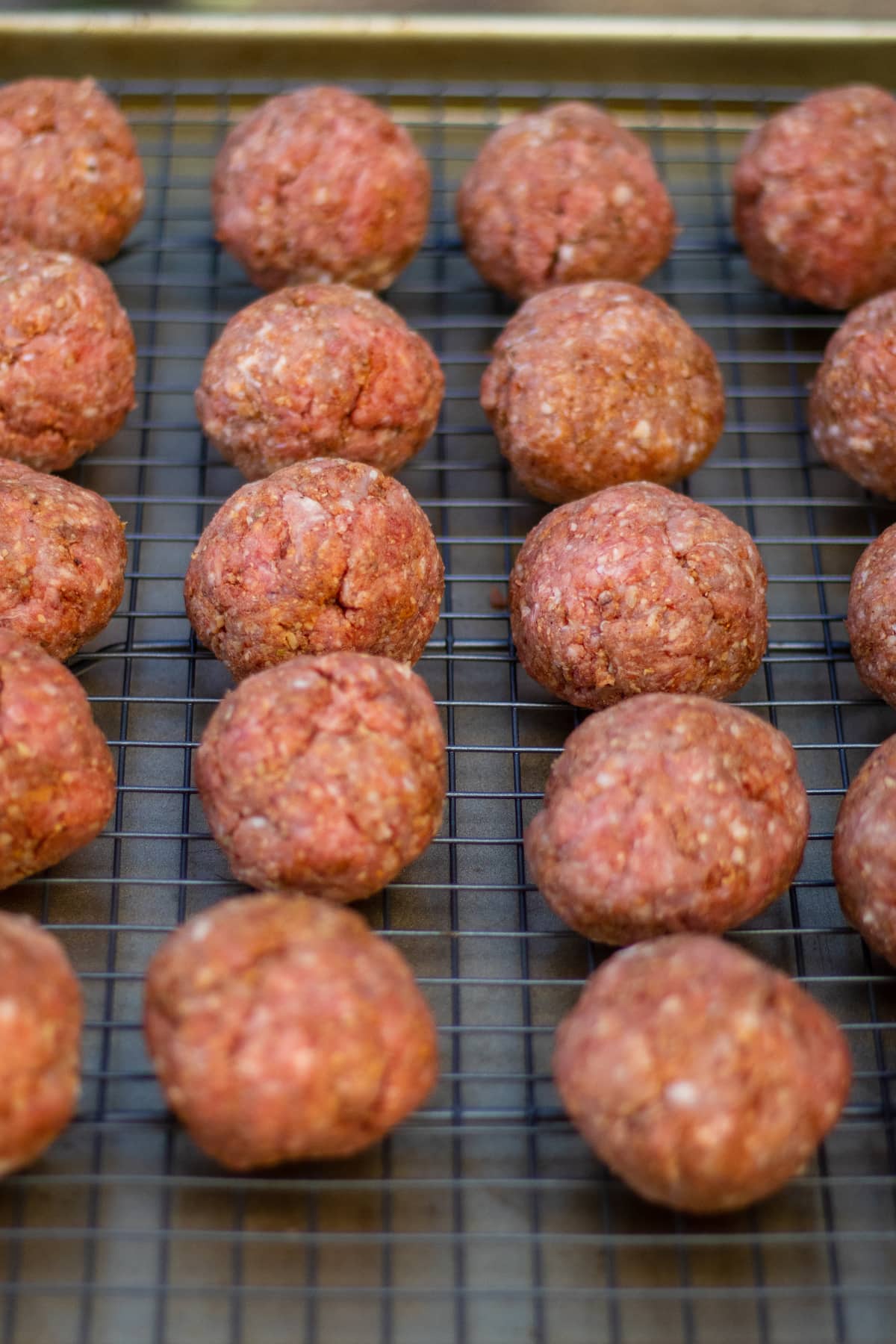 You can roll them ahead of time and put the meatballs in the fridge until you're ready to smoke them. This is especially helpful if you're serving these at a party and want to have this part done and cleaned up in advance of other kitchen tasks. I know if Lauren walked into the kitchen thirty minutes before a party and I was rolling meatballs she wouldn't be happy.
Roll 'em then smoke 'em
Now it's time to fire up your smoker. I use a Big Green Egg, but you should be able to make these on any smoker. Get your fire going and add your choice of smoke wood. Set your smoker up for indirect cooking and let the thick white smoke burn off and add these to your smoker when it reaches 225F. I like to use pecan for beef and prefer it here. My parents have several pecan trees and they never seem to stop dropping limbs so they bring me up some whenever they visit. Hickory or Apple would also work great on these.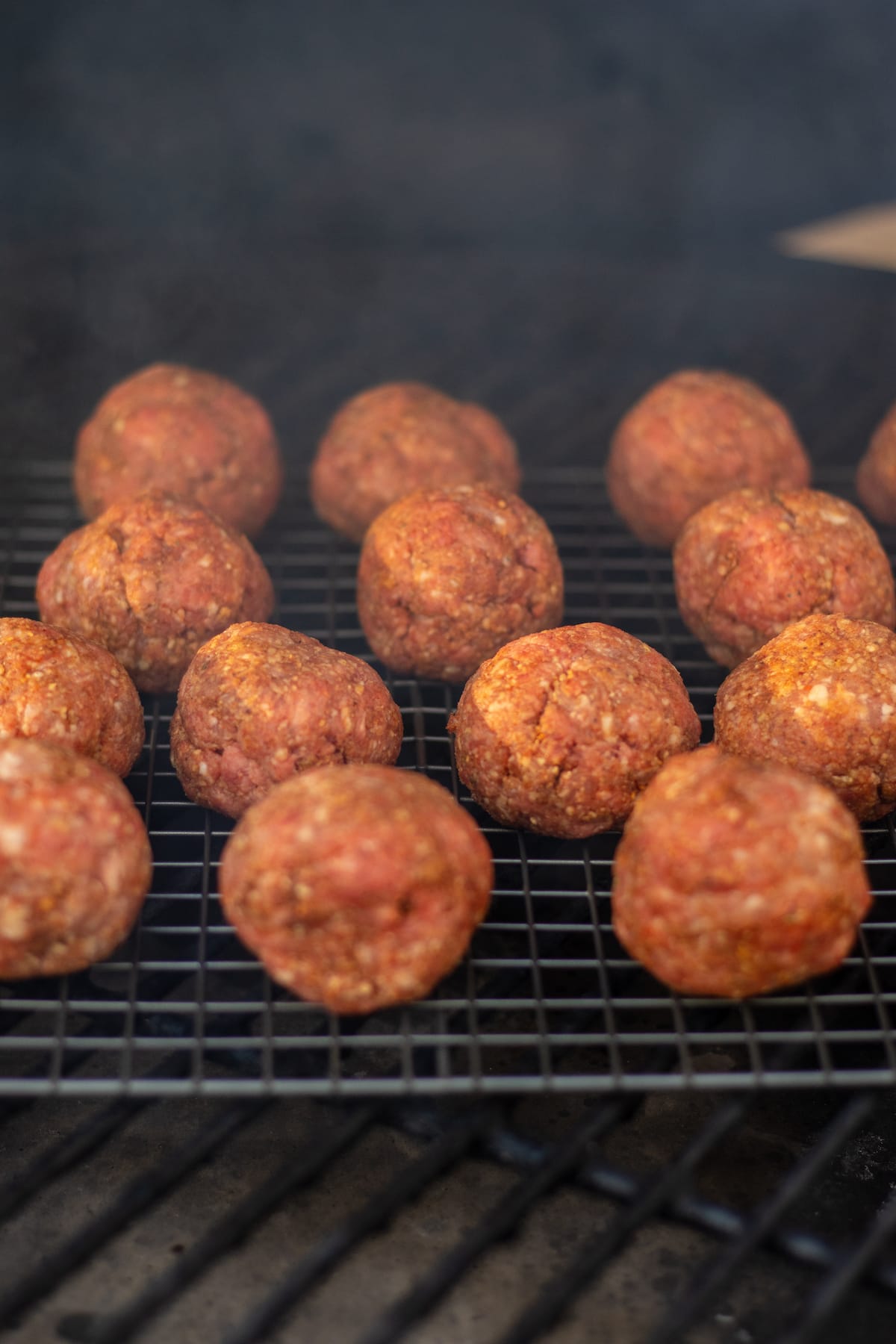 I place my wire rack directly on the cooking grate. Cook these for an hour keeping the temperature between 225 and 250F. If you don't want to sauce these take the internal temperature to make sure they're cooked through. If you're moving on to the sauce step, there's no need to check the temperature as there's more cooking coming.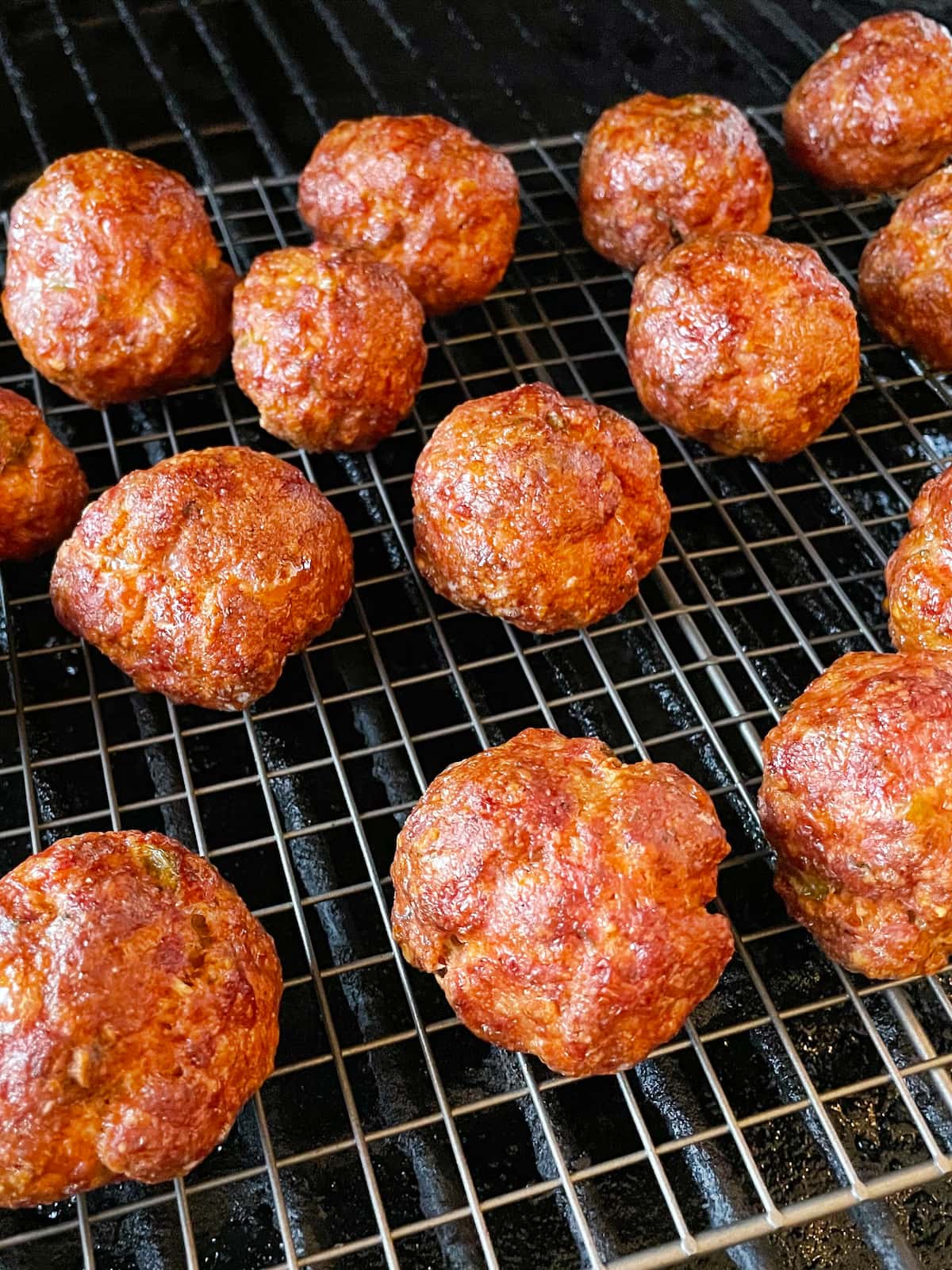 Time to get saucy
You could absolutely stop here and eat these dry, but since I was chasing some of the flavors of burnt ends I pushed on. The first time I made these took them off at this point and put them in a dutch oven and covered them in BBQ sauce. I then cooked them for another thirty minutes or so like you would Italian meatballs. They turned out great, but as soon as I put them in the pot I knew I had a better idea.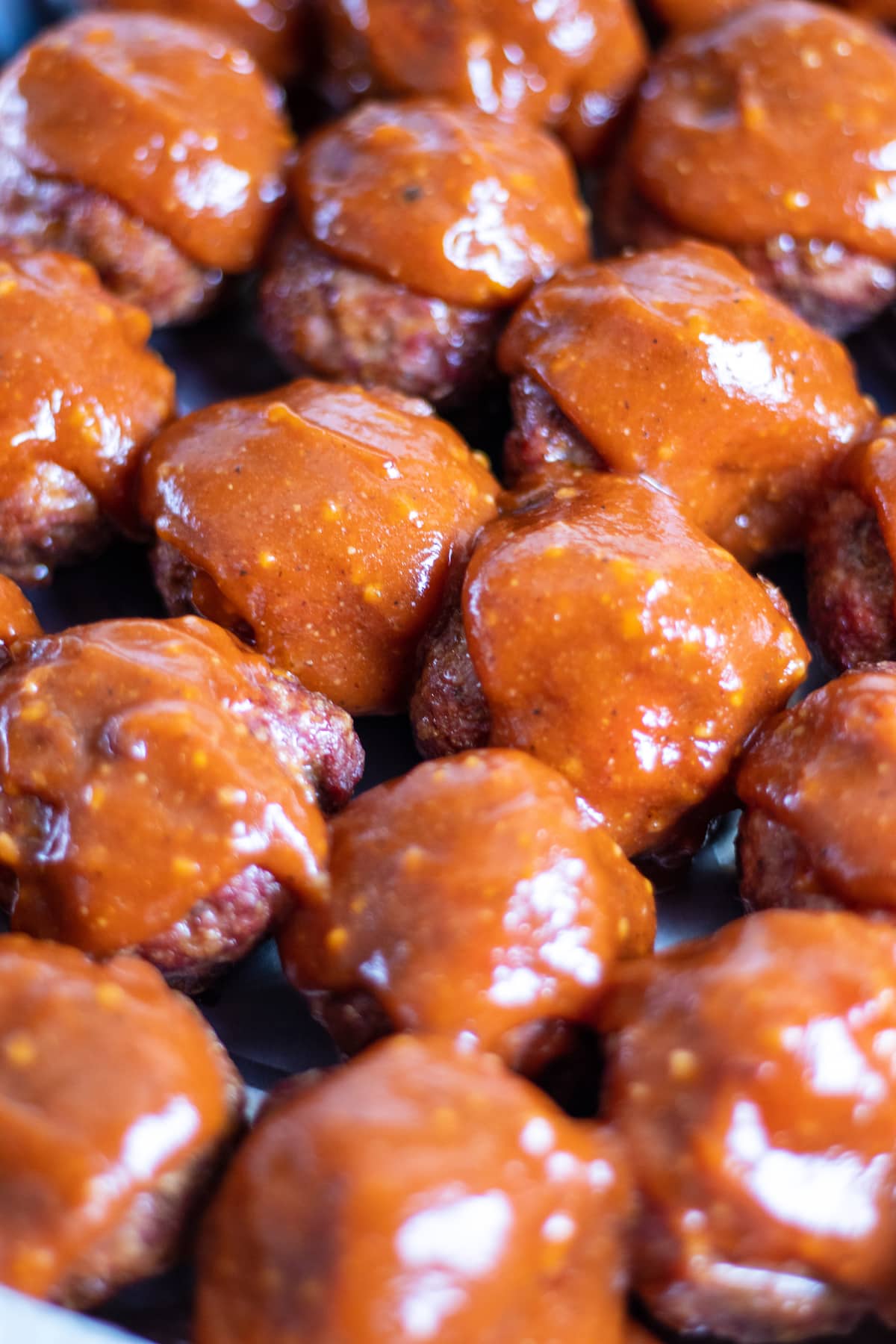 Taking another page from burnt ends I changed things up. Going back to the grill also takes advantage of already having it hot, and who doesn't want more grill time? Remove your meatballs from the grill and allow it to come up to 325F. Place your BBQ meatballs in grill safe casserole dish (we use disposable ones) and cover with BBQ sauce. We use our homemade BBQ Sauce, but you can use your favorite if you have one. Cover with aluminum foil and return to your grill. Grill covered thirty minutes keeping your smoker between 325-350F. After thirty minutes carefully remove the foil, stir to cover with sauce, and continue to smoke for another thirty minutes at the same temperature.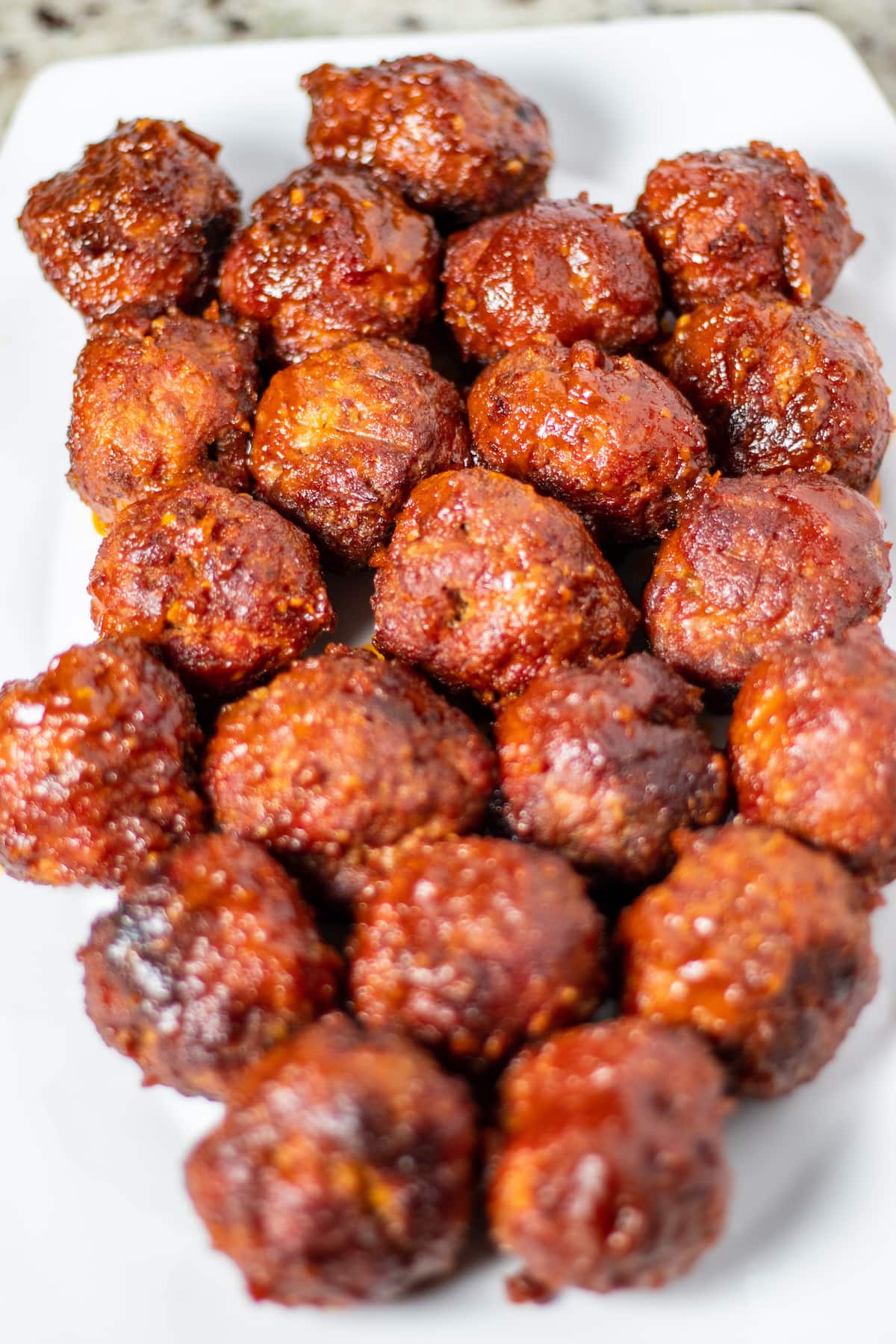 Time to serve
The only thing left is to toss your BBQ meatballs on a plate and dig in! These go great with any typical BBQ sides and would work with our awesome roasted potatoes and instant pot quinoa. Let us know what you think in the comments below and be sure to follow us on Facebook!
Ingredients
1¼

pound

Ground Chuck

1¼

pound

Ground Pork

½

cup

Breadcrumbs

½

cup

Parmesan

grated

¼

tsp

Red Pepper

flakes or ground to your preference

½

tsp

Black Pepper

ground

1

tbsp

Chili Powder

1

tsp

Cumin

ground

½

tsp

Oregano

dried

¼

tsp

Onion Powder

2

cloves

Garlic

minced

1

cup

BBQ Sauce

we prefer homemade, but you can use your prefered store brand.
Instructions
Add ingredients in a large mixing bowl and combine well using your hands.

Roll meat into the desired size meatballs. I go with two-ounce meatballs which are a little bigger than golf balls since these will be smoked. At that size, this recipe makes give or take 20 meatballs.

Place your meatballs on a wire rack. You can use another smoker safe method or disposable pan if you don't have a rack, but I prefer a rack so they don't sit in their drippings.

Add your preferred smoke wood (I prefer pecan for this recipe) to your smoker and allow the initial heavy white smoke to burn off.

Place your meatballs into a 225°F smoker and maintain a temperature of 225-250°F. Smoke for 1 hour.

Remove meatballs from the smoker and place them in grill safe dish (we use a disposable aluminum pan).

Add BBQ sauce and stir meatballs to coat.

Cover pan with aluminum foil and crimp edges to seal.

Raise temp to 300-325°F and return to smoker for 30 minutes.

After 30 minutes remove foil, carefully to avoid steam, stir meatballs and return to the smoker for an additional 30 minutes.
Nutrition
Calories:
194
kcal
|
Carbohydrates:
8
g
|
Protein:
11
g
|
Fat:
13
g
|
Saturated Fat:
5
g
|
Cholesterol:
42
mg
|
Sodium:
248
mg
|
Potassium:
208
mg
|
Fiber:
1
g
|
Sugar:
5
g
|
Vitamin A:
170
IU
|
Vitamin C:
1
mg
|
Calcium:
52
mg
|
Iron:
1
mg