Pizza on the Big Green Egg is always a hit in our house! We use a Big Green Egg, but you can use whatever grill you prefer. We love pizza and a charcoal fired pizza stone makes this recipe better than your average delivery place.
I literally spent 8-10 years working on perfecting pizza on the Big Green Egg. We'd have a great experience one time then a burned mess the next. I don't even want to think about the number of times I've built a calzone on the fly. Or the times I burned my fingers after messing up the peel to pizza stone transfer. This recipe makes that process easier. Plus this dough will get you consistent results. All you'll have to do is figure out what temps work best for your equipment. You'll be making you pizza your neighbors talk about for weeks!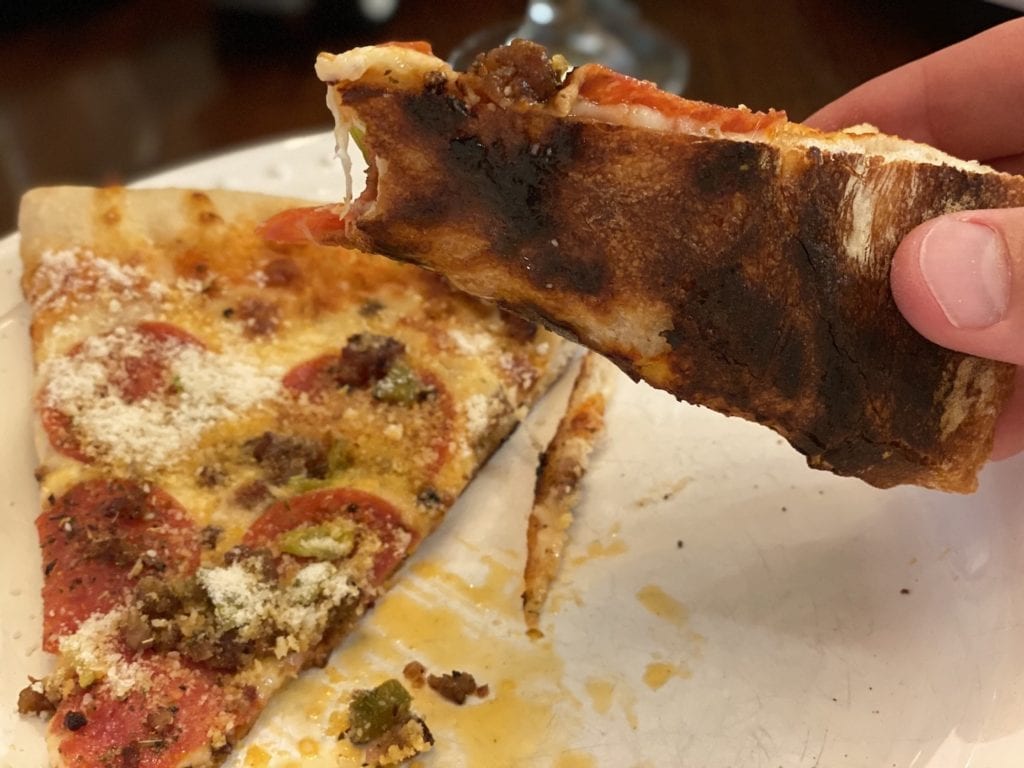 Go with what works!
Don't try to reinvent the wheel that Kenji Lopez-Alt perfected, just make his dough. You'll thank me! You don't have to have a Big Green Egg for pizza on the grill, any grill and good pizza stone should work, but make sure you're comfortable with your equipment. A cheap or thin pizza stone that may be fine for a 450F degree oven will shatter when the grill really heats up! This is just a guide, so feel free to adjust the toppings to your tastes!
For a little extra flavor on the crust mix Lauren's Italians Seasoning Mix with a little olive oil and brush on the crust. You can also try adding a little smoke would to your fire for a smokier BBQ style pizza! We'd love to hear what you decided to put on it below!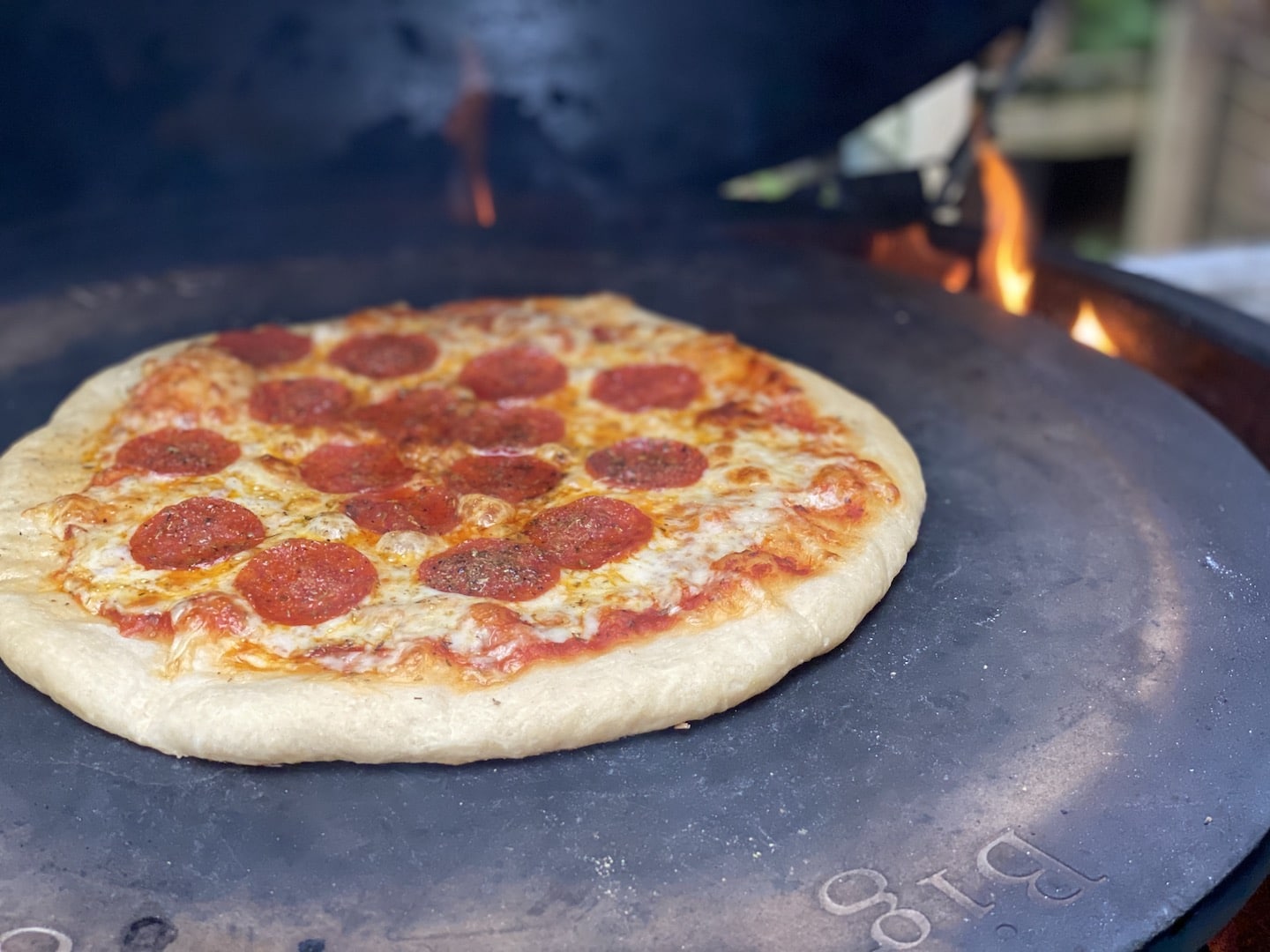 Equipment
Big Green Egg or other smoker

Big Green Egg Pizza Stone
Instructions
For the grill:
We use an XL Big Green Egg, but this recipe should work on any grill with a pizza stone.

Place your charcoal and light as normal, once your coals get going well place your platesetter and pizza stone.

Allow the grill to come up to temp (and burn off any gunk from the bottom of your plate setter if you've been smoking a bunch of yummy).

I cook mine at roughly 600°. You need to know your grill and equipment here, a thin pizza stone built for the oven (especially Pampered Chef) will explode at worst or break at best.

Once the grill is at temp and burning clean you're ready to cook! It may be unnessesarry with this dough, (it is a holdover habit of mine from using dough that burned quickly on the bottom) before I put on the pizza I dip a 100% cotton cloth in water and rub the stone until it doesn't immediately boil away. Again, know your equipment here, this may be unnecessary or even damage your stone. If you have trouble with your crust burning before you toppings are ready I'd considering adding this step.
For the Dough:
Let the dough rest for at least 24 hours in the fridge, we find 2-5 days is really the sweet spot. Remove the dough from the fridge and let it rest at room temperature for couple hours before using. Divide into three roughly 5½ inch dough balls and place on parchment paper. Flour as necessary to keep from sticking to your hands as you work the dough.

Use a rolling pin to roll dough, and if necessary stretch by hand (or hell, toss it if you've got that in you!) until it is about ¼ inch thick, it won't have a perfectly even thickness, that's fine just roll with it.

Finished dough should be 12 to 14 inches in diameter. Return to parchment paper.

Top pizzas as your heart desires, the toppings we used are above, but this is really a preference area. IMPORTANT, more is less when it comes to sauce, a nice thin layer will do the trick, you don't want to introduce too much liquid here.
Grilling the Pizza:
Once you have the pizza and grill prepared as above, slide a pizza peel (or something similar) UNDER the parchment paper and take the pizza to the grill.

Slide the parchnent paper (and pizza) onto the pizza stone and shut the lid. The parchement paper may catch on fire, it's ok.

After 5 or so minutes start testing to see if the dough has set. I do this by pulling on the patchment paper with tongs or a gloved hand while sliding the pizza peel under the dough. If the dough gives resistance, give it a bit more (trust me, I've made many calzones on the fly before I learned to wait you'd rather spend a little extra time on the parchment paper than screw up here). Once the pizza is ready to leave the parchment slide the parchment off and make sure it's not on fire before you dispose of it.

Cook the pizza checking every 5 minutes or so and making sure the check the doneness of the dough by lifting the edge with the pizza peel. If the top starts to get done before the dough leave the dome open to allow the dough to firm up.
Notes
This is much more a guide than a recipe, I'm hoping that a decade of me screwing up pizzas will help people. Some folks can put semolina or corn meal on a pizza peel and slide it right on the grill without the need for parchment paper, but that never worked for me.
Don't be discouraged if your first results are less than perfect! There's a big variation between grill etc., use this guide and adjust for what works for you. Take notes about what you'd change in the future. If you're nervous try just making a cheese pizza at first so you don't have much to lose.
There are tons of premade doughs and recipes, but this is the absolute best to stand up to the temp of the pizza stone on a hot grill. I highly recommend the Kenji Lopez-Alt recipe. If you buy your supermarket remade dough follow their temp guide and make sure to cool your stone, it can burn fast.
Nutrition
Calories:
532
kcal
|
Carbohydrates:
44
g
|
Protein:
26
g
|
Fat:
28
g
|
Saturated Fat:
14
g
|
Cholesterol:
79
mg
|
Sodium:
1226
mg
|
Potassium:
197
mg
|
Fiber:
2
g
|
Sugar:
3
g
|
Vitamin A:
715
IU
|
Vitamin C:
7
mg
|
Calcium:
391
mg
|
Iron:
13
mg