If you know anything about me, you know I love potatoes. You also know I want to eat potatoes at every meal. That means we have to get creative because Lauren (for some reason) doesn't want to eat roasted potatoes with every meal. These sous vide potatoes use many of the same flavors as our roasted potatoes but with a buttery richness and an awesome cheese finish.
Sous vide cooking carries a lot of advantages when it comes to infusing flavors. These sous vide potatoes are similar to butter-poached potatoes, but take the flavor up to 11. You could add any herbs you like, but we prefer rosemary and garlic. We also add some crushed red peppers from Flat Iron Pepper Company for some heat and plenty of black pepper.
Buttery goodness
These potatoes make the most of the butter you add to the sous vide bag. It doesn't take much butter or herbs to get rich flavor in every bite. The first few times I made these I was scared of making them too salty and held back. Don't hold back and give them the full teaspoon or even a bit more of kosher salt. There's no worse failed potential than an under-salted potato. Cooking these potatoes sous vide really helps salt them through every bite.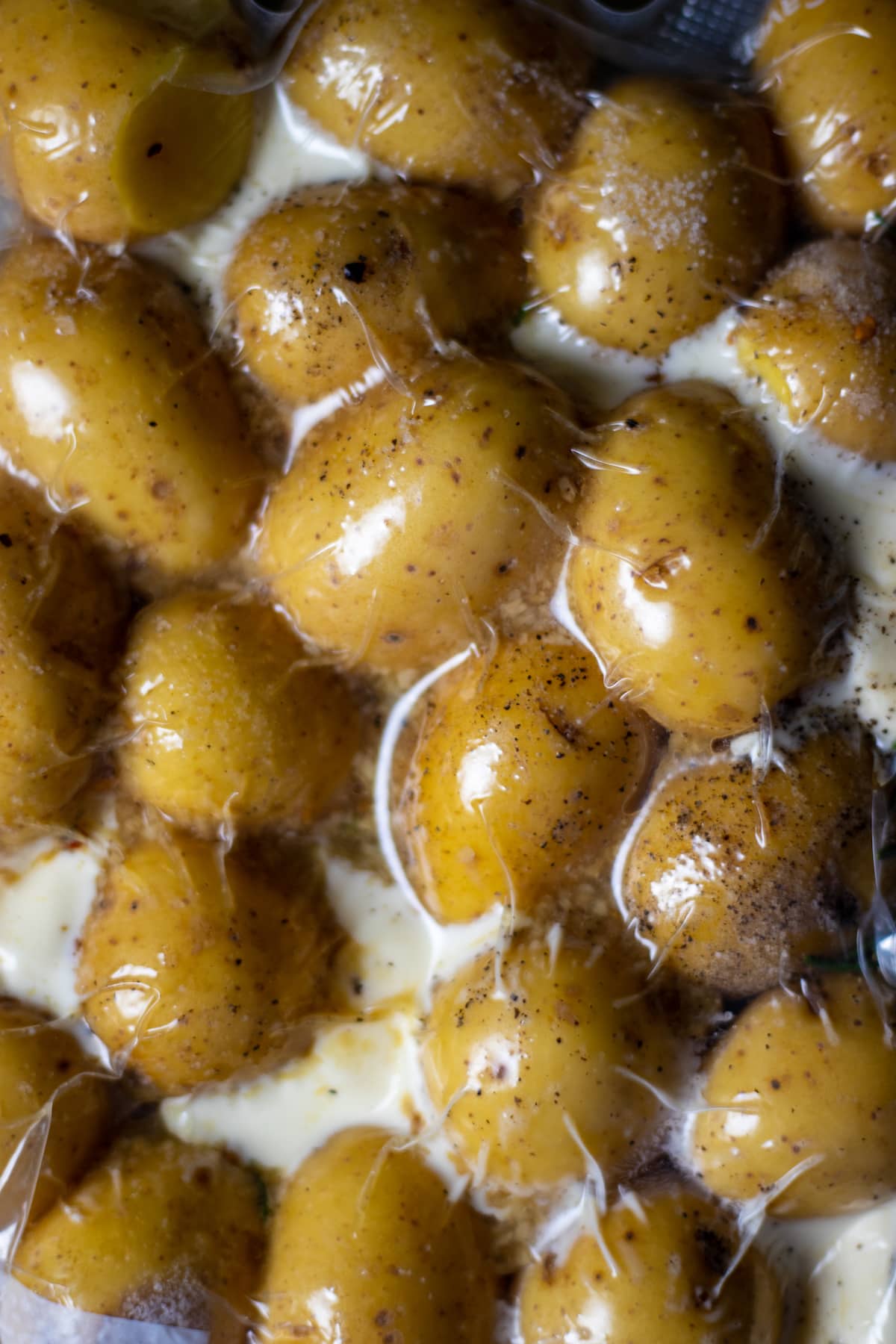 I scrub Yukon gold potatoes and drop them in the appropriately sided vacuum-sealed bag and sprinkle them with the salt and toss them gently. I then add the garlic, pepper, rosemary, and red pepper and try to evenly distribute it among the potatoes before adding the butter. So, it's probably a waste of time to spread the seasoning out since we're cooking these potatoes sous vide, but I'm particular. try to spread the potatoes in an even layer before sealing the bag.
A dip in the hot tub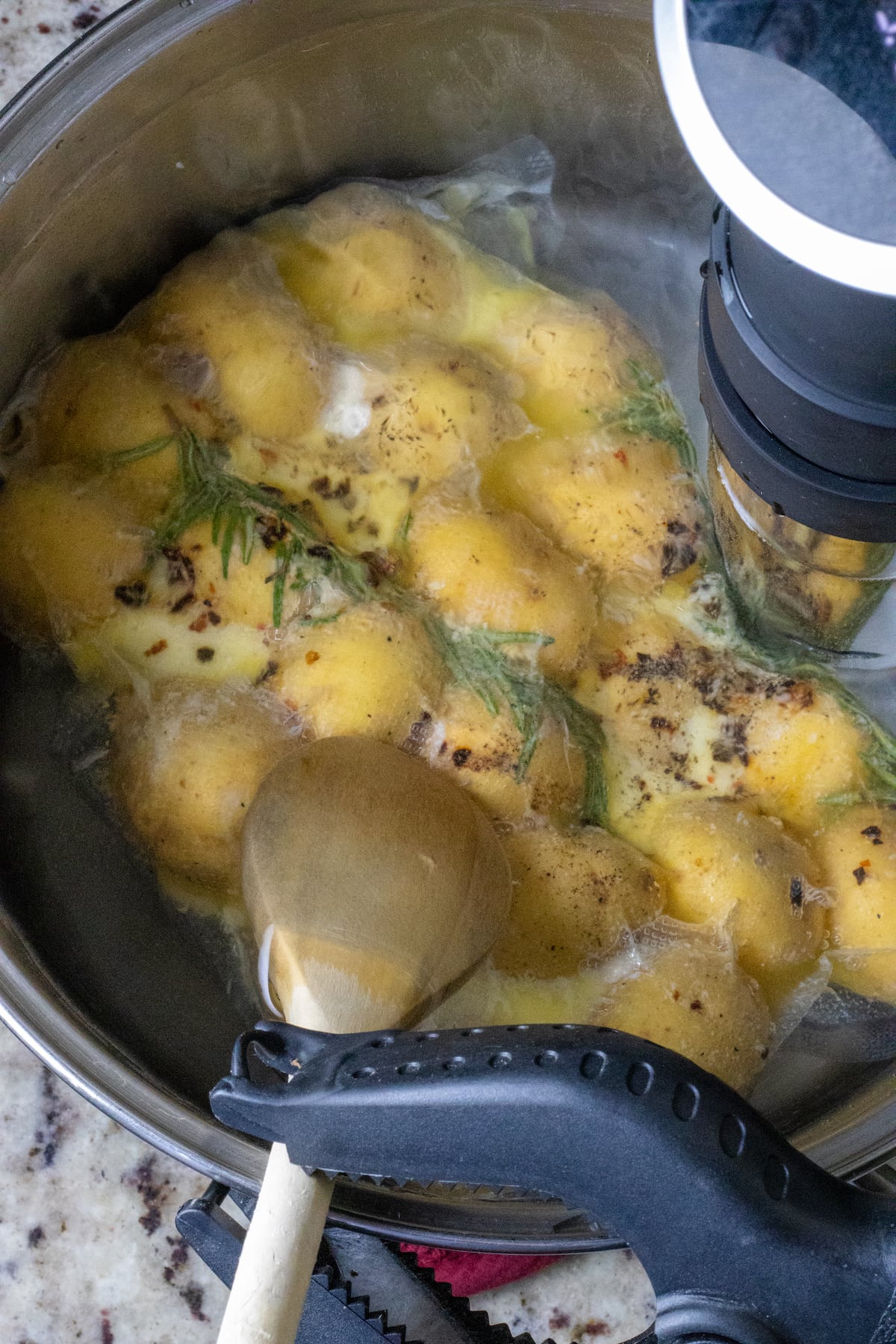 Fair warning, these potatoes love to float. You can vacuum seal a knife or other heavy object at the bottom of the bag, but I generally use a clamp and wooden spoon. Drop them into 190F water and cook for an hour to an hour and a half. If you let these go too long they'll still be good, but be prepared for the potatoes to fall apart. This isn't necessarily a bad thing, but it will take a little more work to get them out of the bag and into the pan.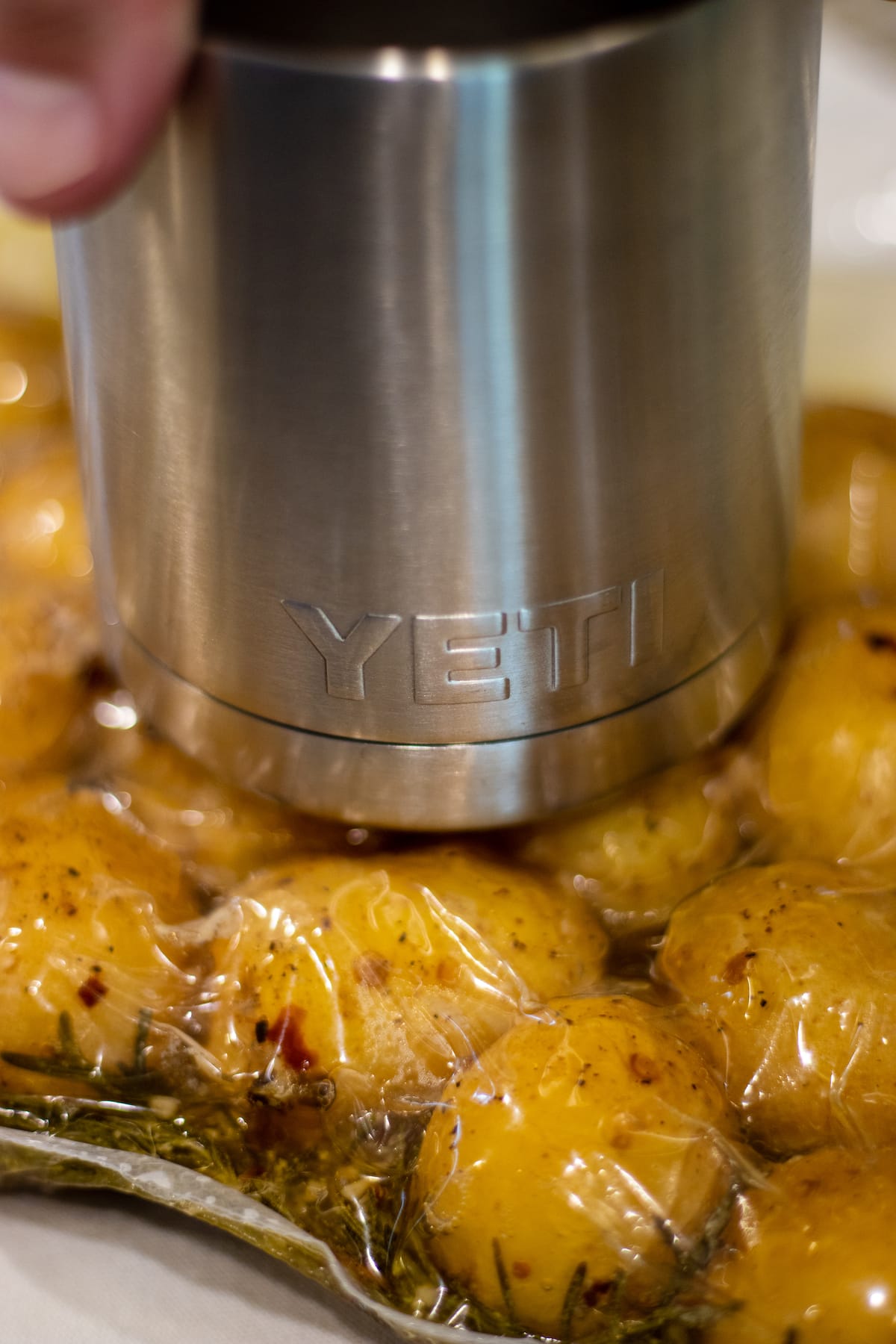 Remove the bag of sous vide potatoes from the water bath when you're ready and set them on a towel on our counter. If you want butter-poached potatoes full of flavor you can stop here, but I promise if you keep going you'll love the result. One of the big benefits of this as a side dish is it can wait. If you have small kids in the house you know how important it is to have a side that can pause for a half-hour or so. These sous vide potatoes are perfect for when life gets in the way.
Smash your potatoes
Use a flat bottomed convenient kitchen implement to smash the potatoes. You could use a skillet or coffee cup, I like my yeti tumbler to smash each potato individually. Cut your bag open and gently remove your now flattened potatoes. No matter how gentle you've been several of your potatoes will fall apart. That's ok.
Heat a well-seasoned cast-iron skillet (we love our Finex). You can add a little oil if it makes you feel better, but these potatoes are buttery enough that it's really not necessary. Place each potato into your skillet, don't worry about overcrowding, you're just trying to get a good crisp on the skin.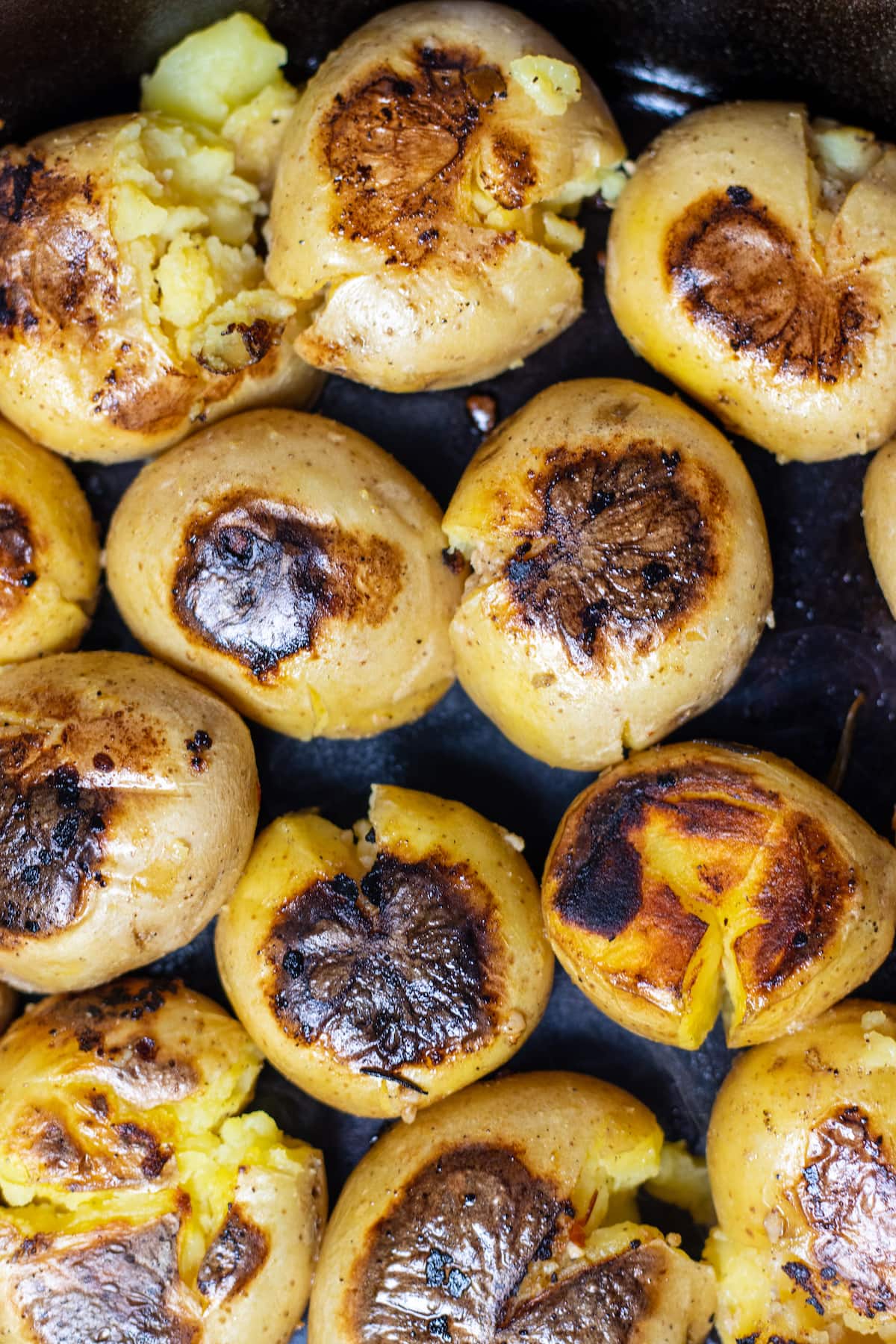 Once you get a nice crispy skin on the first side flip your sous vide potatoes and cover liberally with soft melting cheese. I used mozzarella in these pictures, but you can use cheddar or another cheese if you prefer.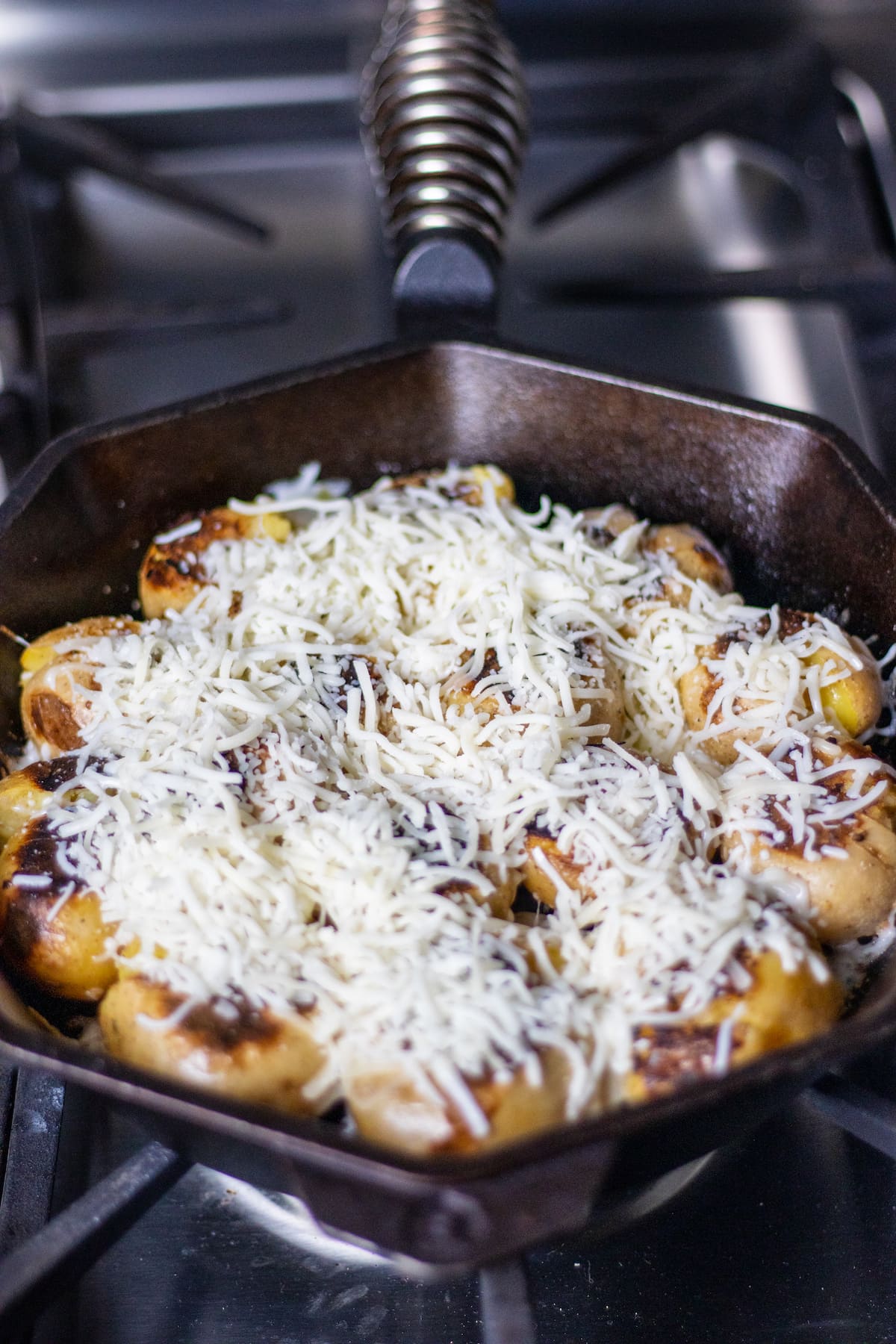 Cook until the cheese melts. If your skillet is well seasoned you can scoop out the sous vide potatoes and also some tasty browned bits of cheese that have oozed between them.
I personally find the melted cheese that seeps in between the sous vide potatoes to be the best part of this dish, but every bite is amazing. I'm a big fan of heavy black pepper on a potato and we add a little red pepper to really make this dish pop, though this shouldn't scare anyone off, it is by no means spicy.
We love these potatoes with anything from the grill and they go especially great with our smoked chicken tenders.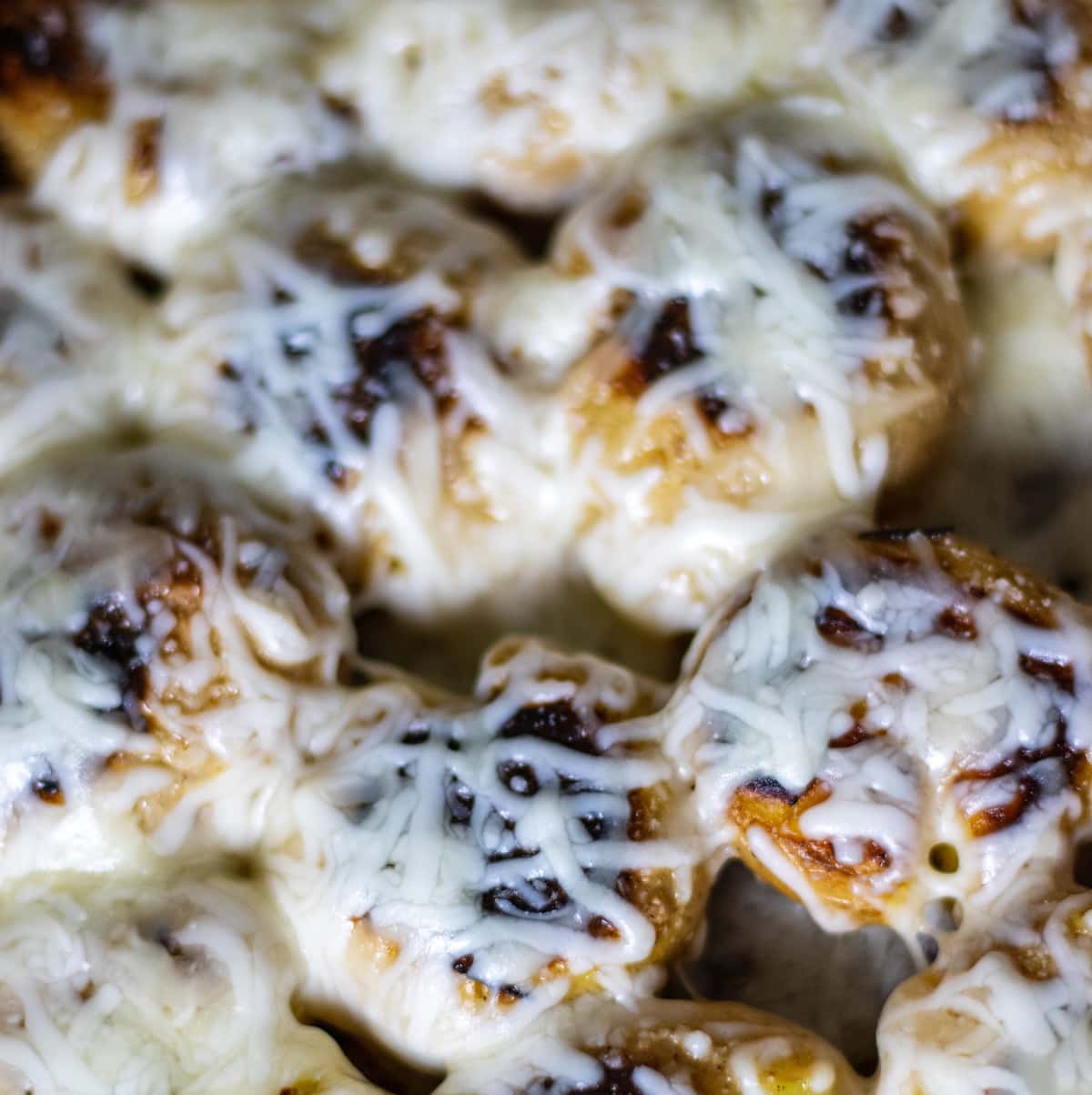 Equipment
Anova Imersion Circulator

Food Saver Vacuum Sealer
Ingredients
24

oz

Yukon Gold Potatoes

washed

6

tbsp

Butter

3

Cloves

Garlic

minced

1

tsp

Kosher Salt

¼

tsp

Black Pepper

ground

2

Sprigs

Rosemary

Rinsed but still on the stem
Instructions
Prepare your water bath and immersion circulator set to 190°F. Make sure you've placed your water bath on an appropriate heatproof surface.

Scrub your potatoes with a brush under water and remove any serious blemishes or eyes.

Place potatoes and other ingredients in a vacuum bag and generally try to evenly disperse ingredients. I'm pretty much 100% sure this doesn't matter, but it makes me feel better.

Lay bag flat on its side so that the potatoes form one even layer and vacuum seal.

Place potatoes into the water bath and cook for 1 to 2 hours depending on the side of the potato (1 for ping pong ball sized potatoes, 2 for racquet ball-sized potatoes). Take appropriate steps to keep potatoes from floating.

Once the appropriate time has elapsed, carefully remove your bag from the water bath. Place the bag on a towel and gently smash the potatoes with a hard flat service. I generally use a rocks glass, or the bottom of a cast-iron skillet. You only need to do this enough to break the skin and flatten them some, they're smashed not mashed.

Carefully remove smashed potatoes from the bag keeping them intact if possible and place them on a plate or cutting board.

Prepare an oiled cast-iron skillet or flat top on medium-high heat and place the potatoes in to cover the bottom. No worries about crowding here, get as many in as you'll be able to maneuver and flip.

Cook potatoes until the skin and exposed flesh has browned and crisped and flip. About 3 minutes.

Allow the second side to cook for a minute or so then reduce heat and top with a good melting cheese such as mozzarella.

Allow cheese to melt, with the assistance of a lid if available, and scoop potatoes and melted cheese onto a serving platter. Be sure to get those crispy bits of browned cheese!

Repeat with remaining potatoes, if any.
Nutrition
Calories:
192
kcal
|
Carbohydrates:
20
g
|
Protein:
3
g
|
Fat:
12
g
|
Saturated Fat:
7
g
|
Cholesterol:
31
mg
|
Sodium:
398
mg
|
Potassium:
483
mg
|
Fiber:
2
g
|
Sugar:
1
g
|
Vitamin A:
380
IU
|
Vitamin C:
23
mg
|
Calcium:
20
mg
|
Iron:
1
mg