I would eat roasted potatoes once a day if Lauren would let me. As it is we eat them about once a week and it's not quite enough. It is no secret that I'm not a big veggie fan. That leaves us searching for potato recipes to eat with whatever protein we're having. So, as a result, we know how to make potatoes about 100 ways. You'll probably catch on to this if you follow this page regularly.
This is the oldest recipe in our arsenal that originated in our marriage. I guess it is really like our first child and I love it accordingly. In addition to being a potato fan, I've always been a french fry addict. Keep your chips and potato salad, if you want me in your restaurant for lunch, there better be fries on the menu. These roasted potatoes are better than french fries. There I said it.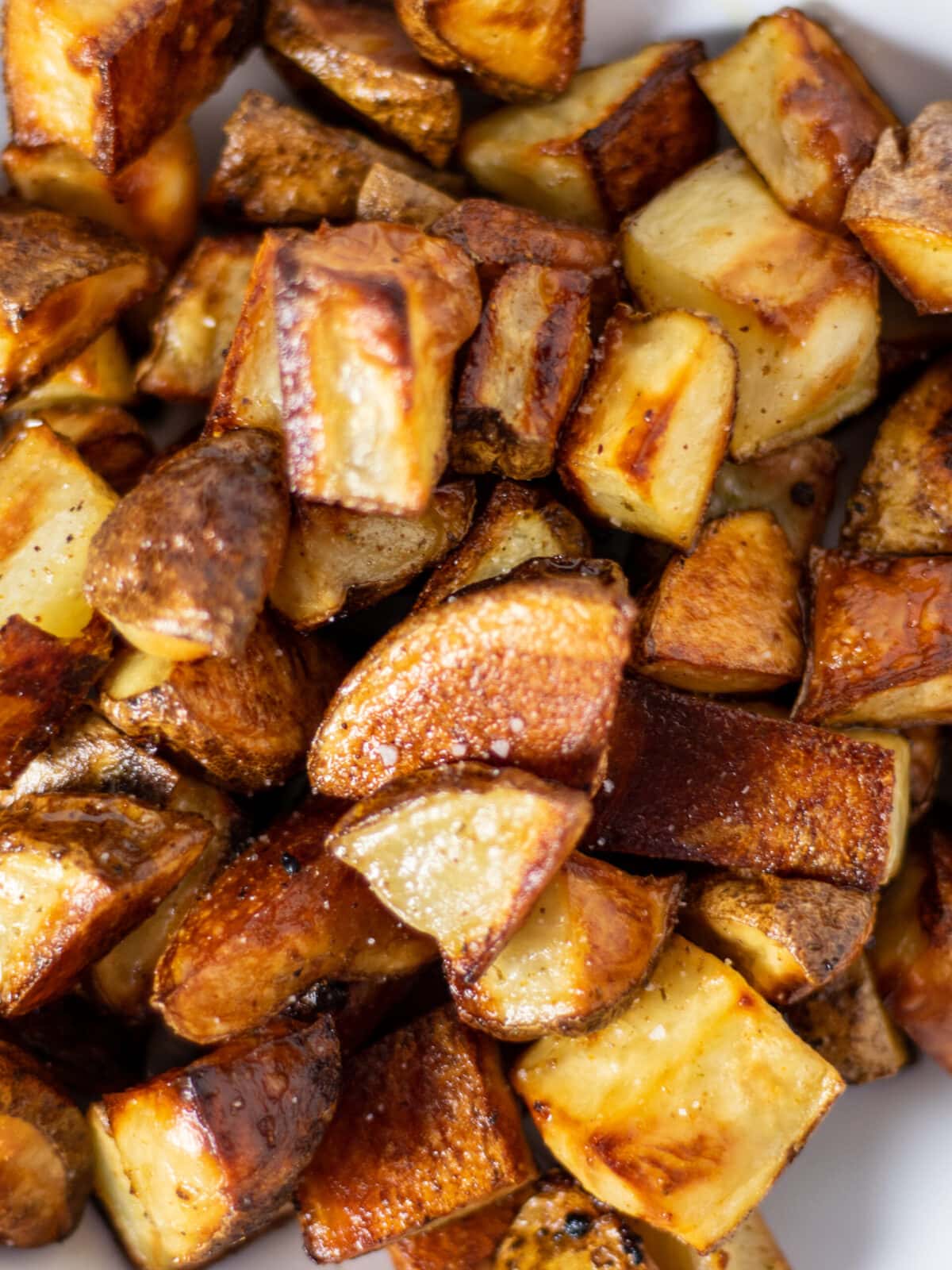 While I occasionally make these, Lauren is the pro. We have a typical roasted potatoes scheduling dance. Lauren cuts the potatoes, puts them in a mixing bowl and seasons them while I start the grill. This step is usually done while our toddler eats. One of the beautiful things about these potatoes for a family is the ability to pause the process at points. This also helps if you have a husband that has trouble forecasting when the meat will be ready.
I'd cut someone for these potatoes
But fortunately, we just cut the potatoes. Lauren and I have different strategies for cutting these. She slices them in her hand facing the knife into her hand and breaking every knife safety rule known to man and making me nervous every time. The lawyer in me compels me to tell you never use a knife the way Lauren does in the picture below. It is dangerous and you'll get blood all over your potatoes.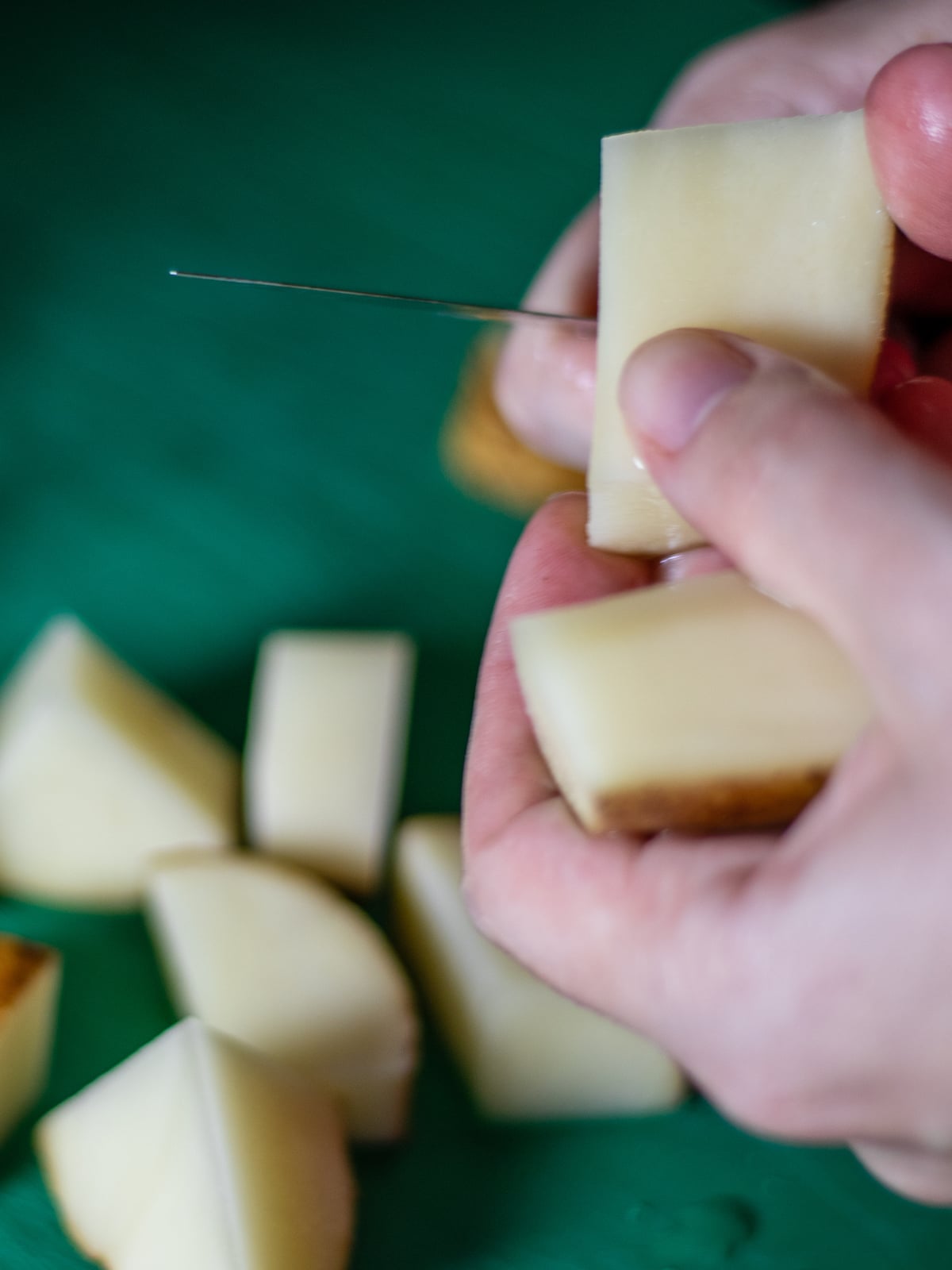 When I make these I slice the potatoes cross wise in about 1 inch disks. I then cut those disks into quarters or sixths. The key is to be fairly consistent in sizing your pieces or you'll end up with some too crispy and some just kind of meh. I do advocate tossing a couple of small ones in for the occasional crunch.
Once you have your potatoes sliced, toss them in a mixing bowl with the olive oil and other ingredients. This is usually our first place to pause if needed. Often Lauren will get the potatoes to this point and if I'm behind on the grill or we otherwise need more time she'll run up to do bedtime with our daughter and leave me to do the next step. I'm sure there is a shelf life on the potatoes at this point, but we haven't found it. I say you can leave them here for up to an hour without any ill effects due to the fact they are covered in olive oil.
Rosemary salt side note
Not sure where to stick this, so here we are! When we first started making this recipe more than a decade ago we would add fresh rosemary leaves. The rosemary added some decent flavor and smelled great, but the leaves ended up being more like pine needles from a live Christmas tree you find in the rug in February than something you'd want to eat.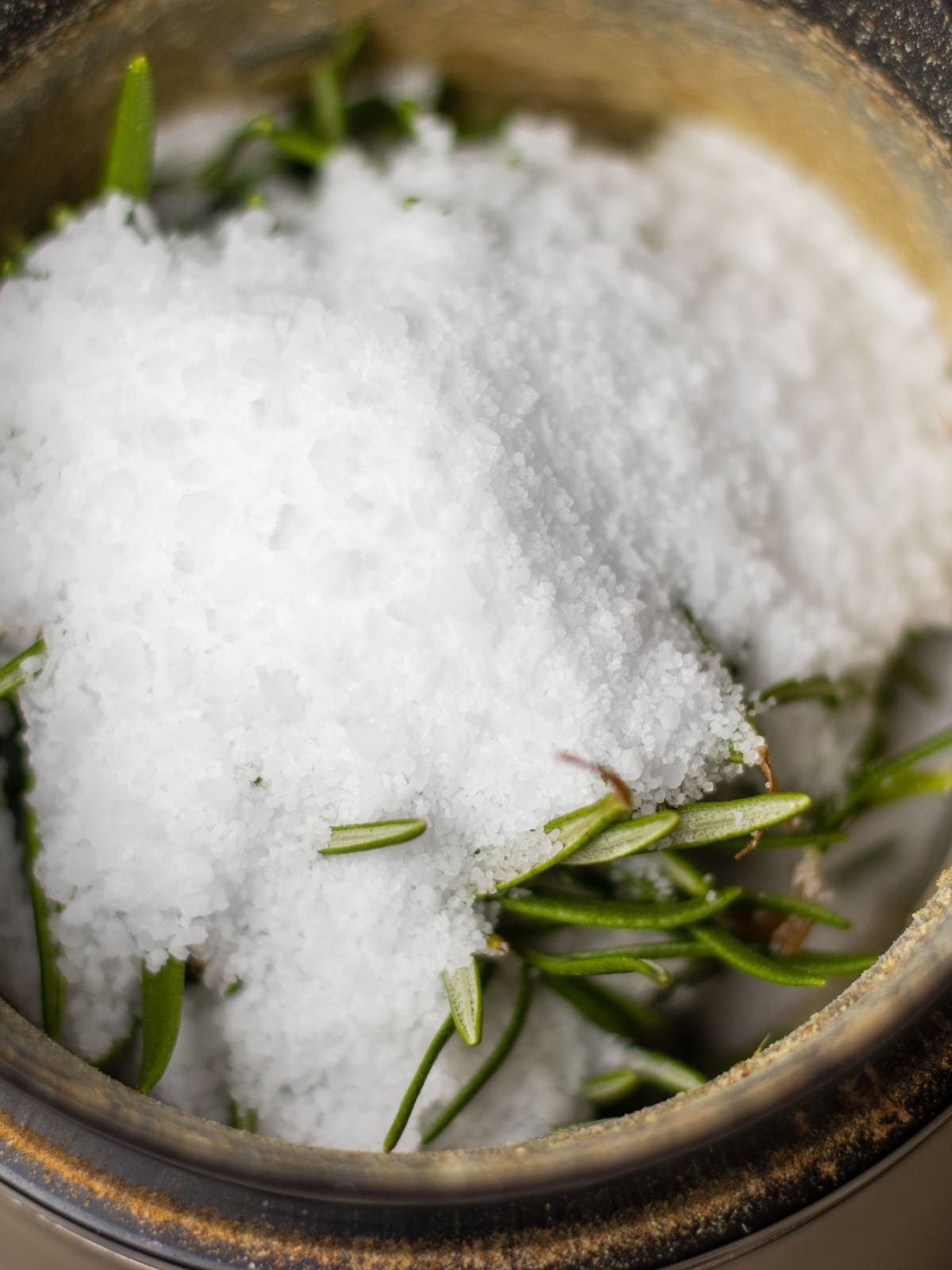 For years we simply skipped the rosemary, and we still do most of the time. Recently, I've started using our spice grinder (it's just a cheap coffee grinder we only use for herbs and spices) to create a rosemary salt. We used the linked one, but there are plenty of other options. To create rosemary salt place the leaves of a few sprigs of fresh rosemary in a grinder or small food processor and add a few tablespoons of kosher salt. Pulse until the rosemary is finely blended with the salt. Using this in place of standard kosher salt will give you the rosemary flavor without the bleeding gums.
Let's get roasting
When whoever is slowing down the process is ready, take the mixing bowl of potatoes and pour them onto a half sheet pan. We have an extremely well loved pan that looks like an ancient griddle from a greasy spoon we use for this. If you decide to start making these often I recommend you pick one pan to use each time. This doesn't mean you can't use that pan for other things too, but it will get well seasoned over time.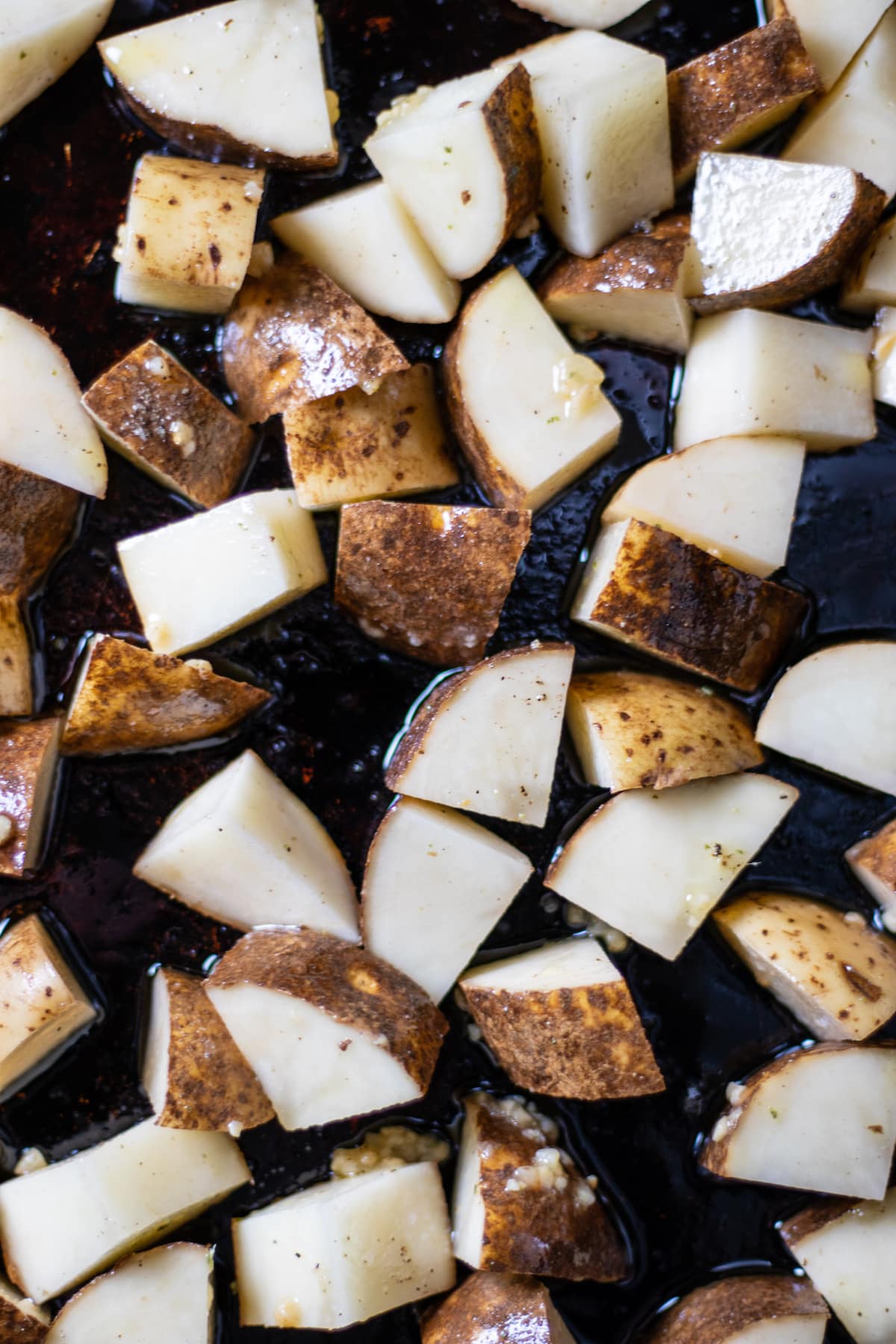 Once you have the potatoes on the pan space them out evenly. Place the pan into a 350F oven and set a timer for 20 minutes. When that timer goes off you've reached your next and last time to slow down these potatoes. If you think you're ahead of schedule on the roasted potatoes, turn off the timer and let the potatoes sit at 350. You can get another 20 minutes or so by doing this. Once you're ready, or when the timer goes off, remove the pan from the oven (careful with the hot olive oil that's in it) and turn the potatoes. Turn all the potatoes and use this opportunity make sure to redcoat each potato in the hot oil.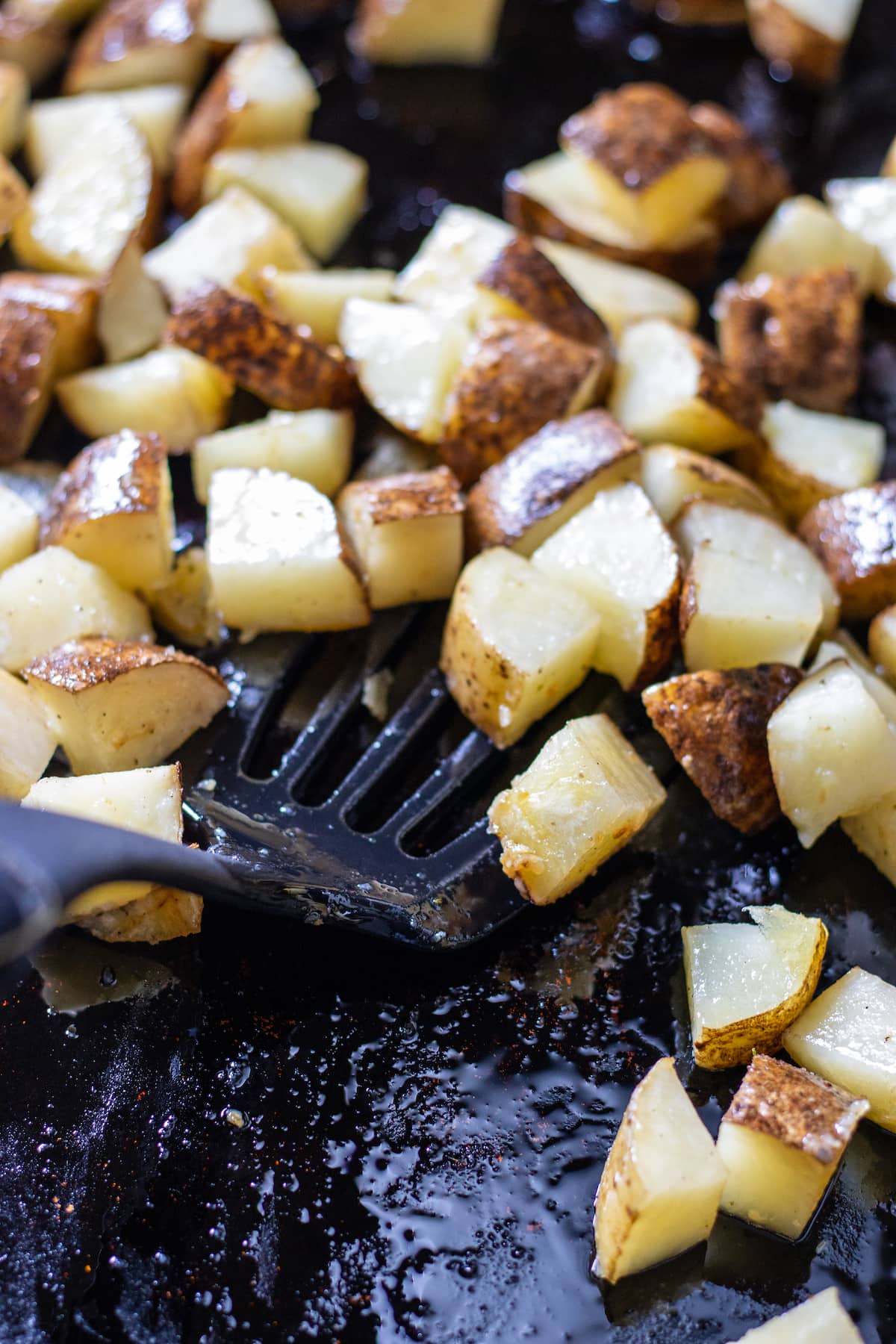 French roasted potatoes?
Put the potatoes back in the oven and turn the temperature up to 425F. Somehow I've never thought about it until now, but ultimately this two heat method is the classic way to good French fries. Set the timer for 15 minutes and keep an eye on the potatoes. If you've let them sit at 350F longer than 20 minutes they may be done sooner than 15 minutes. Preference comes in here as well, I like mine a little crisper than Lauren does. You should be able to tell by looking if they're to your liking. Once you remove them from the oven I like to give them another turn through the hot oil and sprinkle on a little salt when I serve them.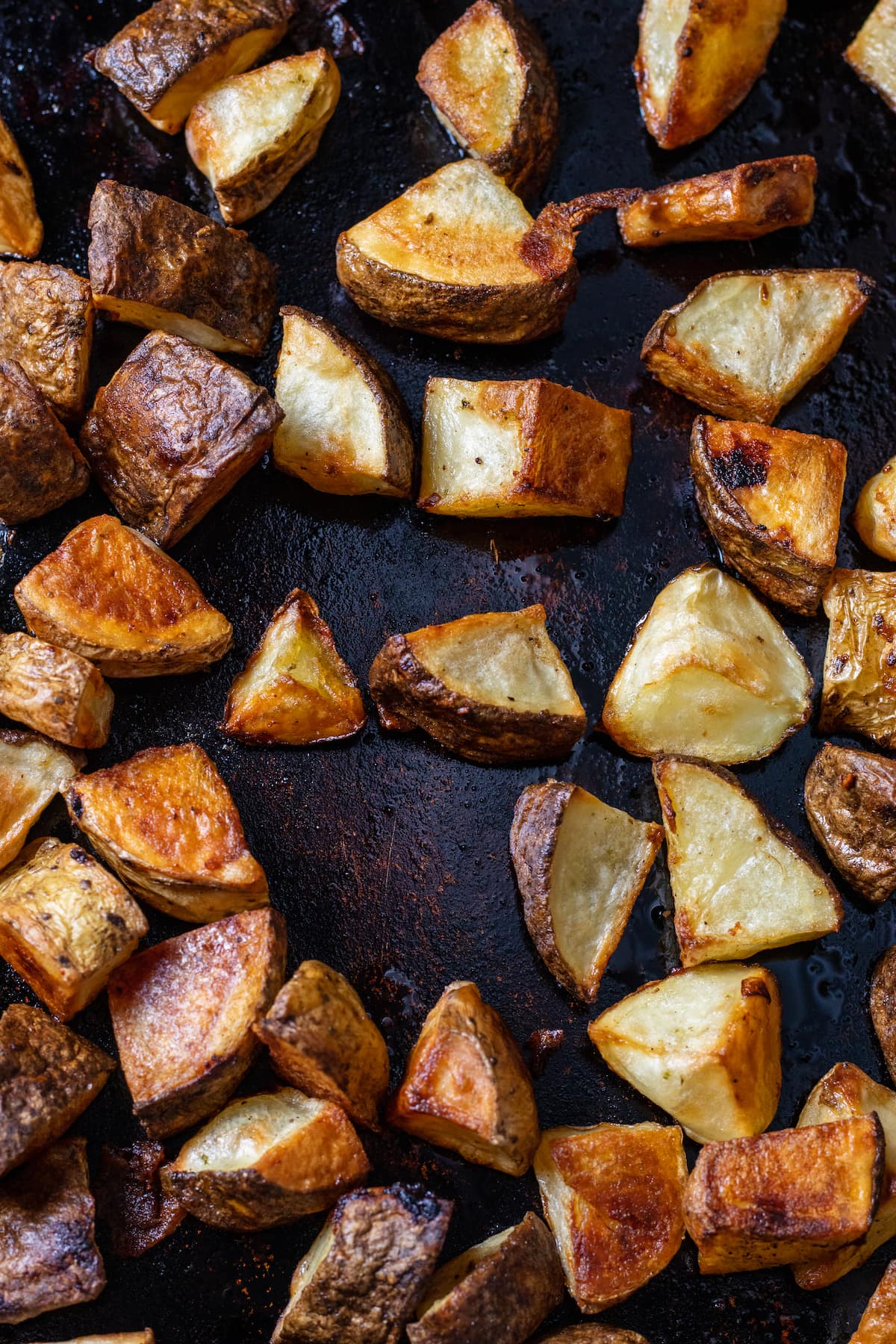 Roasted potatoes are one of my favorite side dishes for a good grilled steak, but they also make a great side of our Smoked Chicken Tenders. If you make extra (of for some strange reason have leftovers) they make a really killer frittata! Let us know what you think of them in the comments below!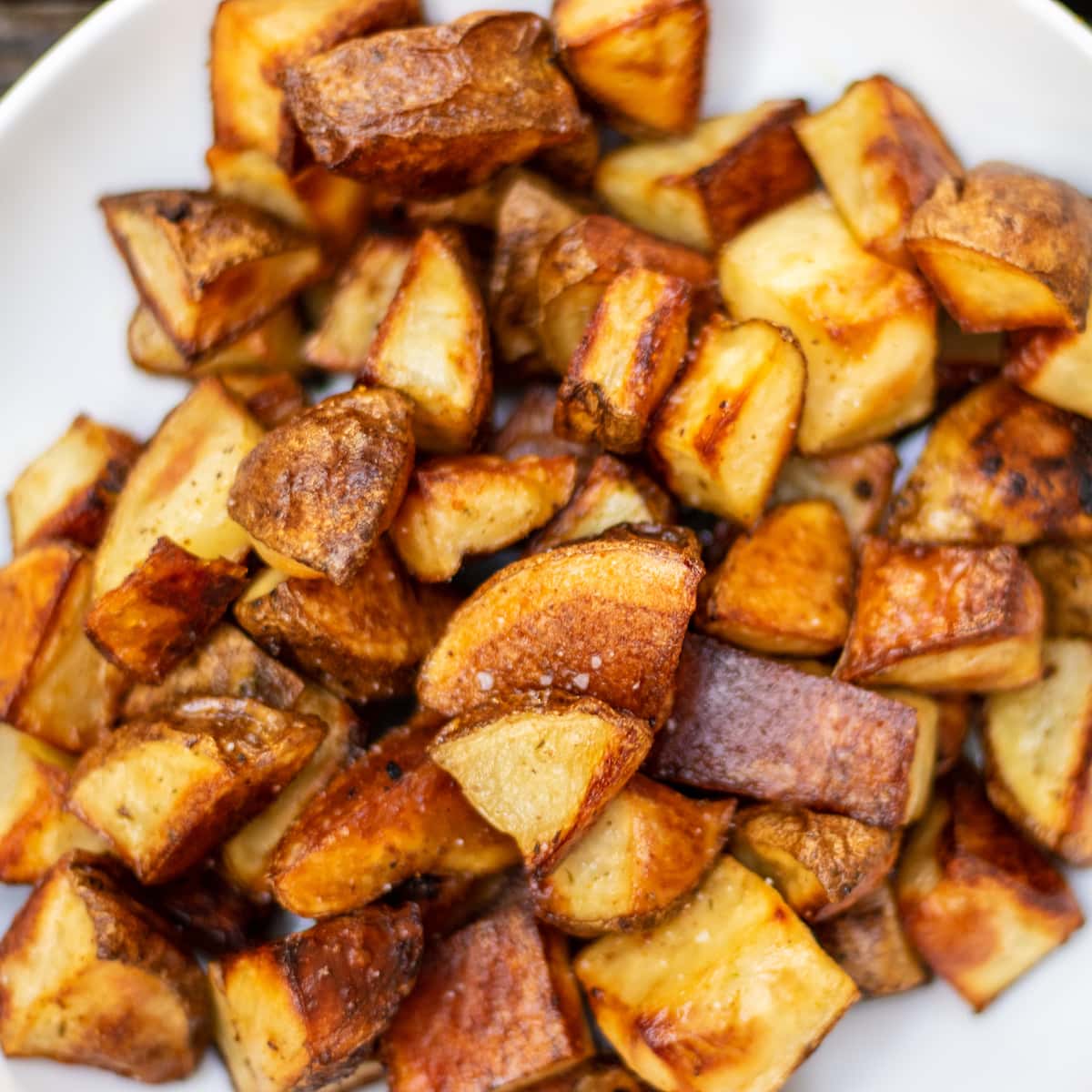 Ingredients
2

Large Russet Potatoes

washed and diced into inch thick chunks

3

tbsps

Olive Oil

enough to coat plus a little

¼

tsp

Red Pepper Flakes

2

cloves

Garlic

minced

¼

tsp

Black Pepper

ground

¼

tsp

Kosher Salt

or rosemary salt describe above

1

sprig

Rosemary (if desired)

leaves finely chopped
Instructions
Leaving the skin on, cut the potatoes into fourths crosswise and then cube those slices into around 1 inch pieces creating roughly equal sized cubes.

Place cut potatoes into a mixing bowl and toss with the remaining ingredients.

If making rosemary salt cut a few sprigs of fresh rosemary and remove the leaves from the stem. Place the leaves and a couple tablespoons of kosher salt into a spice grinder and grind until rosemary is well blended. Reserve remaining salt for future uses.

Drizzle a little olive oil on the pan and pour the seasoned potatoes onto a ½ baking sheet or other rimmed pan. Place the pan into a preheated oven. Set a timer for 20 minutes.

Once the potatoes have cooked for 20 minutes, very carefully remove them from the oven and set on a heat safe surface. Caution, the oil will be extremely hot! Using a plastic spatula, flip the potatoes and evenly distribute them around the pan. They should be soft, but not necessarily brown yet. Note: If you don't have a well seasoned pan they may stick.

Place potatoes back into the oven and increase the temperature to 425°F. Set a timer for 15 minutes.

When the timer goes off check the potatoes for doneness. The skins should be crisp and browned. If still pale, flip the potatoes and cook for an additional 5 minutes or until desired crispiness.
Nutrition
Calories:
149
kcal
|
Carbohydrates:
20
g
|
Protein:
2
g
|
Fat:
7
g
|
Saturated Fat:
1
g
|
Sodium:
153
mg
|
Potassium:
444
mg
|
Fiber:
1
g
|
Sugar:
1
g
|
Vitamin A:
37
IU
|
Vitamin C:
7
mg
|
Calcium:
17
mg
|
Iron:
1
mg