I'm not sure where to start with this one other than to say hold on to your hat, this smoked queso will knock you off your feet! If you know anything about me, you know I am a cheese fan and a spicy fan. As you can imagine, I love a good queso. Add in my affinity for anything grilled or smoked and I'm pretty much sold from the start.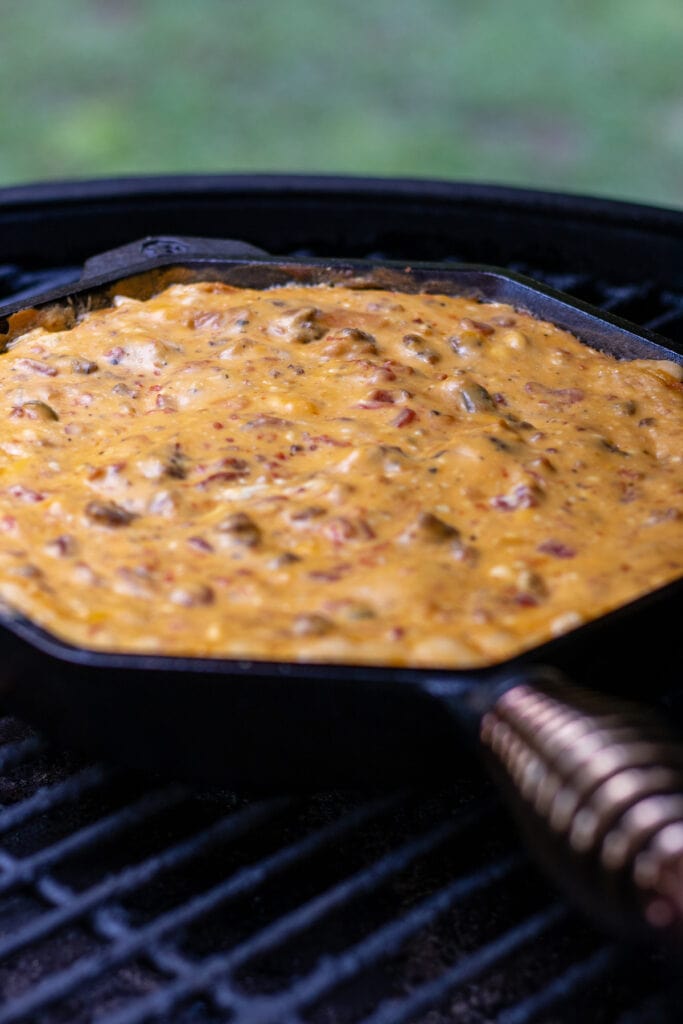 I grew up in a healthy family of healthy eaters, so as you can imagine, many of our family traditions revolve around food. Maybe all of them.... One of my favorite is Sundays growing up. We lived around the corner from the church we attended. As a consequence we went pretty much anytime the doors were open. On most Sunday mornings my mom would start roast beef before church. It would greet us when we came home, filling the house as you walked in the door. We'd all fight over the end pieces and pour on gravy like we were making a soup.
Cheese dip night
Sunday supper though beat Sunday dinners. Since we also went to church on Sunday evening there wasn't much time for making dinner when we got home. Enter cheese dip night. While there were some Sunday nights without cheese dip (I remember some scrambled eggs on toast), the standard on Sunday nights in the early nineties was cheese dip. This wasn't just any cheese dip though, this was Ro-Tel Dip! You can read more about the history of this dip at Serious Eats (I'm not going to try to compete with a PhD from Texas on the subject!). I believe this mid-century classic really took off in the '80's thanks to the ubiquity of the microwave.
At our house cheese dip night, in hindsight, is an early '90's caricature. Where to start in describing this ritual? Since it was the '90's, lets start with the TV and move from there through the other TV themed accessories. We ate cheese dip in front of the TV. This was only done on Sunday nights and Friday nights (for TGIF). We watched America's Funniest Home Videos, followed by (probably not age appropriate) Married with Children. (Shoutout to Herman's Head and Dinosaurs, they didn't survive long, but are still tied to cheese dip in my mind.)
Keeping with the TV theme, we each had our own TV trays in the family room. The family room is the one with the TV, not the one with the blue carpet. On the TV trays sat old Swanson TV dinner trays. Chips in the big part, cheese dip in the small part. I tried to find a picture of these particular TV dinners, but apparently my mom bought them all before they could be photographed. My memory can't place eating a TV dinner from these particular nude white two partitioned trays. I must have at some point though because we had about fifty of them. I lived for cheese dip night, and on a special occasion, chili cheese dip night!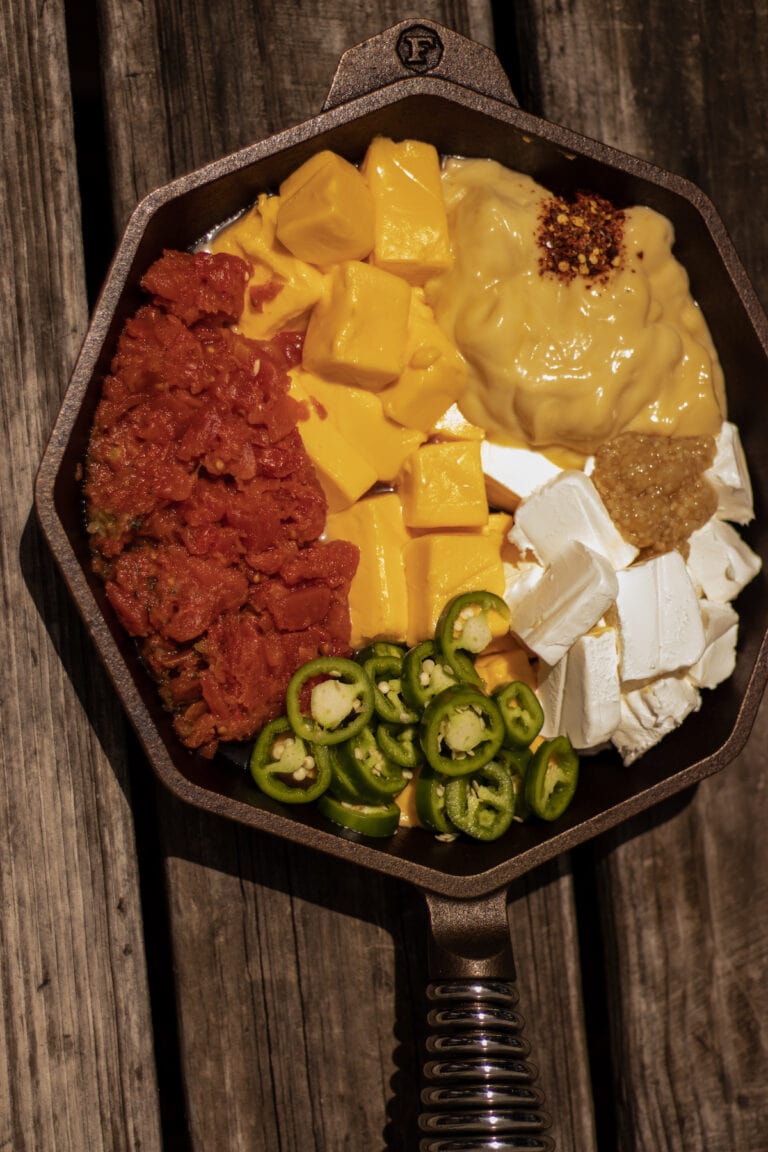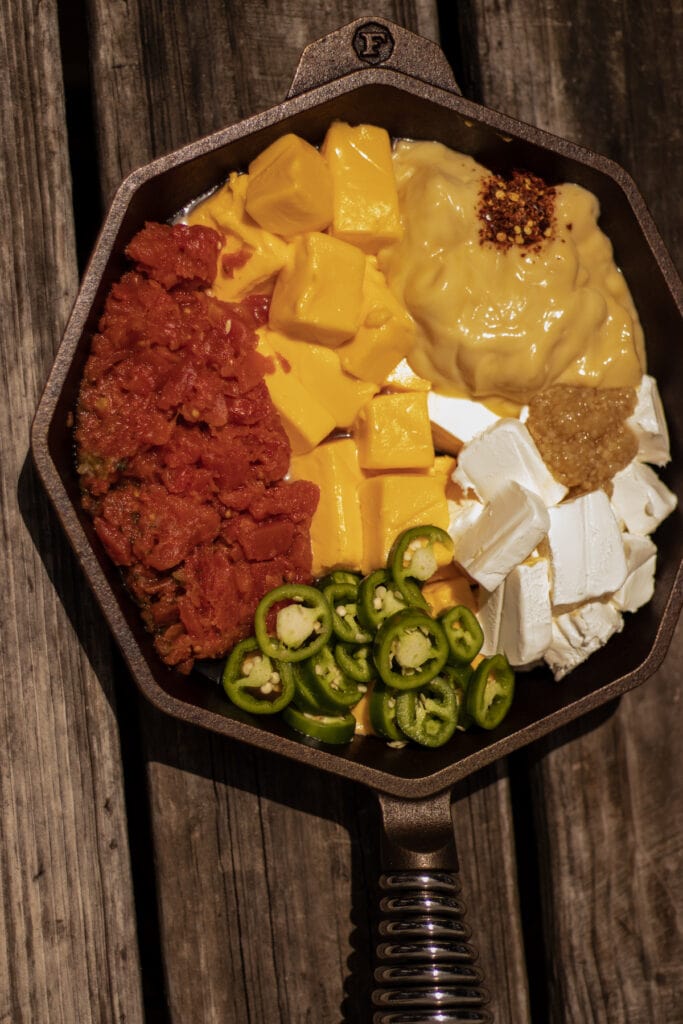 Smoked queso is second generation cheese dip
Cheese dip, for the unacquainted, is a can of Ro-Tel per one pound of Velveeta. You cube the Velveeta and microwave the concoction in a glass dish or toss it in a crock pot. Smoked queso is unmistakably cheese dip at its roots. You could toss the original recipe in a smoker and be done. But you'd be missing out.
This recipe starts the same as cheese dip. Take a pound of Velveeta and roughly cube it (I like to cut an inch off the loaf, then cube it like a tick-tac-toe board). Instead of a glass container of crock pot though pile it into a cast-iron skillet. You could do this in a disposable roasting pan, but I'm fond of my skillets and they look great as serving dishes. Plus they help keep the queso warm while it's on the table. It isn't necessary, but I really enjoy starting this dish with all the ingredients in their own space in the skillet.
After adding the Velveeta, add a can of Ro-Tel, undrained, to its small quadrant. The hot variety of Ro-Tel is tasty, but be warned that even for our pepper head house it packs a punch. Next roughly cube (or tear as the case may be) an 8 oz package for cream cheese. Tuck the cream cheese into its portion or the skillet and add the sliced jalapeños, you could dice them or use pickled if you like. Then add the only portion of the recipe that you wouldn't guess, a can of cream of chicken soup. There are not many things more southern than Ro-Tel dip with cream of chicken soup in a cast-iron skillet. Add some red pepper flakes and some garlic and put it on to smoke.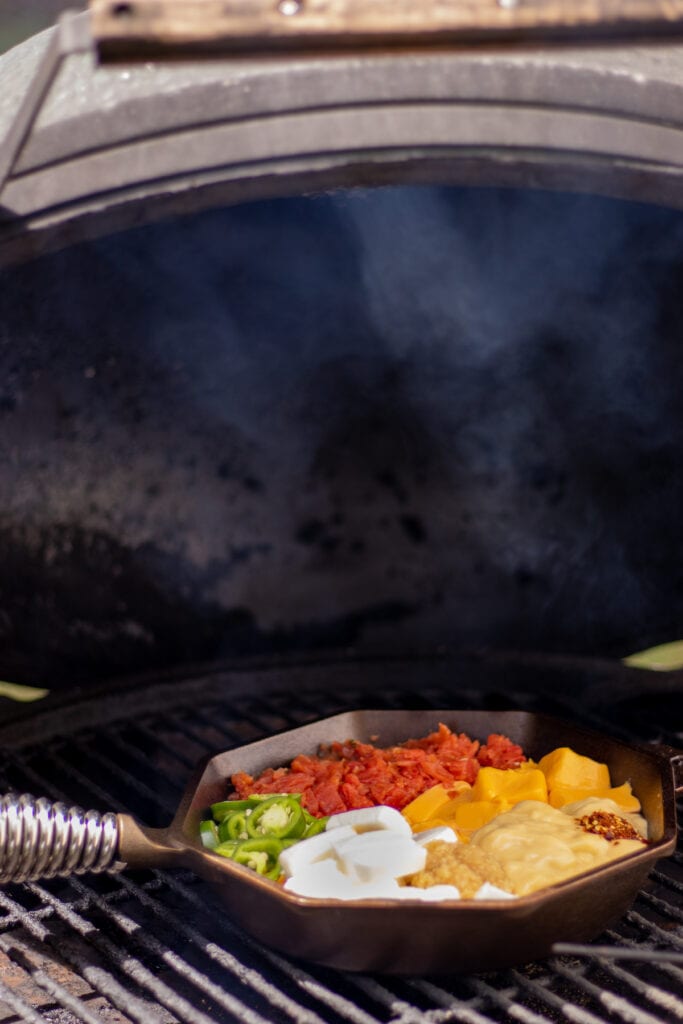 Time for some smoke
In terms of smoked dishes, smoked queso is pretty simple. Add your smoke wood (I like hickory here, but it's a matter of preference) and stabilize your smoker to 250F. Add your skillet of queso and smoke it, maintaining 250F or so for an hour. After an hour open it up, and stir your deliciously smoked ingredients. When you experience the joy of mixing these ingredients together you'll see why I keep them separated (sorry, it seemed to fit with the '90's theme I had going).
This is also a good point to add a little shredded cheddar and stir it in without it clumping. Also, if like me, you forgot to put in the sausage at the beginning there's no harm done by adding it here.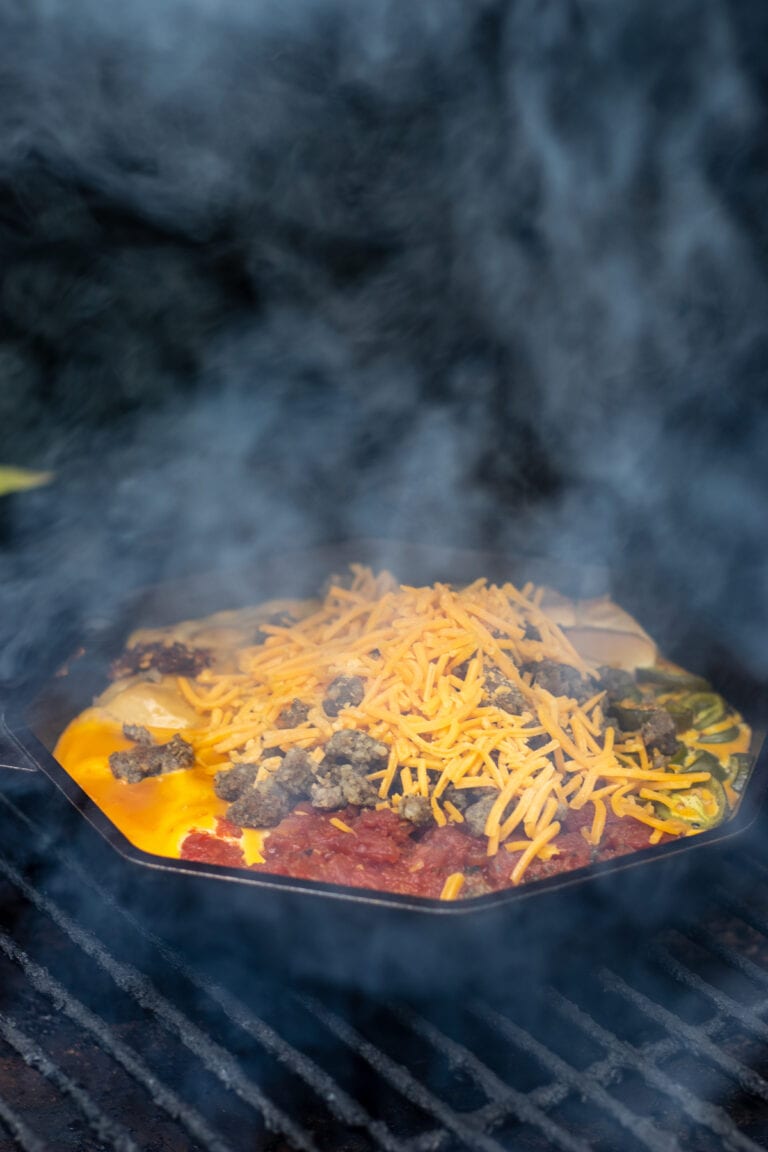 Once you've stirred and added whatever other toppings you want it's time to close the lid and let it smoke for another hour at 250F to 275F. Once your next hour is up, you should be good to go. This is where I taste for flavor and spice. It's a great time to add more shredded cheese, or some additional heat. You may want to let your smoker come up to 300F-325F just to make sure it is piping hot when you take it out. If you do let it heat up keep an eye on it, you don't want to ruin a big skillet of cheese here and it will need stirring.
One last '90's note
I feel like I would be shorting you if I didn't add in here the chili cheese dip I spoke of earlier. It's one can of Hormel Chili, hot no beans. per pound of cubed Velveeta. It's still magic though I recommend several healthy dashes of Tabasco.
I hope you enjoy our smoked queso and look forward to hearing how it turned out and what you added in the comments below. Bacon, chorizo, spinach? For leftovers we love to make enchiladas with leftover Smoked Chicken Tenders and add this over the top!
Equipment
Big Green Egg or other smoker

Hickory or other wood for smoking
Ingredients
1

lb

Velveeta

cubed

8

oz

Cream Cheese

cubed

1

Can

Rotel

whatever variety you prefer

1

Can

Cream of Chicken Soup

8

oz

Ground Sausage

precooked and crumbled

¼

cup

Cheddar Cheese

grated

2

Cloves

Garlic

Minced

½

tsp

Red Pepper Flakes

more or less to your likeing

2

Jalapeños

sliced or diced

¼

tsp

Black Pepper

ground
Instructions
Cut Velveeta and cream cheese into cubes,

Add all the ingredients, except the cheddar cheese, to a large skillet or disposable aluminum pan. I like to divide them up in the pan, but it doesn't really matter.

Prepare grill or smoker for indirect heat and heat to 250°F, add wood and place skillet on grill. Smoke for 1 hour maintaining 250°F.

Open grill or smoker and add cheddar cheese (and sausage if you forgot to add it in the beginning like me) and stir to combine. Smoke another hour maintaining 250°F to 275°F.

Stir again, and taste. Adjust any seasoning and add any cheese you want to top and allow to warm up a little more in the smoker if desired.
Nutrition
Calories:
246
kcal
|
Carbohydrates:
9
g
|
Protein:
13
g
|
Fat:
18
g
|
Saturated Fat:
9
g
|
Cholesterol:
55
mg
|
Sodium:
978
mg
|
Potassium:
286
mg
|
Fiber:
1
g
|
Sugar:
5
g
|
Vitamin A:
799
IU
|
Vitamin C:
6
mg
|
Calcium:
269
mg
|
Iron:
1
mg