A year ago I'd never heard of quinoa. I've only recently stopped calling it quin-Oh-a (it's Keen-WAAAH by the way). I guess we all grow up sometime. I discovered it when I started doing Noom. Veggies aren't my strong-suit and Lauren will only let me eat potatoes for so many meals a week. While searching for something else that was roughly a vegetable, but wasn't gross I came across quinoa. I wasn't sure what to expect the first time, but I was instantly hooked. We ate it in a couple different ways and enjoyed it, then we ended up with Instant Pot jalapeño quinoa and it has become and staple of our weeknight menu.
It is the perfect addition for any family looking for a non-vegetable vegetable to serve or is tired of potatoes with every meal. I'll confess though, I have argued there is no reason you can't have quinoa and potatoes in the same meal, I mean we eat them with beans all the time. This recipe is great for its simplicity and should give anyone the basic steps to add unique flavors and make this dish their own!
So what is it?
It's like rice, but tastes better, is easy to make, and is healthier. It's basically nothing like rice. I think it's healthier at least, I'm not nutritionist and you didn't come here for healthy recipes, so let's go with it. Quinoa is sort of like a grain, but not exactly, read the linked wikipedia article and try to figure it out for yourself, or just trust me and try it.
I'm not sure how to describe the flavor. It has more to it than rice almost like a tiny pasta, but like rice takes on flavors readily, hence this recipe. We've started making this instead of rice in situations we'd normally use rice. And we have eaten Instant Pot quinoa far more than we ever ate rice. That being said, don't skip the rinse! This isn't optional like with rice depending on what texture you want, you really need to rinse quinoa.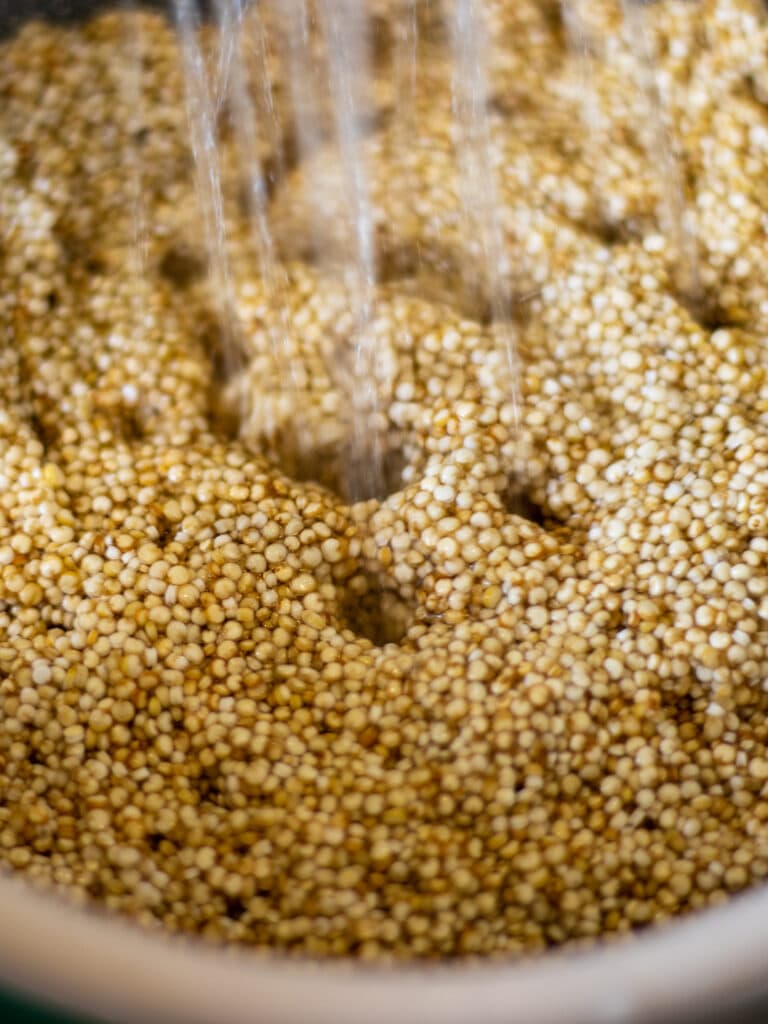 Why the Instant Pot?
Let me start off by saying I was skeptical of the Instant Pot. We asked for one for Christmas from my parents a few years ago largely because we couldn't think of anything else. It took a bit before we started using it, but it has certainly found a home in our kitchen arsenal. One of the best things about the Instant Pot for us is how well it keeps food warm without burning it on the bottom.
Frankly, this recipe isn't faster than just cooking quinoa on the stove, but it's effortless. This recipe cooks quickly (literally only 1 minute under pressure), but you can start it before your protein and let it keep warm on it's own virtually forever until you're ready to serve it.
The Instant Pot does a great job of introducing slow cooked flavors quickly. You would never get the deep fresh jalapeño flavor cooking this on the stove. Combined with the fact this recipe is a simple no fail side, it's well worth digging down into the cabinet and dragging out the Instant Pot!
Start with the peppers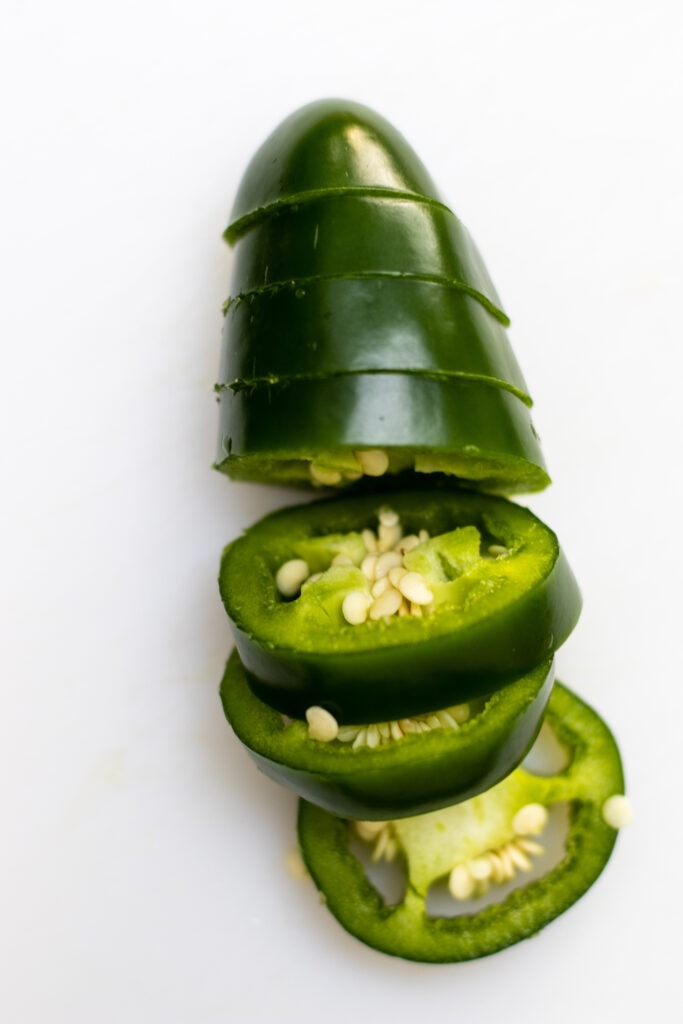 This recipe leans hard on the taste of fresh green jalapeño. I normally prefer pickled jalapeños, and you could get away with it here, but the grassy quality of fresh jalapeños really works well with the quinoa. Plus we have a pretty good haul of them this year from the "garden." Fresh jalapeños also bring enough heat to the party to move the needle a touch. As you probably know by now, we're kind of pepper heads, I generally add a couple shakes of Flat Iron Pepper Company's Hatch Valley Green blend for a bit of extra flavor. It's pretty mild and goes great with this dish.
You're going to need more than just water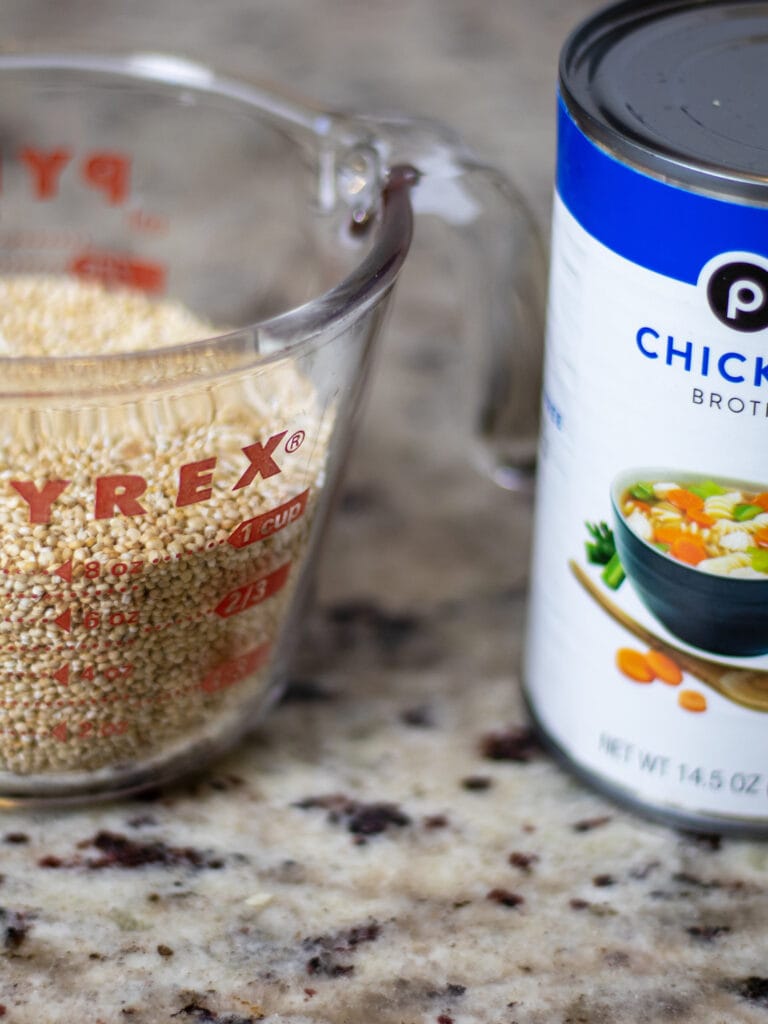 Confession, I've never had quinoa made with just water. I'm sure it is as bland as it sounds. You don't make risotto with just water. You don't make soup with just water. I guess you generally make rice with just water, but isn't this dish about being better than rice? We use chicken broth, and not necessarily fancy chicken broth. To make things even easier, the ratio is easy to remember, one cup of dried quinoa and one can of broth. Done. The chicken broth provides a salinity and umami that really makes this Instant Pot quinoa flavorful, after that it is ready for whatever twist to work with the dish at hand. We haven't tried making it with beef broth yet, but I can see that being a great idea to serve with some Texas chili!
The great thing about Instant Pot quinoa though, is you just dump it all in and set it.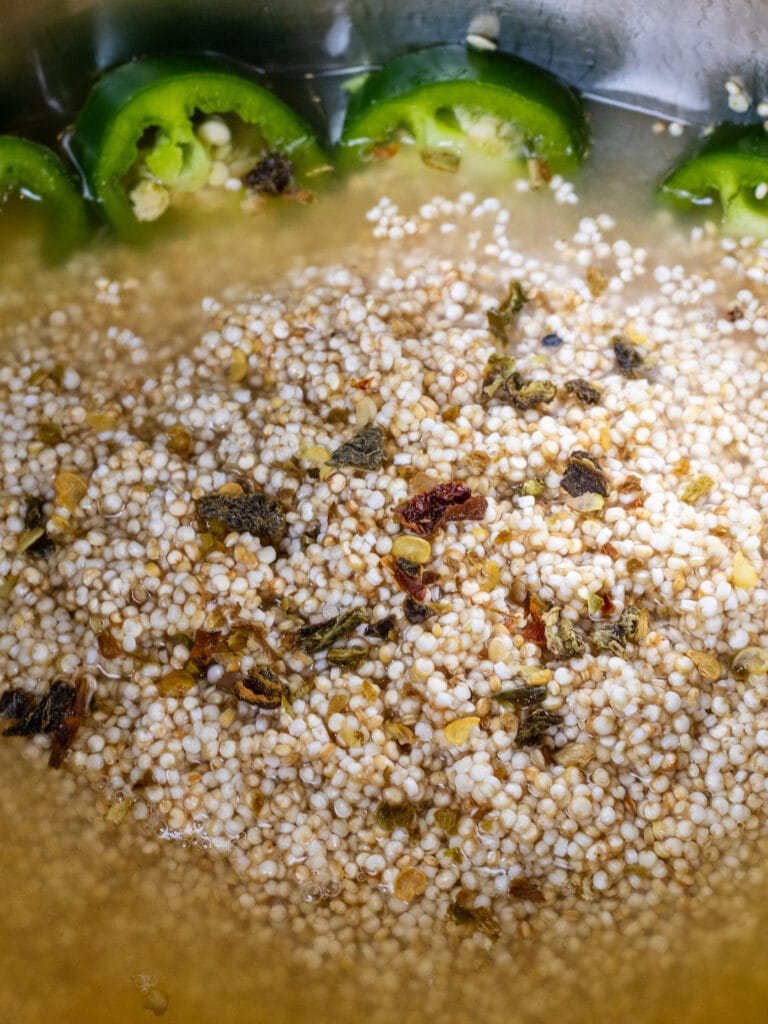 Set it and almost forget it
The single best thing about this recipe is how hands off and foolproof it is. It is a tie between cutting the jalapeño and rinsing the quinoa for most labor intensive part of the process. Add the ingredients, set the Instant Pot to high pressure for one minute. That is it.
Lauren frequently asks me when whatever I am grilling will be ready, and my answer is usually "in a little bit" or something similarly uncommittal. While I am fortunate to have such a marvelous dance partner, having a side that can be done and waiting is pretty helpful as well. I'm not sure how long you can let this guy hold on the keep warm setting but we've had it in warm mode for 45 minutes or so with no ill effects. Instant Pot quinoa goes great with grilled meat, like our Smoked Chicken Tenders, or beside refried beans with Mexican food.
Let us know how you prepared it in the comments below! Also, one more picture because the jalapeños lined themselves up like that completely on their own (no shitting) and I can't just let it be.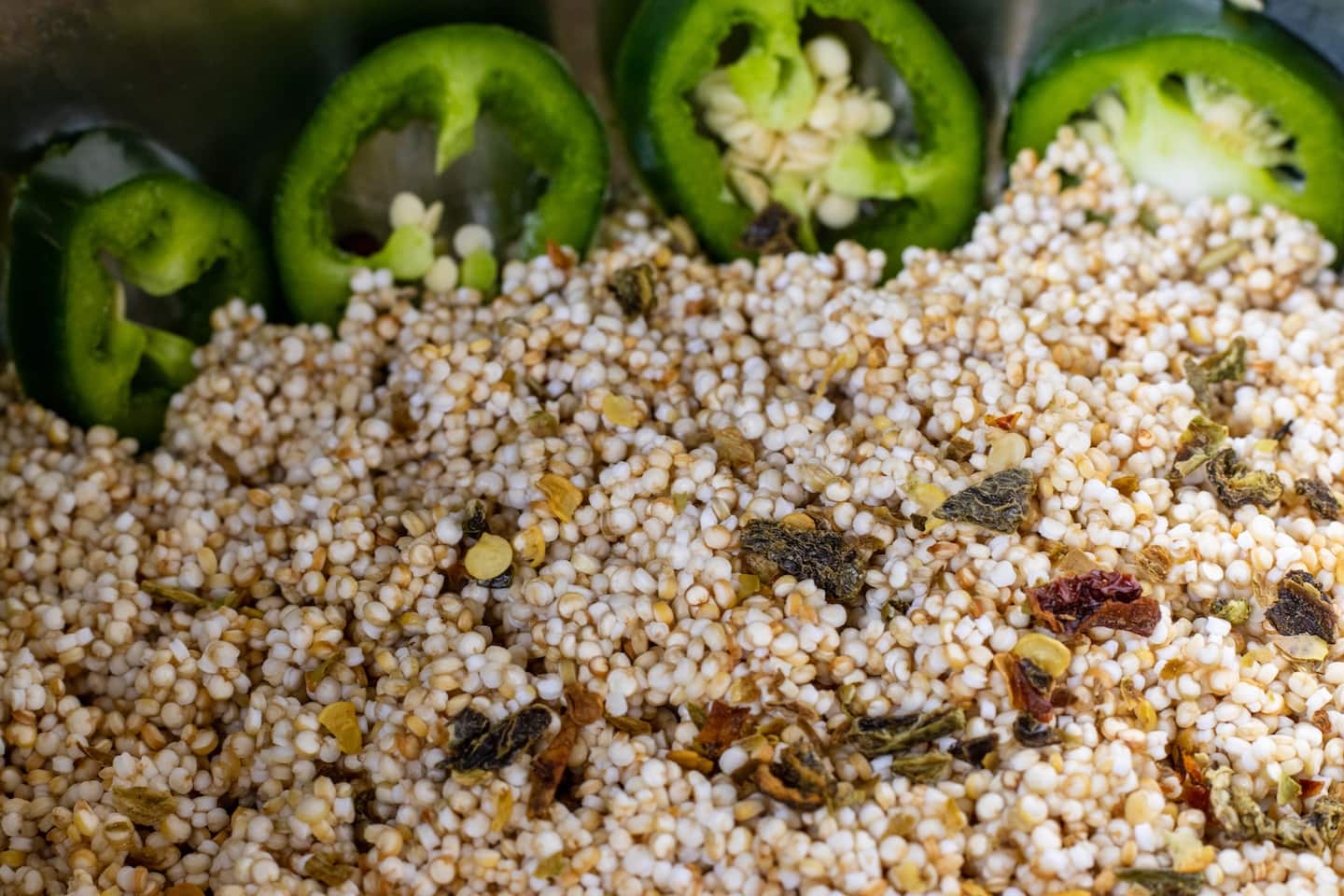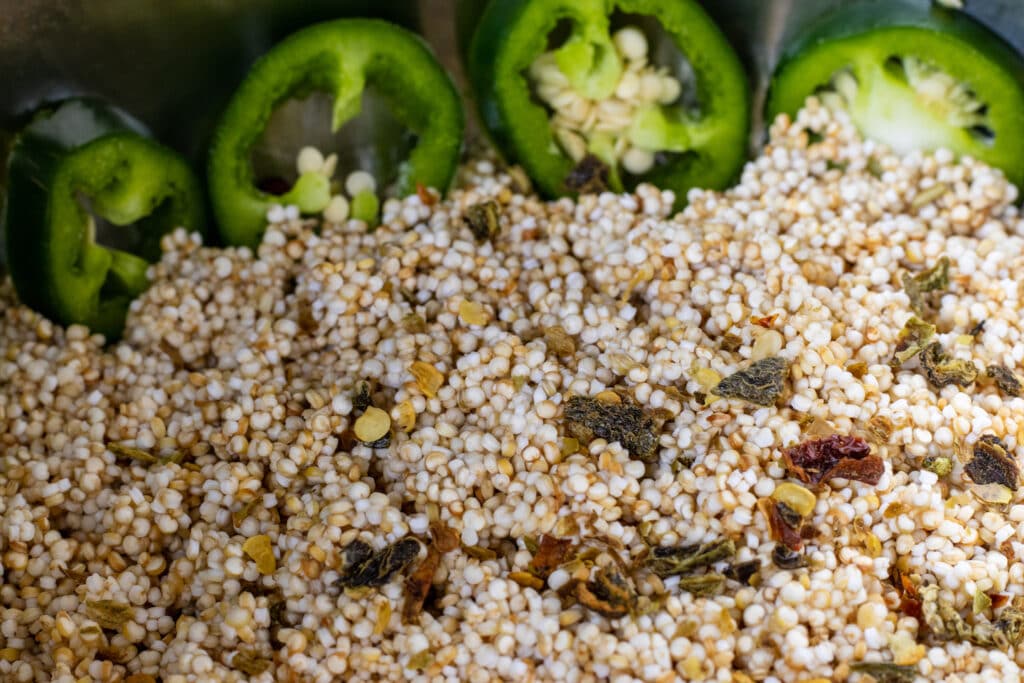 Ingredients
1

c

Quinoa

1

can

Chicken Broth

1

Jalapeño

sliced or diced

¼

tsp

Green Pepper Flakes

or your preferred variety
Instructions
Rinse quinoa thoroughly and add to Instant Pot.

Add a can of chicken broth, Jalapeños, and pepper flakes.

Set to cook on high pressure for 1 minute. Yes, one minute. Allow for natural release and let it keep warm until ready to serve. When ready to serve fluff with a fork and serve.
Nutrition
Calories:
108
kcal
|
Carbohydrates:
19
g
|
Protein:
4
g
|
Fat:
2
g
|
Saturated Fat:
1
g
|
Sodium:
186
mg
|
Potassium:
200
mg
|
Fiber:
2
g
|
Sugar:
1
g
|
Vitamin A:
50
IU
|
Vitamin C:
6
mg
|
Calcium:
16
mg
|
Iron:
1
mg