Or, just homemade Garlic Bread in the Holmes family. This is a staple and another of my mom's creations. I've never seen garlic bread like it anywhere else. I have, of course, added my own touches over the years. I'm not sure if this recipe has ever been written down. As with most of my recipes, this is a loose guide so feel free to do what feels right to you! The red pepper is a new addition, but we love our Flat Iron Pepper Company peppers and the subtle heat really rounds out the garlic.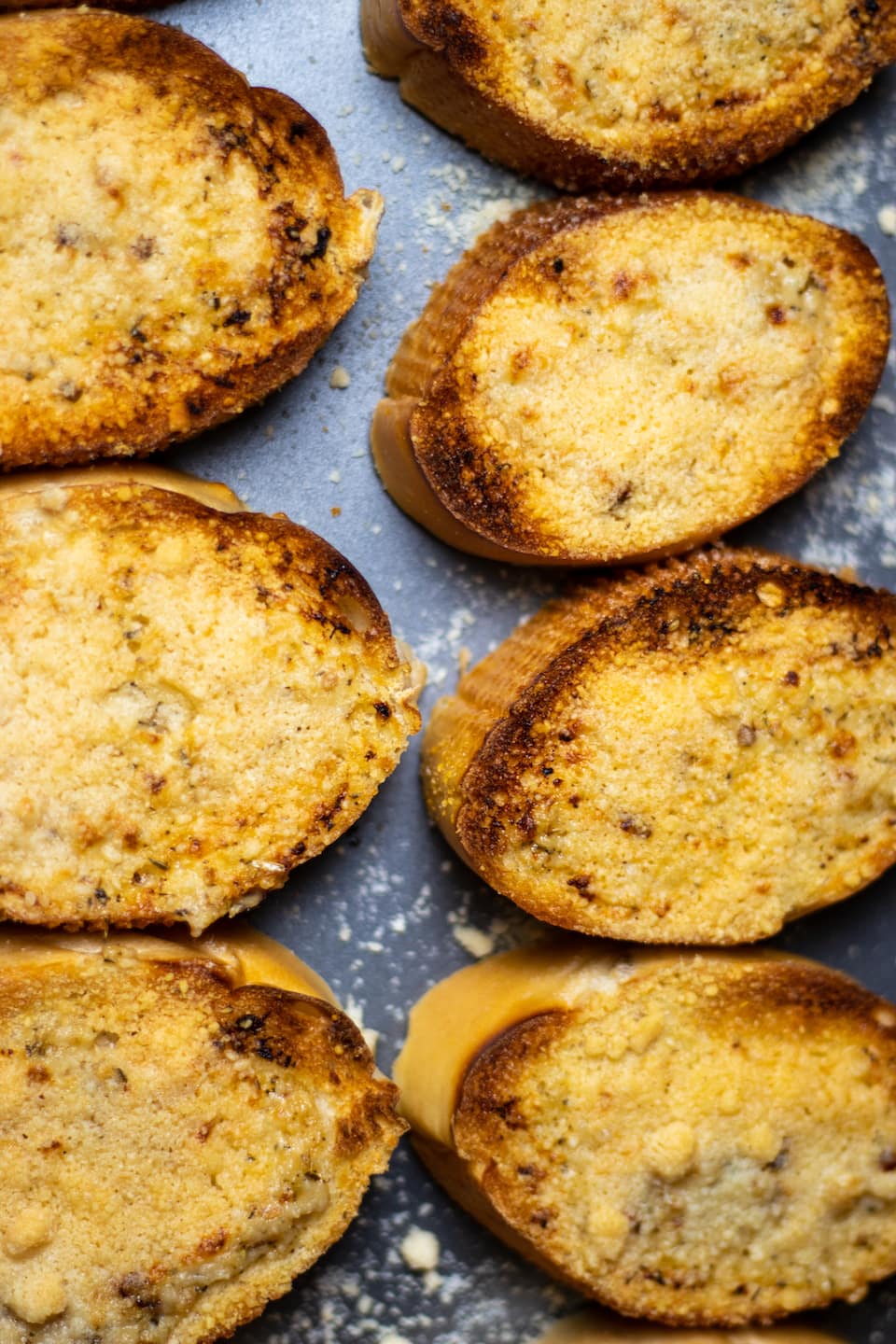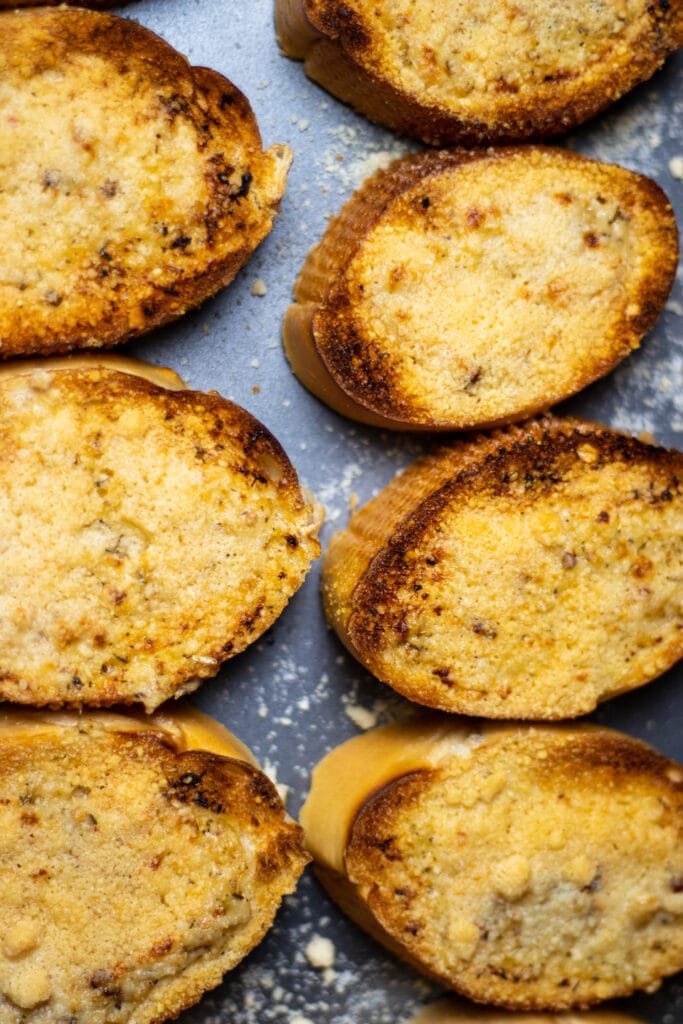 It's all about balance
This homemade garlic bread will try to steal the show. It stands up to a hearty meat sauce, or a rich cream sauce. The crispy crust and soft buttery middle will have you back in the kitchen looking for more. I'm trying to not go make some while typing this....
But it is a bit of a dance getting things right. Too much butter and your bread is just a soggy piece of toast. Too much garlic and the bread will be good, but you won't taste the rest of the meal. This is where gently melting the garlic with the butter helps. It allows the garlic to soften and mellow and it flavors the butter with garlic so every slice will enjoy the same garlic punch.
Typically I start the butter mixture in a small pan once I've decided whatever sauce I'm cooking is done being tinkered with. I take joy in getting as much garlic as I can balanced on the butter in the pan.
I don't bother stirring it. On low enough heat the butter will melt and the garlic will sink down into it. Once the butter has melted and the garlic is starting to almost dissolve into it, it is time to add the remaining seasonings. I don't have a ton of guidance on time here, just keep an eye on it. You don't want the butter simmering, just slowly melting. You'll be able to tell when the garlic starts to melt and has lost most of its form. My mom always added oregano at the end with the Parmesan, but I like to let it flavor the butter with the garlic, especially if you have some fresh oregano on hand. You've also probably noticed that we're red pepper nuts, you can leave this out, but a pinch really helps bring the flavor home on this bread.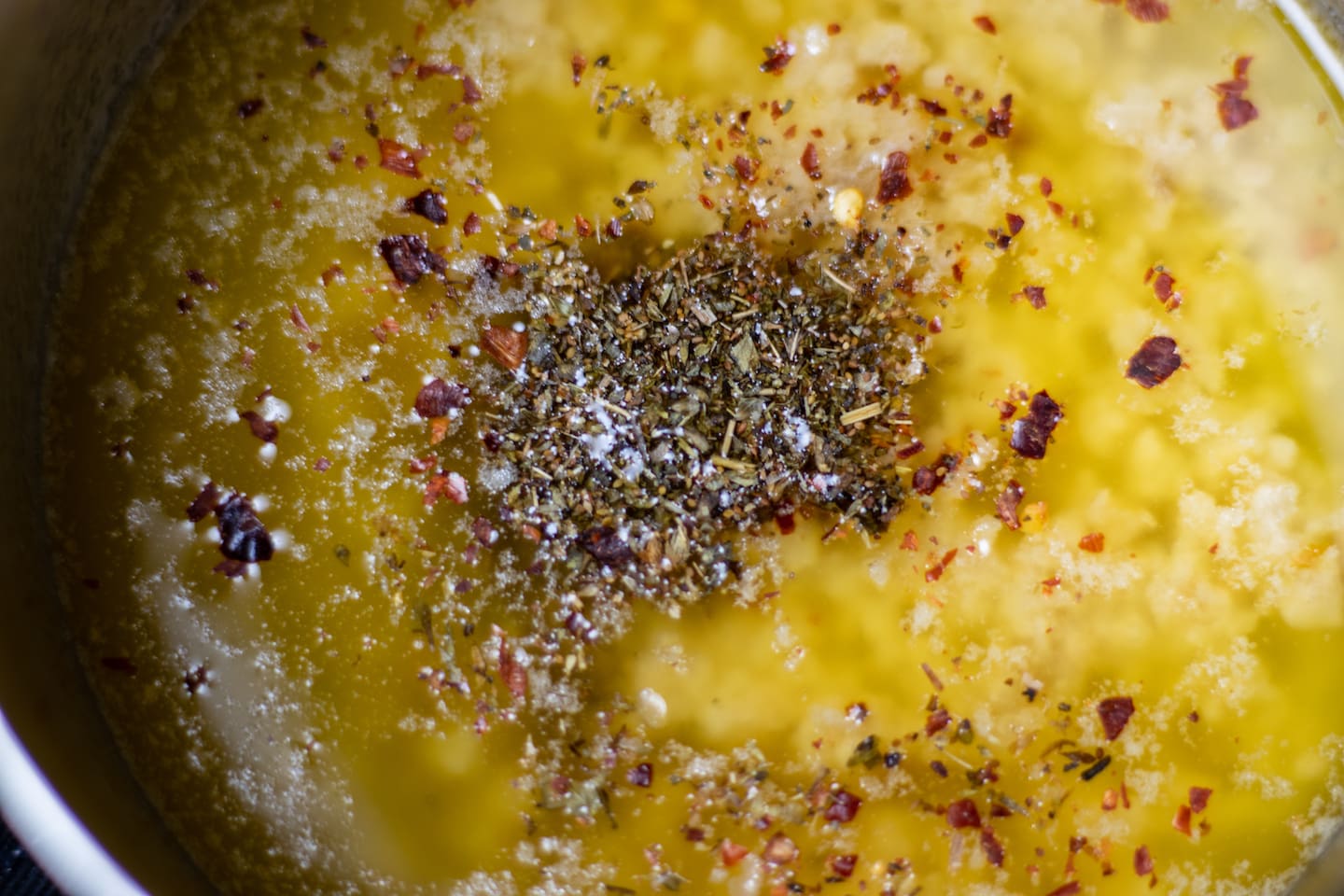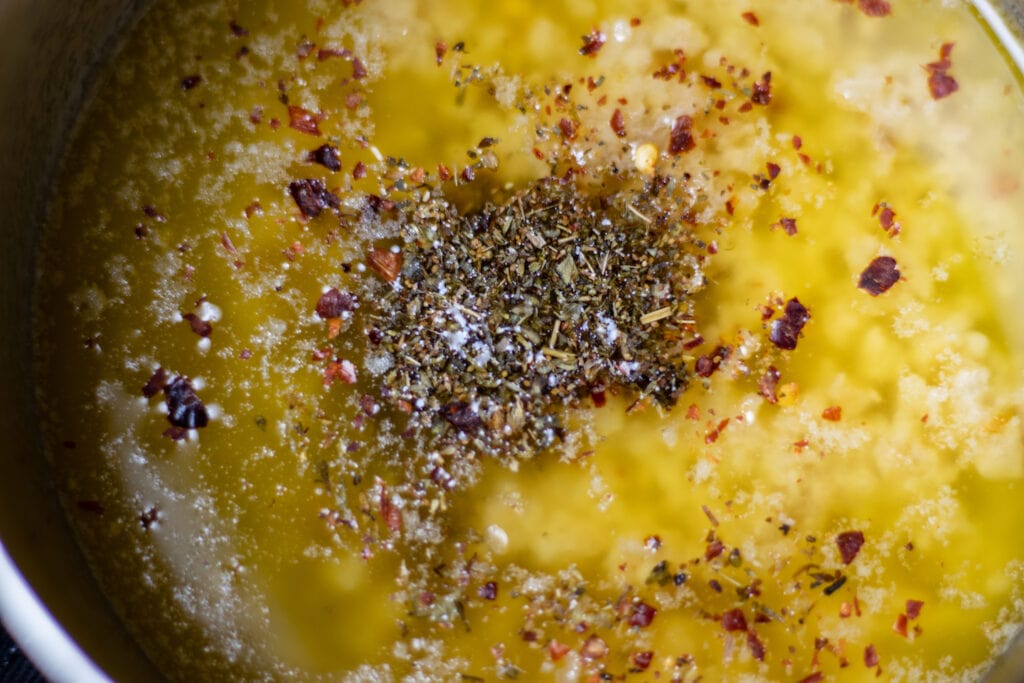 Did you think I forgot about the bread?
This recipe isn't picky about what bread it goes on. I generally look for a decent loaf of French or Italian bread. As much as I love them, I avoid baguettes for this as the are generally too dense. I slice the bread about an inch thick and lay out the slices on a cookie sheet.
Now comes the part about being judicious. I use a standard spoon to stir together my butter mixture and spoon it onto the bread. Remember a little goes a long way here. I try to get a little garlic on each piece of bread and make sure I evenly coat as much of it as possible with butter. You'll feel like you're not going to have enough butter about halfway through, and you may or may not be right. I typically start getting more conservative and make it, but occasionally I just decide to make fewer pieces of bread....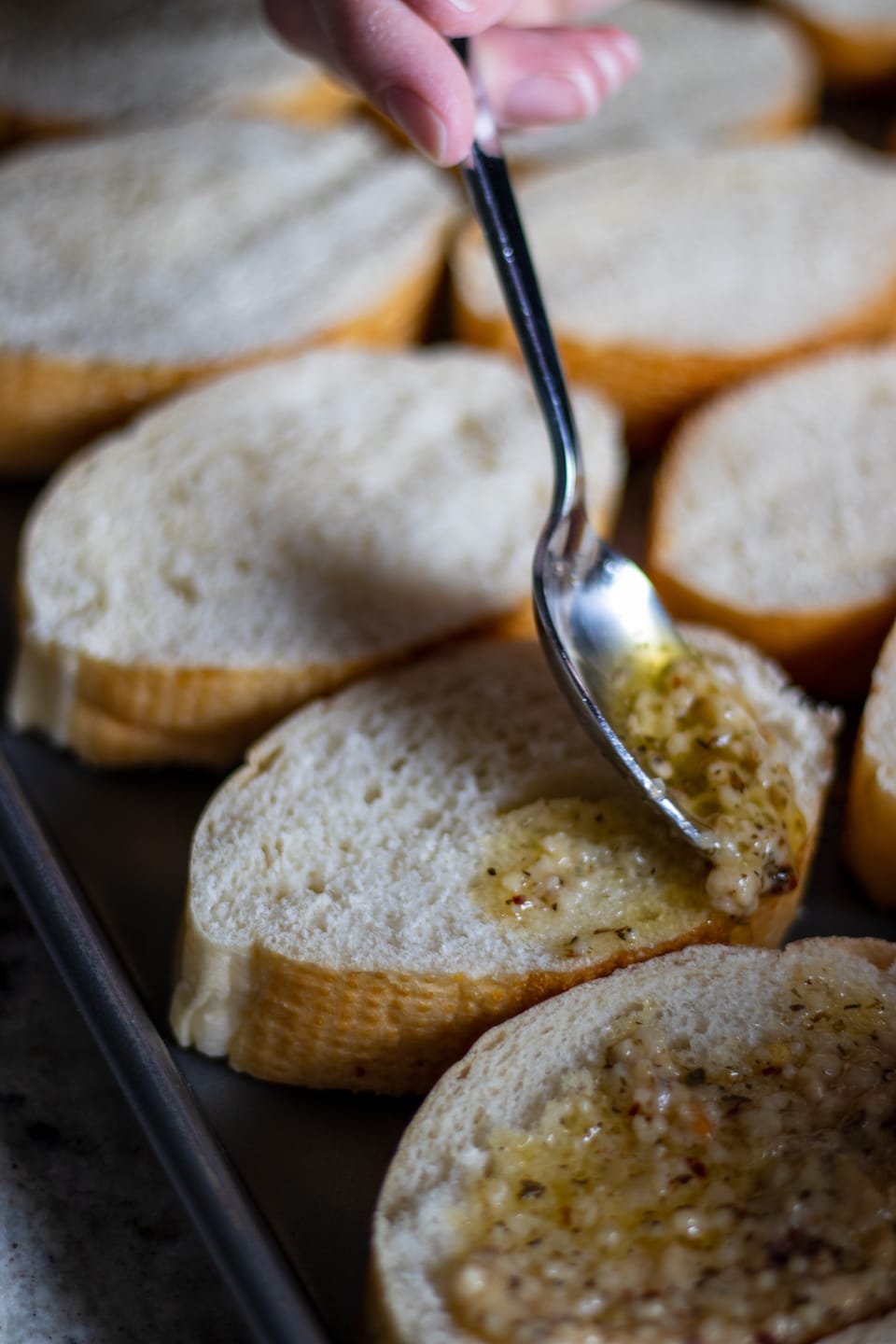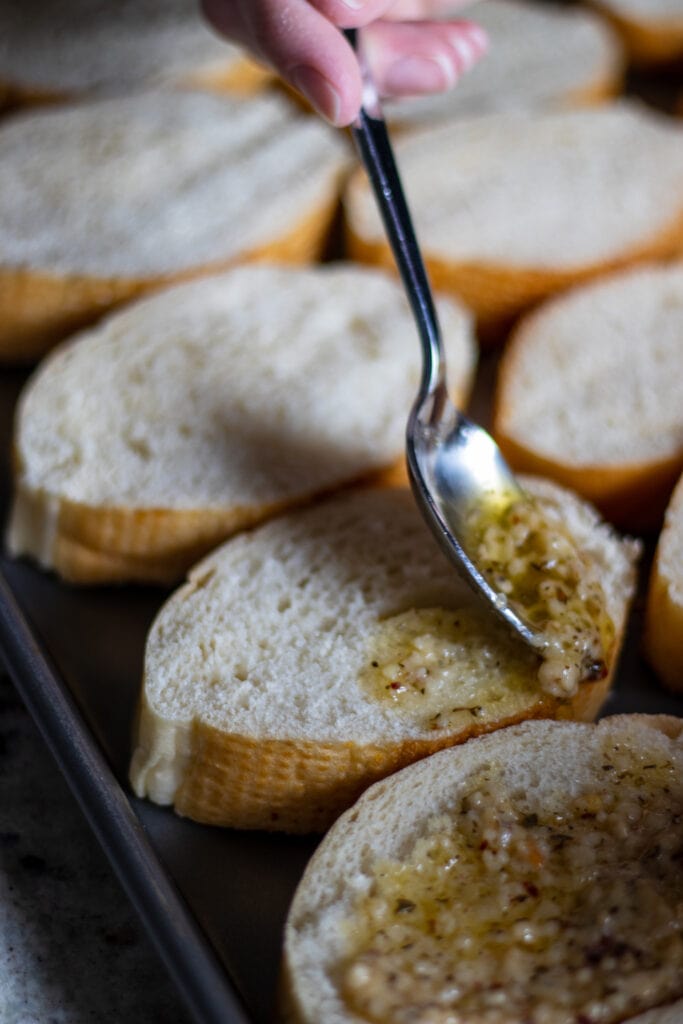 Now it is time for the parmesan magic!
This is where the good stuff happens. I know we have a food blog and we're supposed to be all fancy and stuff, but I've got a thing for Kraft Grated Parmesan Cheese. It's what I grew up on, and more importantly its low moisture content makes it perfect for so many uses. And it's delicious. So, I'm sure you could go with fresh parmesan here, but I doubt it would draw the butter out and create the nice parmesan crust you'll get with the "sprinkle cheese" as it is called in our house.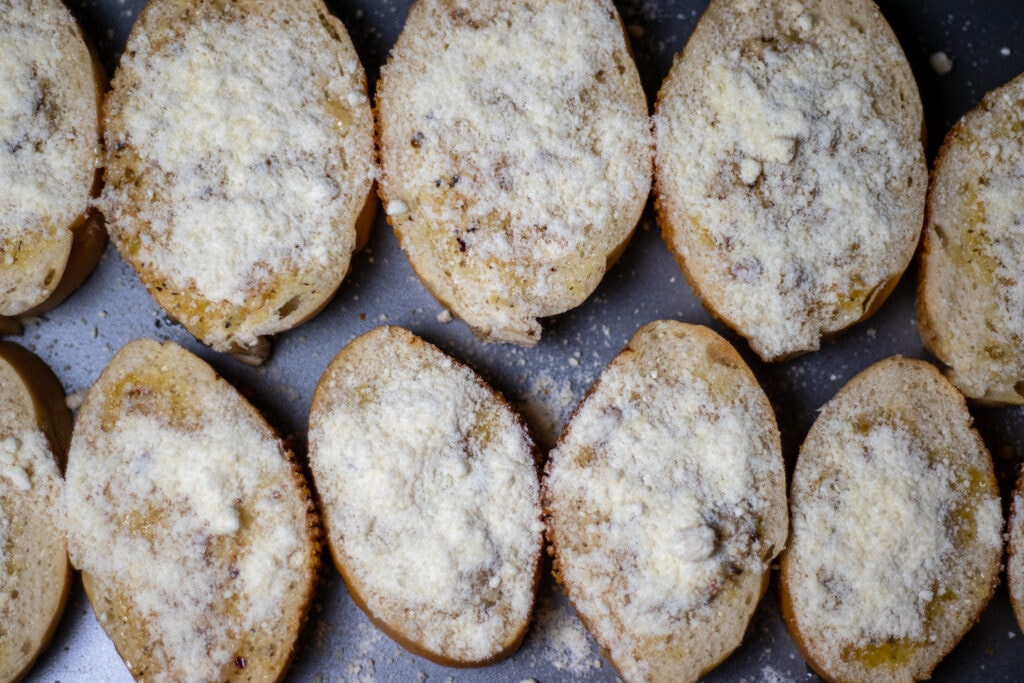 Sprinkle some parmesan cheese over each of the slices of buttered bread. I try not to go too nuts here, but I like to get a little mound of parmesan on each piece of bread. Inevitably, little clumps of cheese will roll off, don't worry about it, those are great little chef treats after you've broiled the bread!
DO NOT

set the bread on fire

Lauren asked if I was going to mention this, and of course I will. At this point you're ready to put the bread under the broiler. I generally do this around the same time we drop the pasta, or at least when the pasta water is almost ready. This bread doesn't have to be piping hot, but it is pretty damn good nice and warm so I try not to do it too much in advance. Each broiler works differently, so this is a good "know your equipment" moment.

Place the bread under the broiler and KEEP AN EYE ON IT. Really, KEEP AN EYE ON IT. Your broiler may not cover the full pan so you may need to move it a bit to get everything evenly browned. You'll know the garlic bread is ready when the edges of the bread are starting to brown and the tops are getting tan and crisp. As you may have surmised, it is very important that you keep an eye on this! I consider myself a seasoned pro at this recipe, but I have, on more than one occasion, run out of the house with a pan of garlic bread on fire. You've been warned!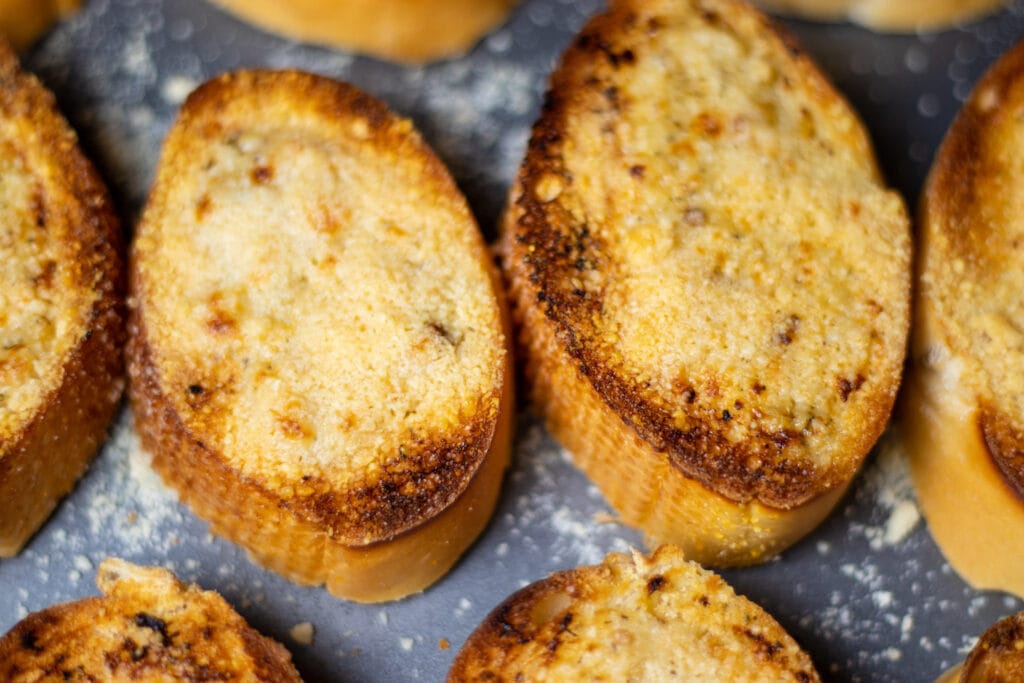 Once you've made it, you'll be coming up with excuses to make homemade garlic bread. We ALWAYS have it with Spaghetti and with our Meatballs. While we rarely try to reheat it, though it does make amazing bread crumbs. Let any leftovers dry a bit and toss them in a blender or food processor and pulse to turn into bread crumbs. Let us know how you ate yours in the comments below!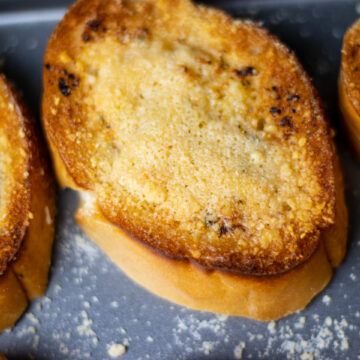 Homemade Garlic Bread
Cheesy, crunchy, garlicy!
Print
Pin
Rate
Ingredients
1

loaf

Italian or French Bread

5

Cloves

Garlic

minced

5

tbsp

Butter

½

tsp

Oregano

1

dash

Red Pepper Flakes

if desired

½

cup

Parmesan Cheese

grated
Instructions
Place butter and garlic into a small sauce pan over low heat.

Allow the butter to slowly melt and the garlic to soften then add oregano and red pepper flakes if using. If garlic is soft, turn off heat and stir ingredients together.

Cut bread into roughly one inch thick slices and place on a cookie sheet.

Spoon butter mixture onto each slice of bread. Make sure to get a some garlic on each slice, but don't over do it, you can always go back and finish the butter mixture if you were too conservative.

Sprinkle with grated parmesean cheese, add as much as you're into here!

Turn on your broiler and place bread under it, keeping a careful watch to remove when brown, but not yet on fire.
Nutrition
Calories:
324
kcal
|
Carbohydrates:
24
g
|
Protein:
6
g
|
Fat:
23
g
|
Saturated Fat:
13
g
|
Cholesterol:
19
mg
|
Sodium:
249
mg
|
Potassium:
103
mg
|
Fiber:
2
g
|
Sugar:
14
g
|
Vitamin A:
216
IU
|
Vitamin C:
1
mg
|
Calcium:
61
mg
|
Iron:
1
mg