It's nearly impossible not to love homemade meatballs. I'd say it's right up there with Mac and Cheese as the ultimate comfort food. We serve this over polenta as often as we serve it over pasta these days, and even our picky 7-year-old loves these meatballs! While eating this batch he said, "Thank you for giving me your life cow and pig. You taste very good." And he's not wrong!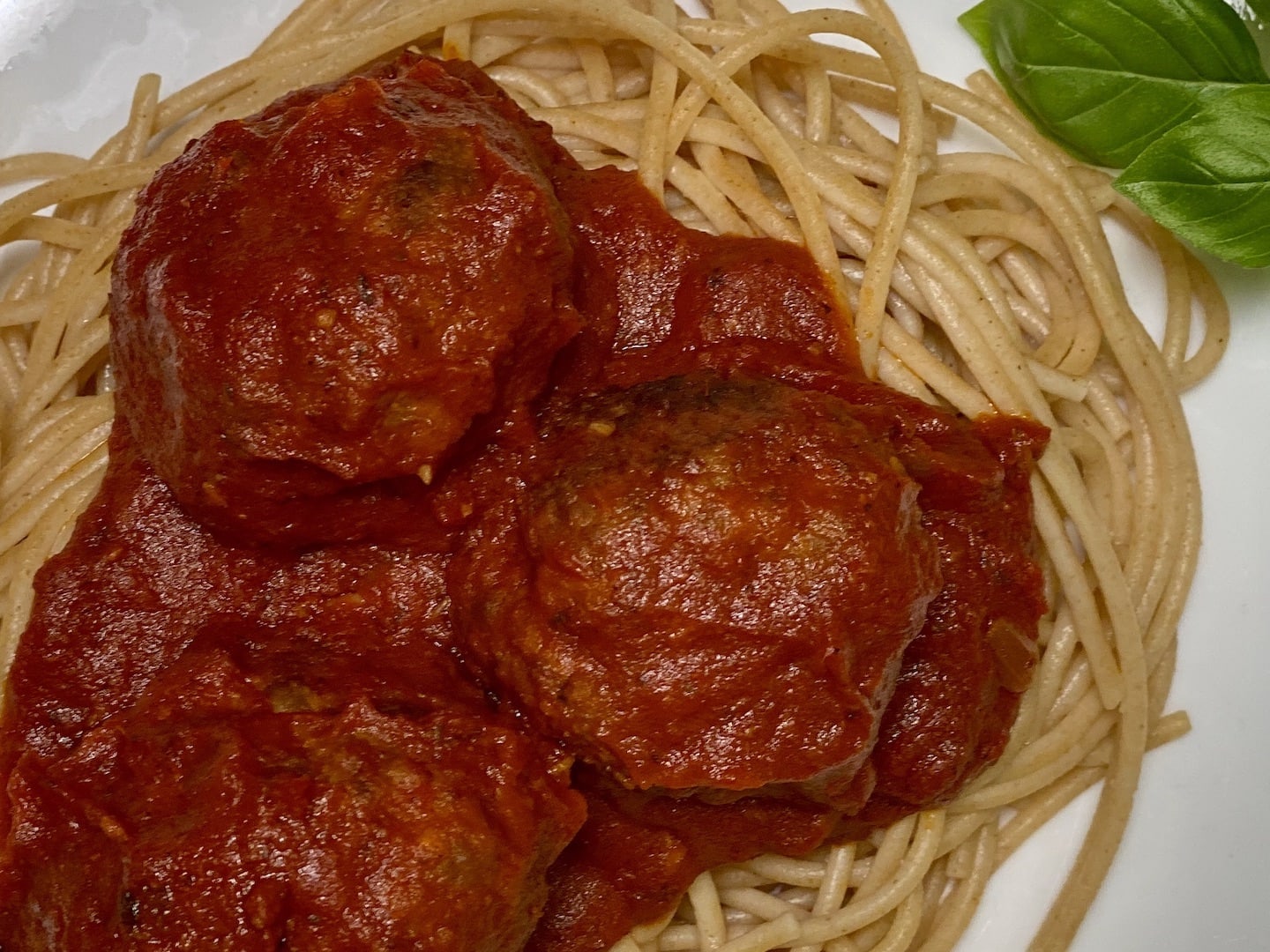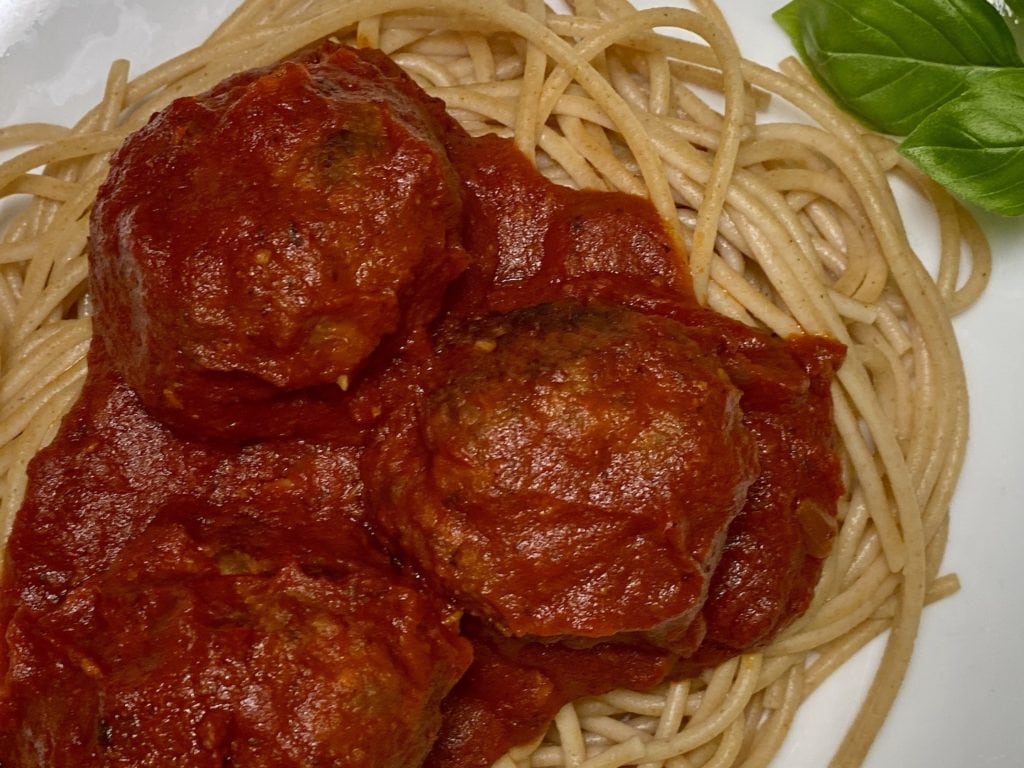 This is a "Scott recipe" which means I've made homemade meatballs for years, but it has never been written down. It has always been a dash of this and a pinch of that. So this time I measured everything that went into it. We were both amazed when we didn't need to add anything after the first taste, I don't think that has ever happened before.
The art of the homemade meatball.
That being said, as a "Scott recipe" this should serve as much a guide as it does a recipe. Adjust some of these ingredients according to your taste and others (such as breadcrumbs) based upon the moisture in your meat, size of your egg etc. We love spicy meatballs, but this recipe was mild enough for our 7 year old.
I started making this recipe at some point after college. I'm sure I looked at recipe when I started, but ever since I've just known what what I like and combined the ingredients based on feel. I've always enjoyed cooking as an art vs. baking which Lauren loves for being so scientific. You can't add baking powder by feel.... I was a little amazed when I started measuring how different some of the measures were than I would have guessed. I started seeing a basic proportionality and I knew I was on the right track.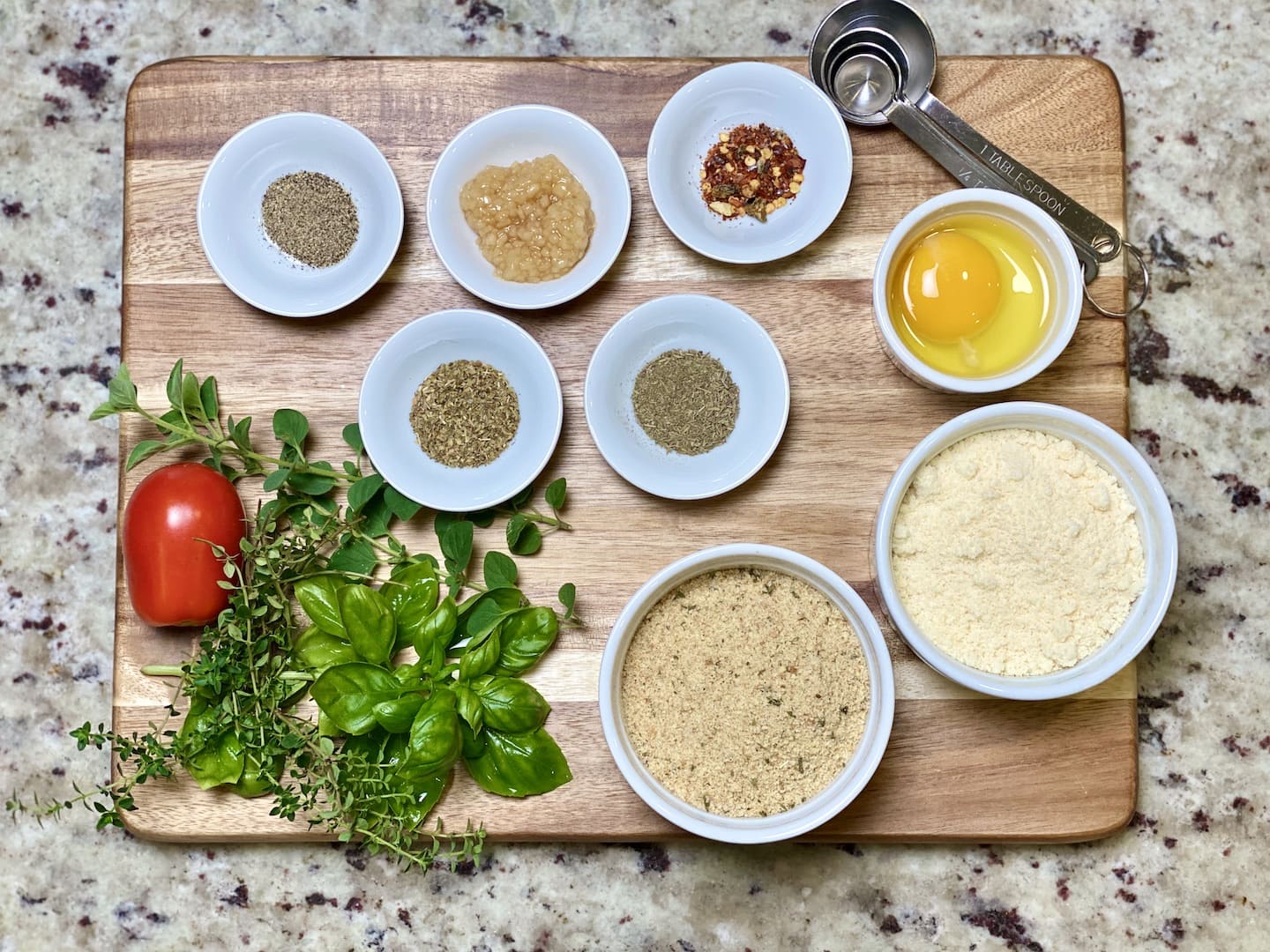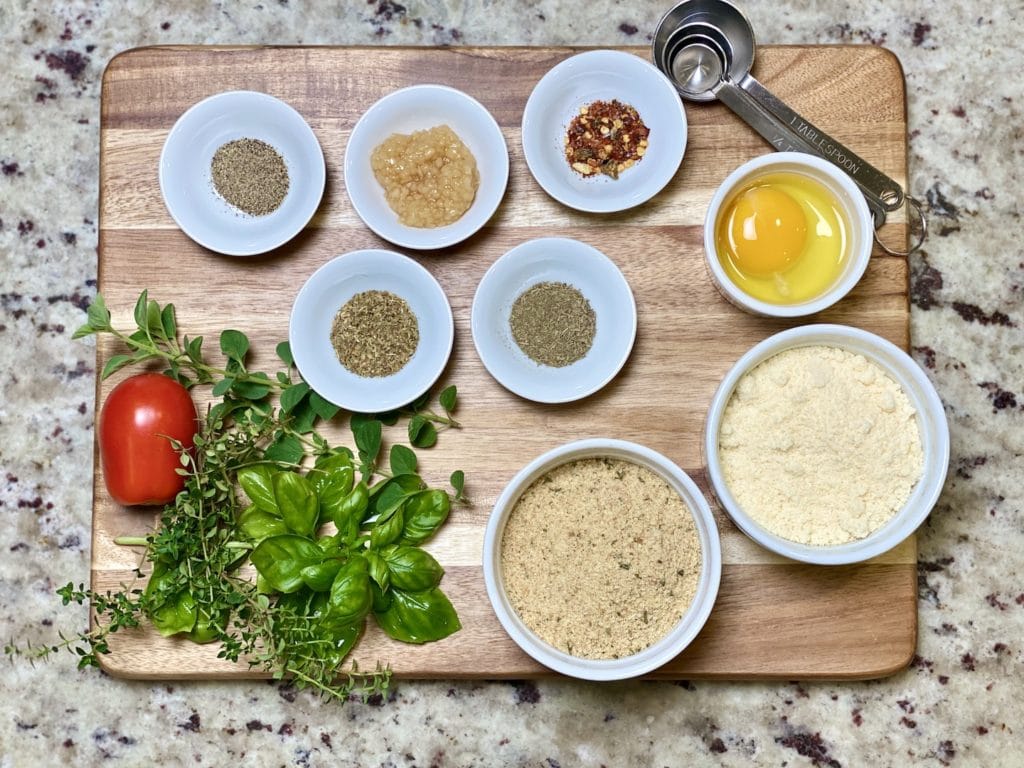 There is no picture of he bowl of meat because my limited food photography skills couldn't create a picture of it that was appetizing.
Surprise! You start with meat!
I start with a pound or so (20 oz. in this recipe) of ground chuck (you could use a leaner meat, but your meatballs will get denser as your meat gets leaner) and a pound of Italian sausage. Luckily this trip our grocery store had bulk sausage, we prefer the spicy Italian and our grocery store is hit or miss on whether they have it in bulk. If you can't find it in bulk just grab some links and squeeze them out. Its kind of gross, but if you can't handle squeezing out sausage links, you should probably not try this recipe.
I place the meet in a bowl and add a broken egg. There is no need to scramble the egg, you will thoroughly blend it into the meat. Then add your bread crumbs, Parmesan cheese (we prefer the Kraft grated for this), and the remainder of the herbs and spices. I do it in that order, but I don't think it matters. One thing to note here, we love fresh herbs from our patio, but this isn't the place for them. Dried herbs blend much better into the meat here and are less likely to present themselves individually at the wrong time.
That's one spicy meatball!
We use red pepper flakes from Flat Iron Pepper Company in our homemade meatballs, but you can use generic red pepper or leave it out if you are sensitive to spicy foods. Combine the meat and other ingredients using the delightful meat massage technique. Fully incorporate the ingredients, but avoid over mixing it. Be sure to clean well under your nails when you wash your hands or risk a surprise later.
After you have combined your ingredients you're ready to start rolling meatballs. Pinch off ice cream scoop (or so) sized portions of the meat mixture and roll between your palms until it is firm. I make these roughly golf ball size, but feel free to vary if you prefer smaller or larger. Rolling these golf ball size should make about 28 meatballs of a little over an ounce.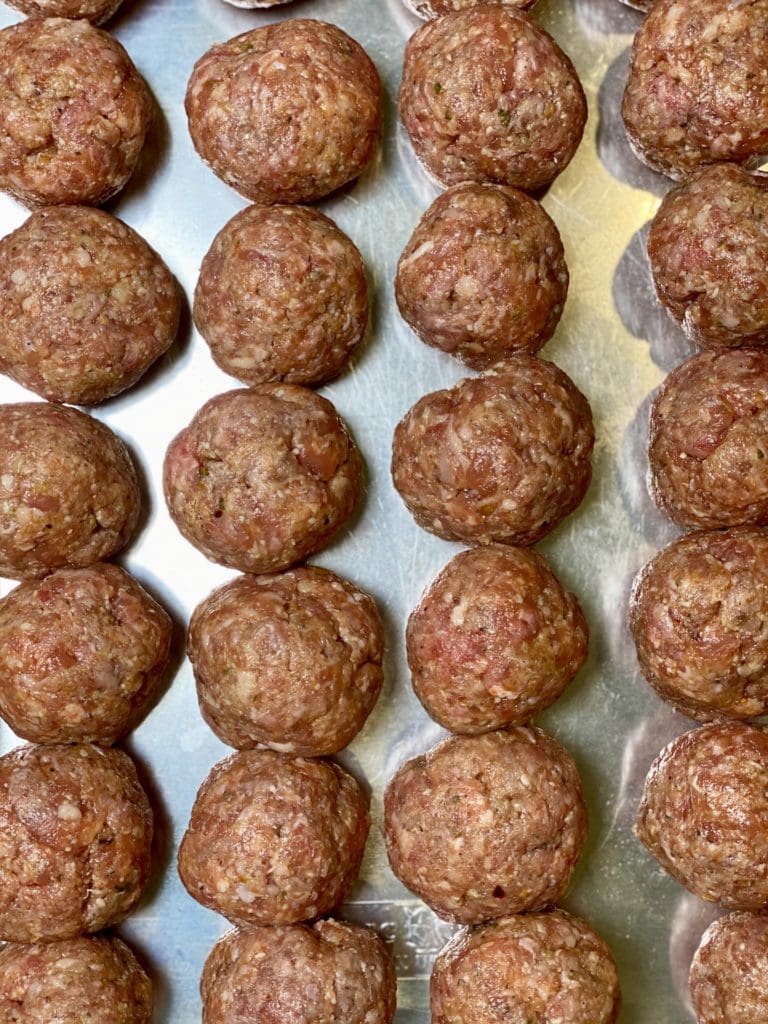 Once you've formed all the meatballs you're ready to cook. Pro tip: when I have about three to go I start hot water running in the sink. You're really going to enjoy thoroughly washing your hands in hot water after 20 minutes of handling cold meat.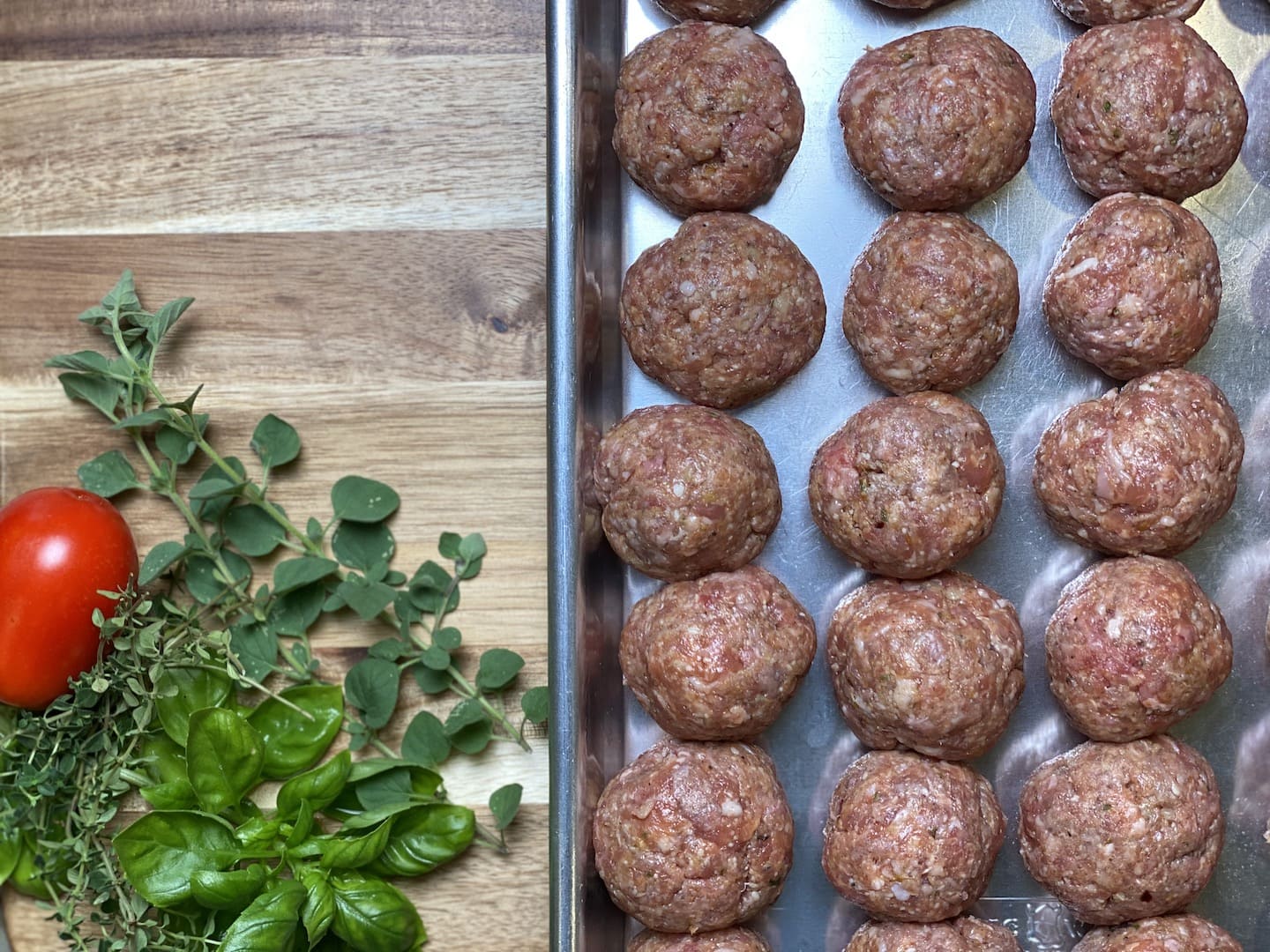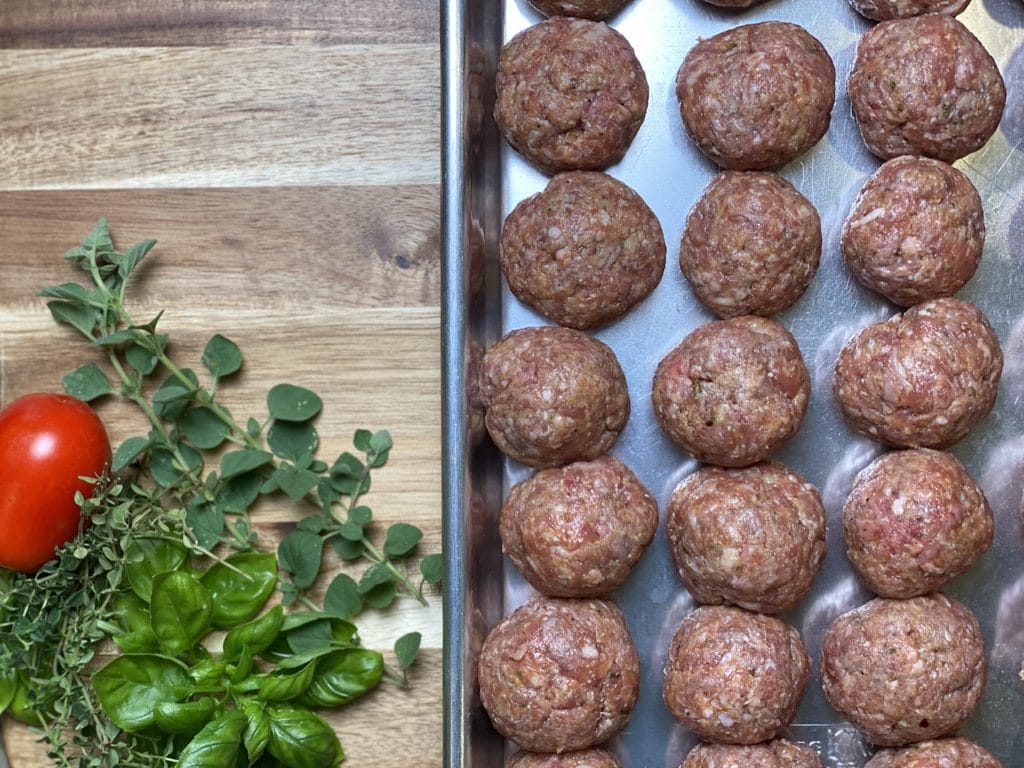 Let's get cooking!
Drizzle some olive oil to coat the bottom of a dutch over or straight sided skillet. We use our well loved Le Creuset dutch oven, but you could use any large thick bottomed pot or skillet. You'll make the sauce in the same vessel though, so make sure it will be large enough to eventually add everything.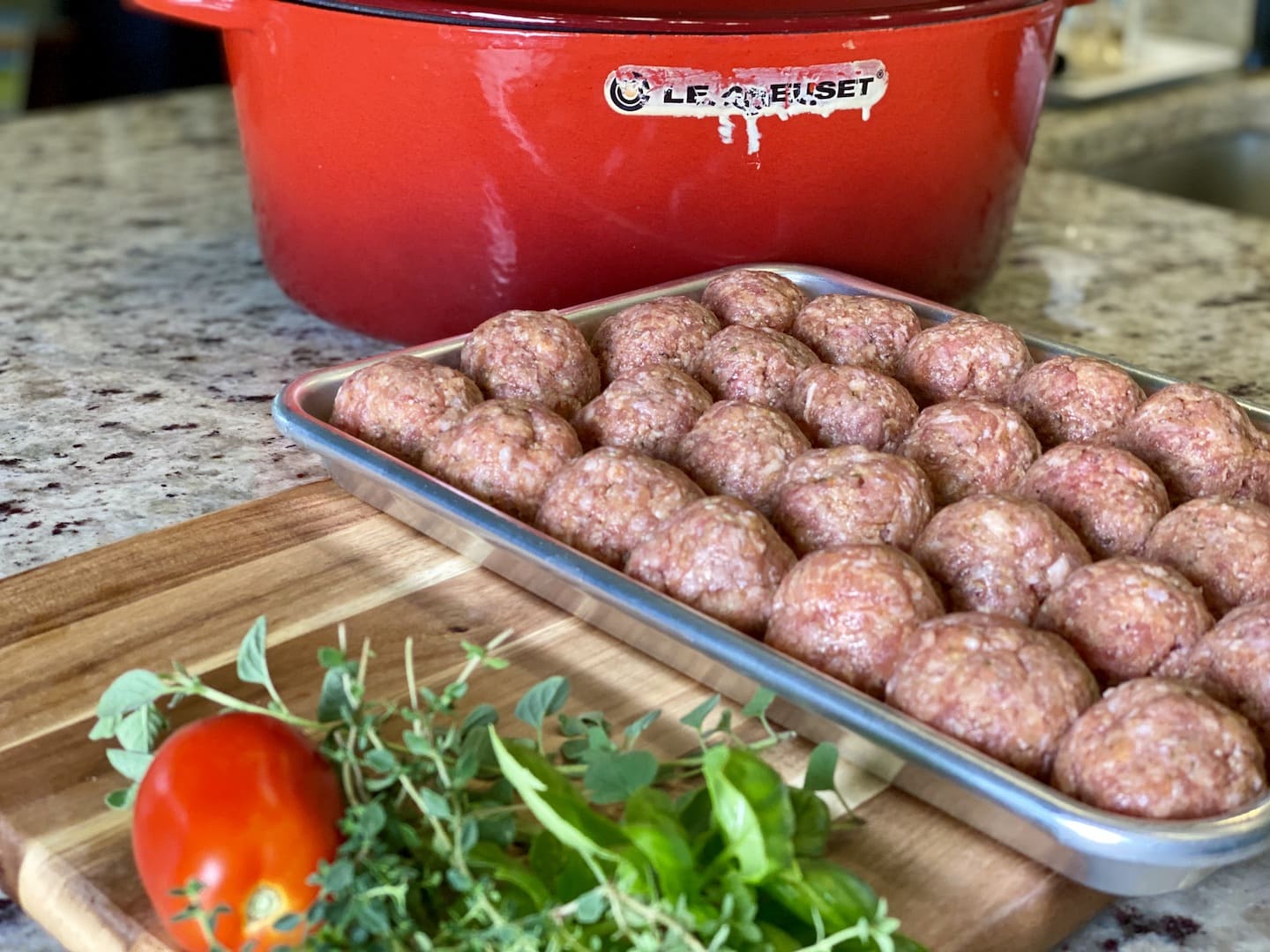 Add the meatballs making sure you do not overcrowd the pan. You don't want to steam them, but more importantly, you'll need room to get some tongs in there to move your meatballs. This step requires patience and a little finesse. Allow the meatballs to cook over medium-low to medium heat. Roll and turn them periodically, but do not force them if they're not ready to move. I'll generally rotate them into the center hotter part of the Dutch oven and add new ones to the outside as the ones in the middle get done. The goal here is to brown them for flavor and also to cook them enough to firm them up. You do not have to cook them through, they'll cook in the sauce, but you do want to cook them enough they don't fall apart in the sauce. Basically, don't break them, don't burn them, and you've mastered this step.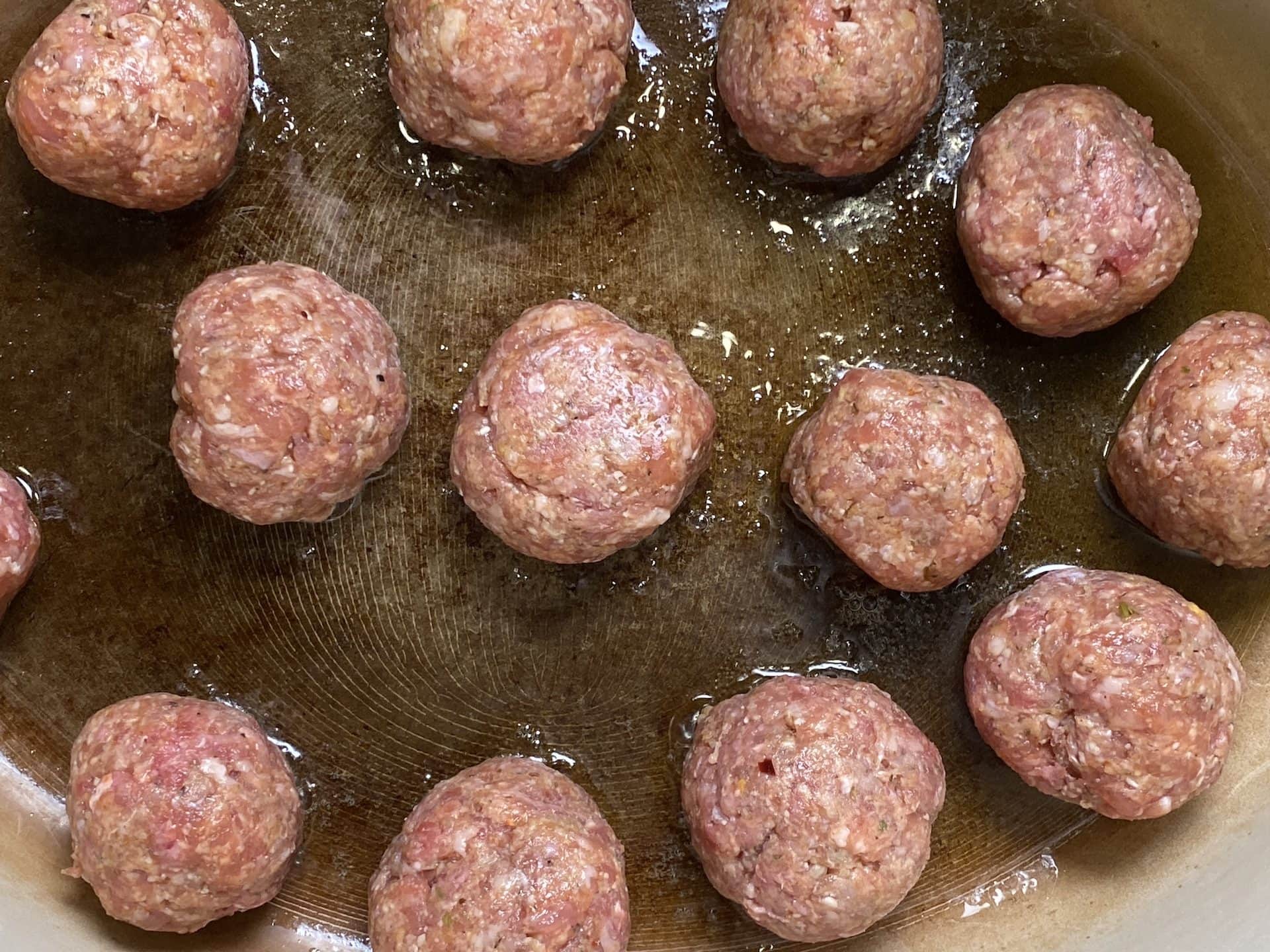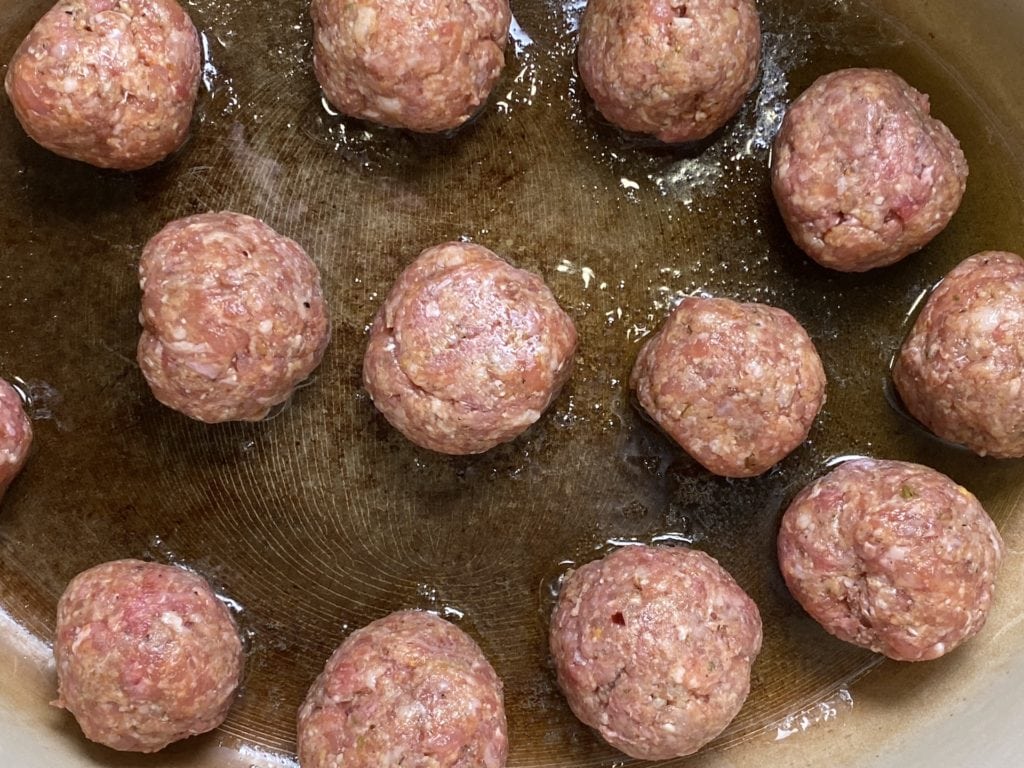 Time for the sauce!
Once you've cooked all the meatballs place them on a paper towel covered dish. It's time for the sauce! I don't remove any of the drippings from the meatballs, but if you're looking to shed a couple calories you can spoon out the excess. Leave the brown bits though! Add the onions to the drippings that remain and cook on medium to medium low heat until transparent. Stir frequently with a wooden spoon and scrape up the fond as you stir.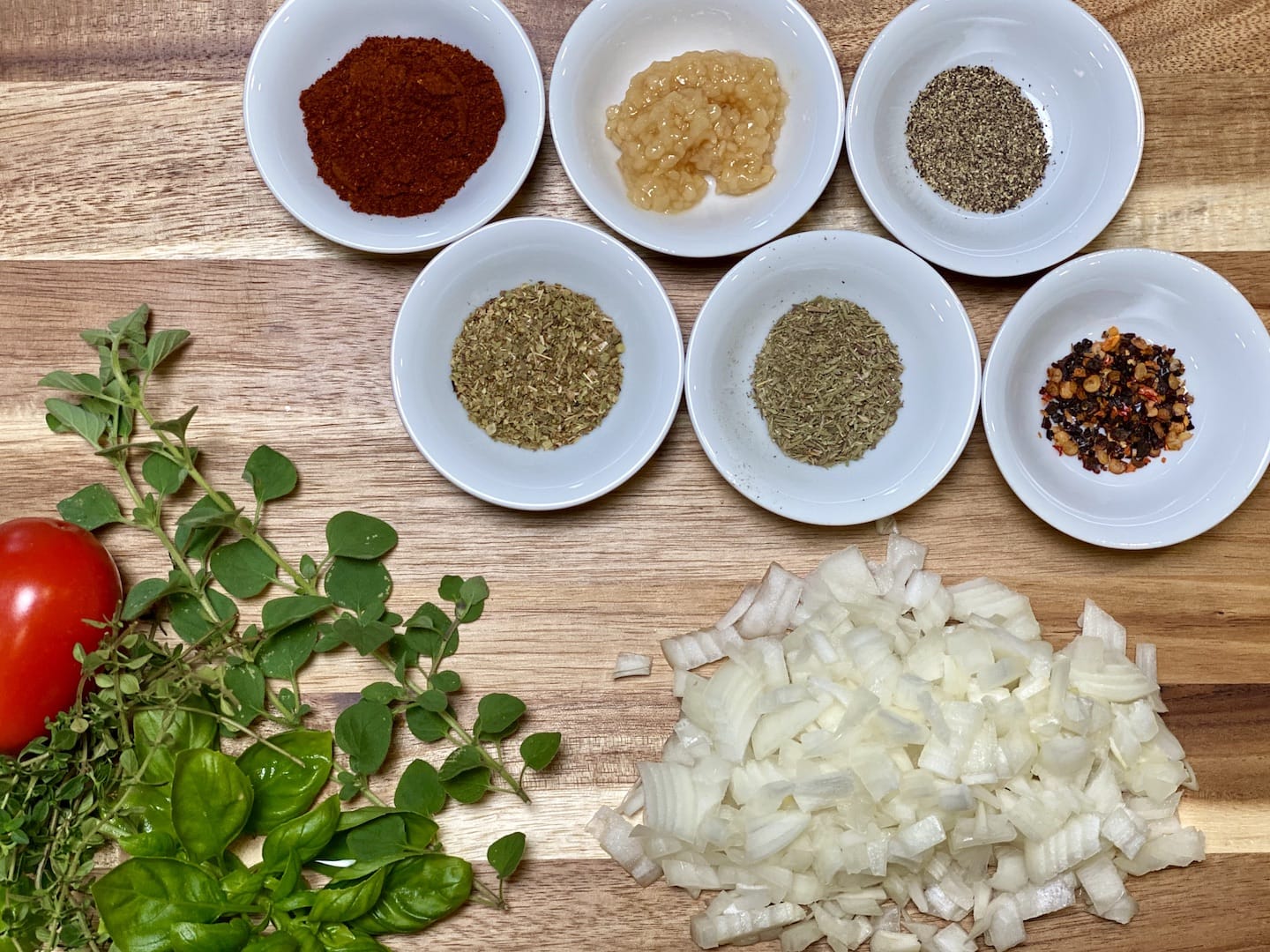 Once they onions are translucent add the garlic and cook while stirring for another minute or two. Then add the remaining seasonings again stirring while cooking for another minute. I doubt it matters, but I add the can of tomato paste first then stir. Then I add the can of tomato sauce, stir, and then crushed tomatoes. Feel free to use your own sauce recipe if you have one you prefer, I've yet to make one from scratch that is consistent, I guess I need to work on that.
Bring the sauce up to a gentle simmer then add the homemade meatballs back in. An apron and gentle hand are helpful here. DO NOT DO THIS WEARING YOUR WORK CLOTHES. No matter how careful you are you'll splash or the sauce will spit at you. You will get tomato sauce on you at this point! Have I made this clear enough?
You're almost to meatball town!
Stir in the meatballs to cover with sauce and reduce the heat to as low as you can. This sauce will burn to the bottom if it's not low enough or you don't watch it. Our stove only has one burner that you can reliably set low enough to let this sit without burning. Don't fear though! Burning it a little is a Holmes family tradition, just get it under control and the burn bits will eventually blend into the sauce. If you burn it and don't slowly stir it off with a wooden spoon look forward to about three weeks of scraping the bottom of your pan! You can also add the meatballs to a crockpot and pour the sauce over them put the crockpot on low if you're worried about baby-sitting them.
The longer you cook homemade meatballs the better they'll be! Be sure to taste the sauce an hour before you want to serve it and add additional seasoning as needed. Often canned tomatoes can taste a little tart, a teaspoon or two of sugar stirred in at this point should fix that.
We love our homemade meatballs spicy, if we weren't trying to feed kids off the same batch I'd bump up the red pepper, but I just add extra at the table. You'll also notice there's no salt added in this recipe. You can add a pinch if you feel the sauce needs it, but between the sausage and Parmesan cheese, I don't feel the meatballs need any added salt.
If you want almost all the flavor of this dish but don't feel like dealing with meatballs check out our Easy Spaghetti and I can't recommend enough that for either you make some Garlic Bread!
Ingredients
For the meatballs:
1¼

Pound

Ground Chuck

1

Pound

Ground Italian Sausage

½

Cup

Parmesan Cheese

grated

½

Cup

Breadcrumbs

1½

tbsp

Garlic, 3-4 cloves

minced

½

tsp

Thyme

ground

½

tsp

Oregano

dried

¼

tsp

Black Pepper

ground

¼

tsp

Red Pepper Flakes
For the marinara:
28

Oz

Crushed Tomatoes

canned

15

Oz

Tomato Sauce

canned

12

Oz

Tomato Paste

canned

1

Cup

Onion

diced

1

tbsp

Garlic, 2-3 cloves

minced

2

tsp

Chili Powder

1

tsp

Oregano

1

tsp

Thyme

¼

tsp

Black Pepper

ground

1

Egg
Instructions
For the meatballs:
Place ground beef and sausage in a large mixing bowl.

Add 1 egg, then add herbs and spices followed by parmsean cheese and bread crumbs.

Use your hands to thoroughly combine ingredients. I recommend removing any rings etc. this will be cold and generally sucks, but meatballs.

Once ingredients are combined, pinch an ice cream scoop sized portion of meat off.

Roll meat into roughly golf ball sized balls between both palms. You can roll these smaller or larger if you desire.

Drizzle a little olive oil in a large dutch oven or straight sided skillet. And heat over medium heat.

When dutch oven has reached temperature place meatballs, careful not to crowd the pan and leaving yourself enough room to maneuver.

Brown meatballs on two to three sizes being gentle not to break them apart while moving them.

Remove cooked meatballs to a paper towel covered dish to drain.
For marinara:
In the drippings of the meatballs (or as much of the drippings you're comfortable with) sauté diced onion until translucent.

Reduce heat and add minced garlic. Cook while stirring for an additional minute or two.

Add herbs and seasoning and stir, cook for an additional minute.

Add tomato paste, sauce, and crushed tomatoes.

Bring heat to medium low and stir until sauce is simmering.

Add meatballs (careful not to spalsh the sauce everywhere!) and stir to cover with sauce.

Reduce hear to low and cover.

Continue to simmer for at least an hour or so, the longer the better!
Notes
When rolled into roughly golf ball sized portions this recipe makes 28 meatballs. 
Nutrition
Calories:
417
kcal
|
Carbohydrates:
22
g
|
Protein:
22
g
|
Fat:
28
g
|
Saturated Fat:
10
g
|
Cholesterol:
78
mg
|
Sodium:
1095
mg
|
Potassium:
1037
mg
|
Fiber:
4
g
|
Sugar:
11
g
|
Vitamin A:
1070
IU
|
Vitamin C:
21
mg
|
Calcium:
144
mg
|
Iron:
5
mg