These Smoked Nachos will change your life. That might be hyperbole, but probably not. We make Mexican at minimum weekly, and most leftover meats find their way into a Mexican dish. Nachos are always a popular one. It's the ultimate "one pot meal." Chips, beans, cheese, protein, and some seasoning, done.
Nachos on the grill!
I have been itching to put some nachos on the grill for a while. It finally happened one night when it was just too hot in the kitchen to fire up the oven. I'm not sure if we've cooked them in the oven since.
This is a super easy meal. The recipe below is what we used this time, but don't feel the need to stick to it. This is just a framework. Smoked Nachos really only require the nacho basics, chips and cheese. But we generally also add beans and a protein. These Smoked Nachos are an incredible vessel for leftover meats. We often use left of pulled pork, left over steak, or leftovers of our Smoked Chicken Tenders.
Thin "restaurant style" tortilla chips can't handle this recipe, get some thick tortilla chips to stand up to the toppings and the amount of time they have beans on them while cooking. I recommend you don't build the nachos in advance as you want to minimize the amount of time the beans sit on the chips or the chips start to get soggy. Also, since these cook low and slow compared to standard nachos, it helps to warm up the beans in advance, especially if they've been in the fridge.
Easier to assemble than an Ikea bookshelf
These nachos are a cinch to put together. Prepare your grill or smoker for indirect cooking, add your smoke wood of choice, and place your pizza stone on the grill. I get the grill mostly to temp before I build these to prevent soggy chips. They don't take long to build if you've cut your toppings in advance. In our house we make two types of nachos, nachos and pile nachos. Smoked nachos are a great use of the pile nacho format as shown. Just "nachos" for us mean individual chips each topped with independent portions of toppings, we also refer to them as anal retentive nachos.
To build the pile nacho structure pile tortilla chips on non-stick aluminum foil. Simple right? I tinker a bit and spread the chips out so they overlap and any holes where cheese would easily seep through are covered. Then I add the beans. We love Old El Paso refried beans for this, but refried black beans work well too. Use two dinner spoons to place the beans on your chips. One spoon to scoop the beans from the can and the other spoon to scrape the beans from the first spoon into the precise spot you picked.
Nachos cheesier than a dad writing recipes....
Now it is time for the star of the show, the cheese. I use cheddar and pepper jack, but whatever cheese floats your boat here and is decent at melting would work. Slicing works better than shredded as it melts into a thicker cheese coverage and it's faster and easier than breaking out the cheese shredder. Layer you cheese slices over the chips and beans making sure to get good coverage and relatively even spacing. You don't want a bunch of naked chips in the middle.
The standard base of any nacho recipe is now down, it's time to get creative. Well, you can get creative if you want, I like classic steak nachos. Some things are classic for a reason. We use left over sliced steak and position it evenly on top of the cheese. You can skip the meat or use whatever leftovers you have on hand. Pro tip: left over hamburgers slice pretty well with a steak knife when they're cold. After the meat I sprinkle on some pickled jalapeños, garlic powder, and some pepper flakes (Dark and Smokey are our favorites!). Feel free to add on olives or any of your favorites.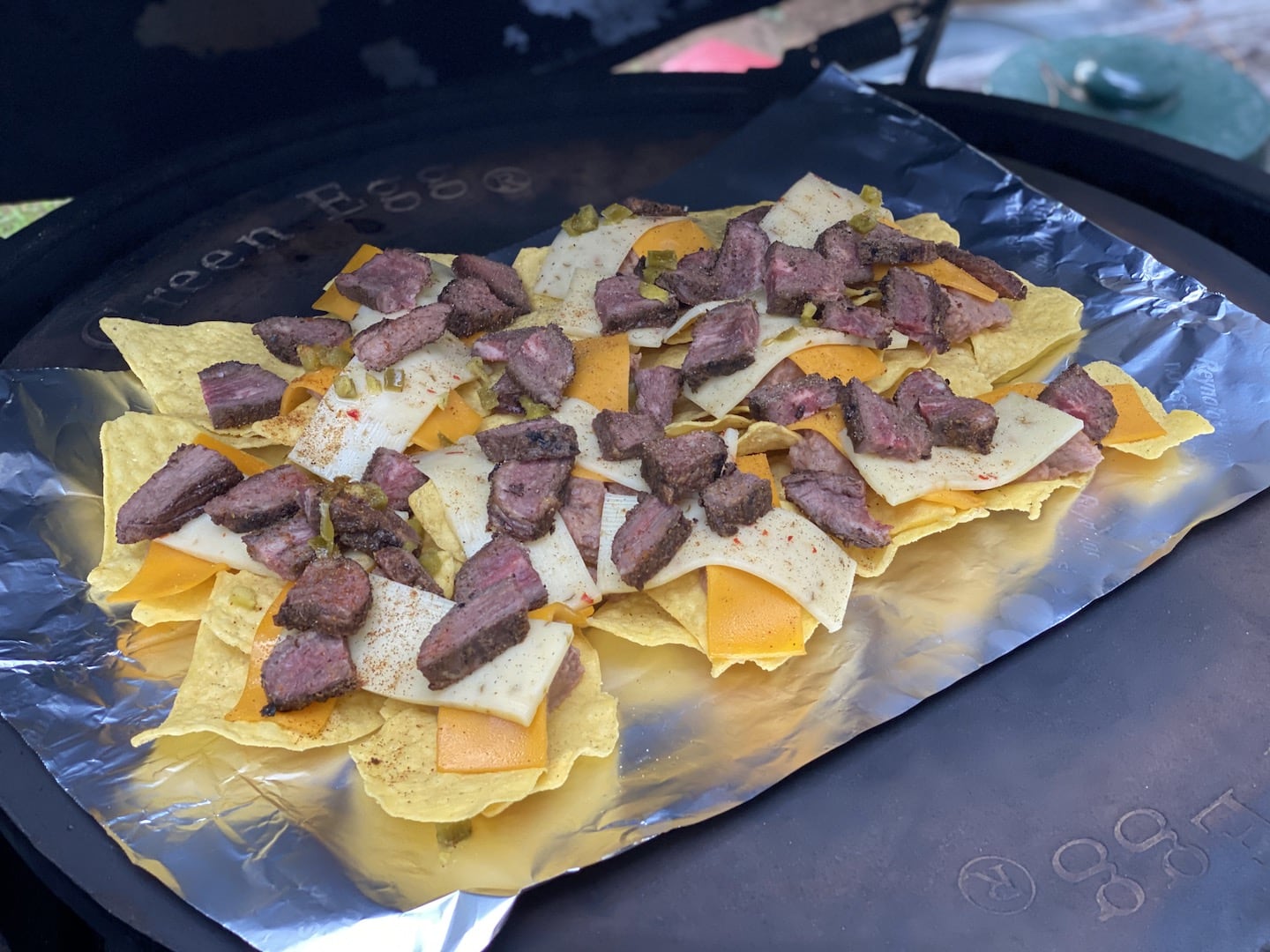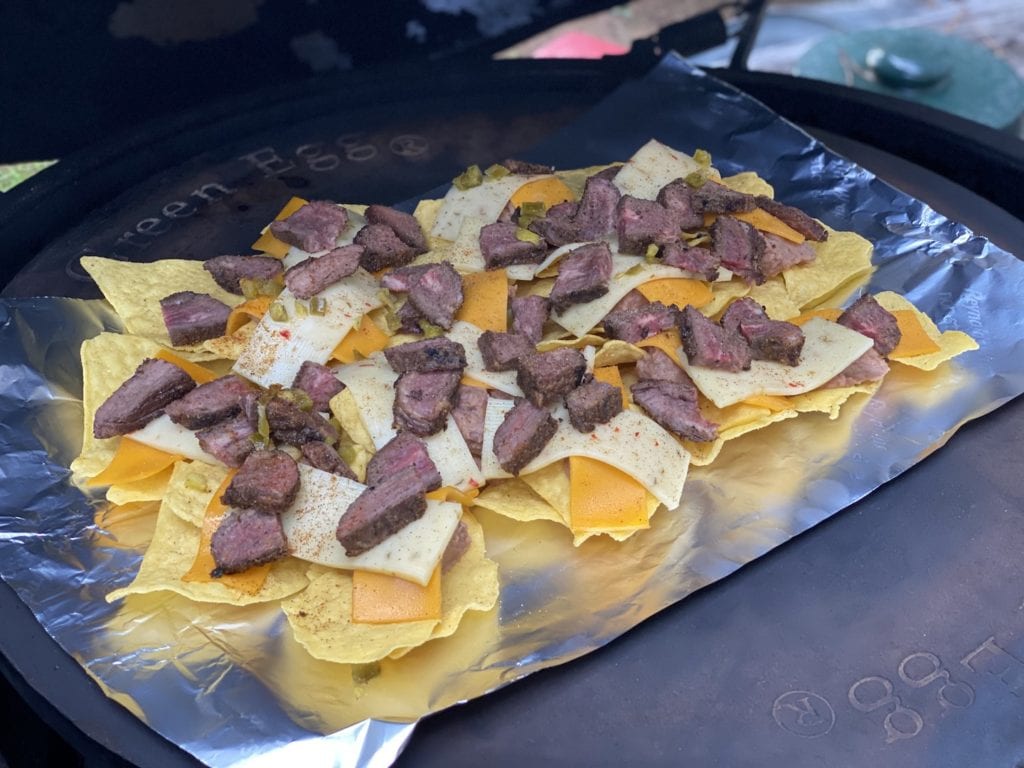 Time to get melty
I use our pizza peel to make the transition to the grill easier, but you can use a cutting board or anything else large and stiff enough to handle the weight of the nachos. Slide your pizza peel under the aluminum foil and carefully pull the foil and nachos onto the peel. Be sure to watch for dogs, cats, children, toys, and anything else that could spell defeat on the way to the grill. I like to have a helper get the door as well.
Once you're to the grill put your peel on your stone, grab a corner of the foil and slide the nachos onto your pizza stone. Close you grill and watch your temp, keeping it between 275F-325F. Usually these are done in about 25 minutes, I check around 15 or 20 minutes in and make the call. Remember, if you're looking your not cooking! In my experience the smoke makes the cheese melty and creamy without it running all over the way it would in the oven.
When you're satisfied your nachos are done slide your peel back under the foil (some gloves are suggested here) and pull the foil and nachos back onto the peel. Again, avoid the obstacles of family life, spilling them now will be much harder to clean. Get these bad boys on to a tray so you can start burning the roof of your mouth right away! I hold one end of the foil and slide the entire pile of nachos onto a platter in one piece.
We split these for lunch, dinner, or serve them as an appetizer when we have company. They go great with cold beer or a margarita (what doesn't?) and are always a hit. This is absolutely one to experiment with the toppings. We love Flat Iron Pepper Company's Dark and Smokey pepper flakes for this recipe. They have a nice even heat, but they're not too hot, if you haven't heard of them you should check them out! These nachos really pop topped with some of our White BBQ Sauce! We'd love to hear how you made these your own in the comments below!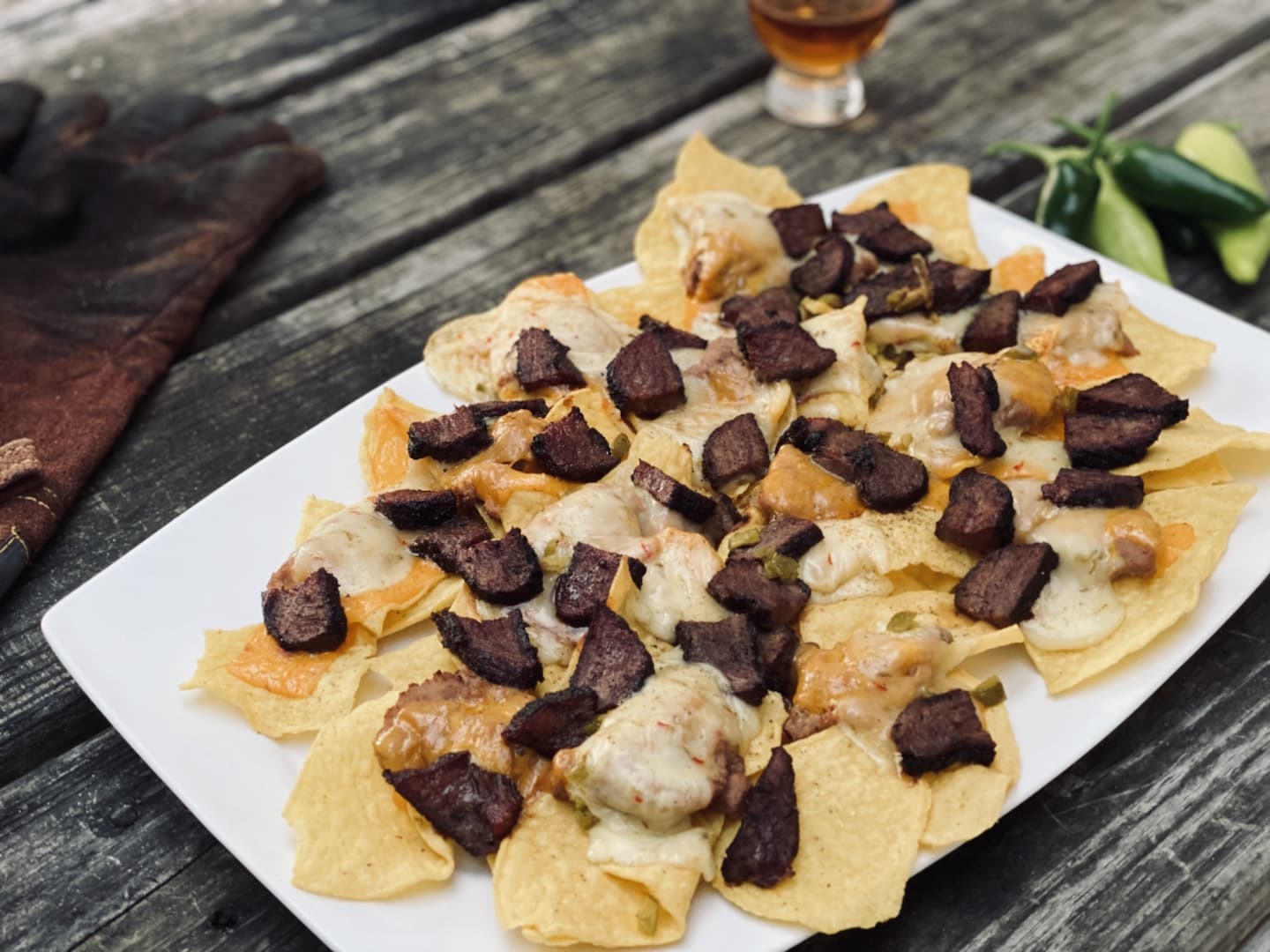 Equipment
Big Green Egg Pizza Stone
Ingredients
8

Oz

Corn Tortilla Chips

not thin resturant style

8

Oz

Pepper Jack Cheese

sliced

8

Oz

Cheddar Cheese

sliced

8

Oz

Refried Beans

about half a can

8

Oz

Steak

or other cooked meat sliced (we usually make this recipe with leftovers)

½

tsp

Garlic Powder

1

tbsp

Pickled Jalapeños

diced or sliced
Instructions
For the grill:
Prepare your grill for indirect heat. Allow it to come up to 275°F. Once it reaches temperature add your choice of smoking wood (hickory goes well here). Add your pizza stone and allow it to come to temperature.

Wait for the wood smoke to turn from thick white to thin blue. Maintain grill temp between 275°F and 325°F.
For nachos:
Spread a layer of corn tortilla chips on a sheet of non-stick aluminium foil, chips should overlap some to form a solid layer.

Top the chips with refried beans in even dollops (using two spoons helps with this process, it also helps to warm the beans some if they have been refridgerated).

Top the beans with your sliced cheese, then add your choice of meat, peppers, and seasoning.

Slide a pizza peel under the aluminum foil and carry to your grill. You can use a thin cutting board if you don't have a pizza peel.

Slide the foil containing the nachos onto the pizza stone and smoke for approximately 25 minutes or until the cheese is melted and the toppings are heated through.

Slide the pizza peel under the aluminum foil to remove from the grill.
Nutrition
Calories:
584
kcal
|
Carbohydrates:
30
g
|
Protein:
31
g
|
Fat:
38
g
|
Saturated Fat:
19
g
|
Cholesterol:
96
mg
|
Sodium:
864
mg
|
Potassium:
250
mg
|
Fiber:
4
g
|
Sugar:
2
g
|
Vitamin A:
779
IU
|
Vitamin C:
1
mg
|
Calcium:
635
mg
|
Iron:
2
mg