Texas has brisket, Memphis has ribs, here in Alabama BBQ means pulled pork. I love making pulled pork on the Big Green Egg. Hanging out in the backyard with a cold drink and the smell of smoked pork butt in the air is my happy place. I make Boston Butt on the Big Green Egg you can use any smoker. This recipe will give you great results.
I made my first smoked pork butt in 2008 on the deck of our first house. I was still fairly new to grilling and had never smoked anything before. At the time a pork butt was super cheap and I decided to buy a small one to try. I took it home to attempt an indirect smoke on my Weber knock-off kettle grill. I figured even if the smoke pork butt wasn't any good $8 was worth it to spend the day sitting on the deck grilling. The smoked pork butt turned out great, and I was right about how much I'd enjoy the process.
Then I found the Big Green Egg
After a few smokes on my cheap grill, I decided I wanted something better. I had never heard of a Big Green Egg, but I soon became obsessed and started saving up for one. I've been grilling on the Big Green Egg for a decade and pulled pork is still one of my favorites. The smells of a Boston butt on the green egg takes me back to the deck of our first house. But you're not here for my nostalgia so let's get down to business.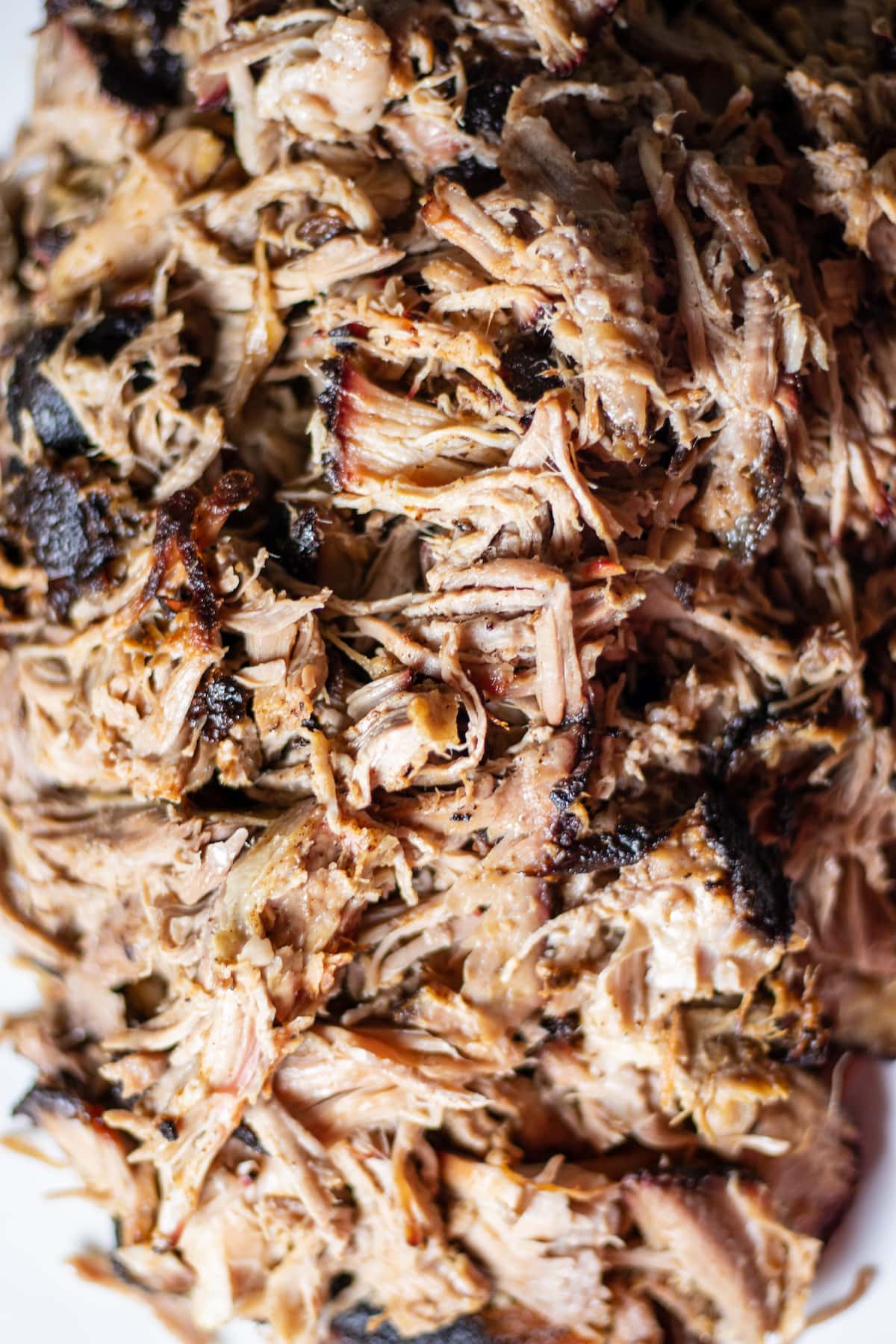 The meat
The best thing about making pulled pork is how cheap it is. You should be able to find Boston butt/porks shoulder for $1.50 or so a pound. In an age when even skirt steak and wings are expensive, this is a great bargain. Even better, Boston butt is quite possibly the most forgiving cut of meat you could ever cook. The size and high-fat content make it virtually impossible to overcook. I imagine I've smoked more than 100 of them and I've only smoked one that was inedible. That was also the time I learned to never trust a built-in thermometer, 70 degrees off over 16 hours can really add up.
I try to find butts around eight pounds. Much bigger and they tend to get tough, and the timing tends to work out well for me at that size. You'll frequently see them cryo-packed two to a package. Go ahead and make two. It's the same amount of effort and leftover pulled pork freezes well and is great for things like Smoked Nachos.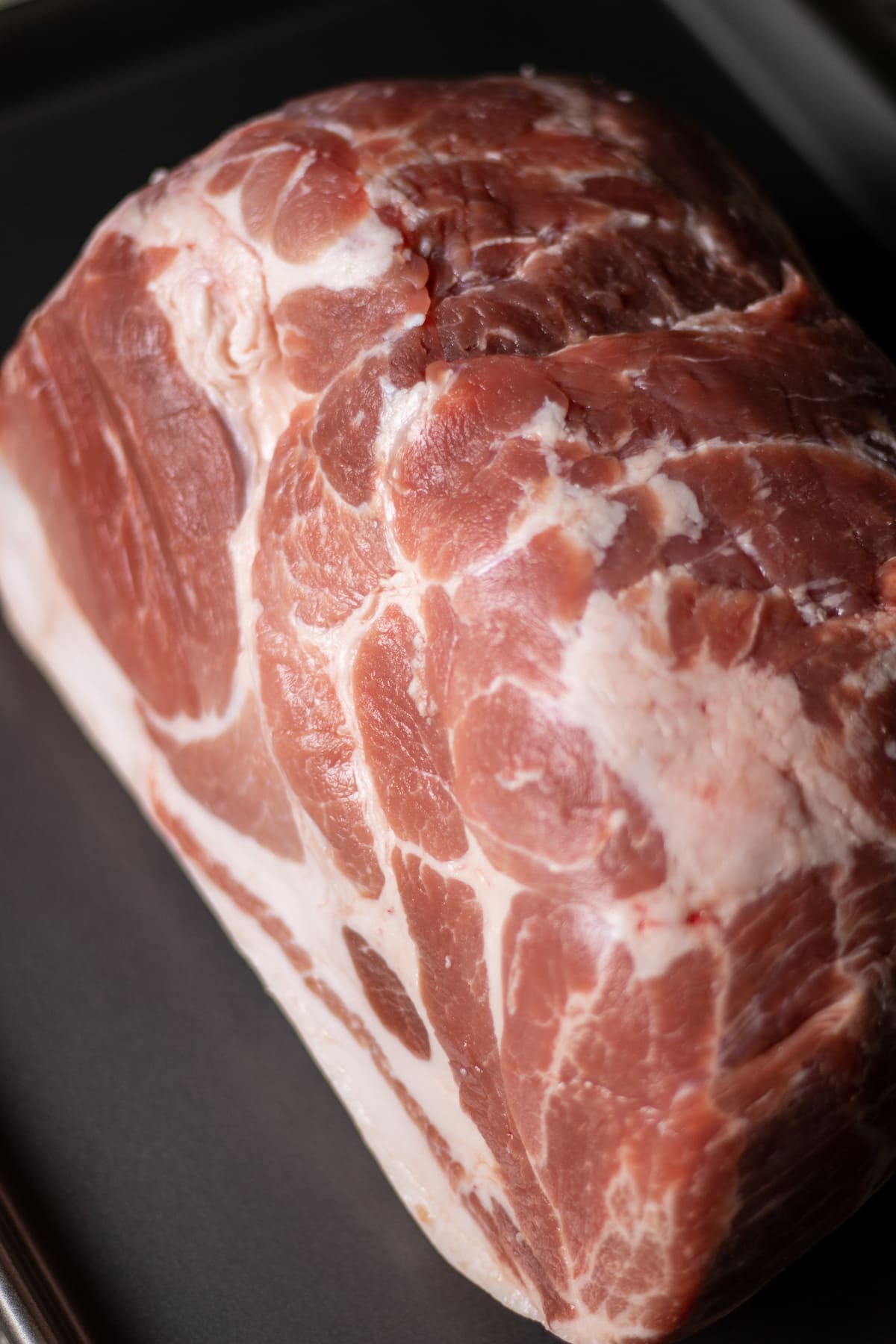 The prep
Boston butts are messy to get out of the packaging, so have the hot water running and plenty of paper towels. If you got a cry-packed butt it will likely smell like sulfur when you open it. Don't worry it is a normal confinement odor and doesn't mean you got bad meat. You're number one goal with prep is creating a great bark. Unless you brine your Boston butt (I've never tried this but have always meant to) pretty much anything you do is only going to flavor the outside. Most of the flavor is from the fat in the pork butt and the smoke it's going to spend half a day or so soaking up.
I generally use my pork rub recipe for pulled pork on the Big Green Egg, but I've made great smoked pork butt with just salt, pepper, garlic powder, and red pepper. The key is making sure you get a nice dry exterior to start your bark. Remove your pork butt from the packaging and dry it thoroughly with a paper towel. Place it on a rimmed pan or cookie sheet and cover it liberally with pork rub. For the best bark rub your Boston butt and let it rest in the refrigerator overnight.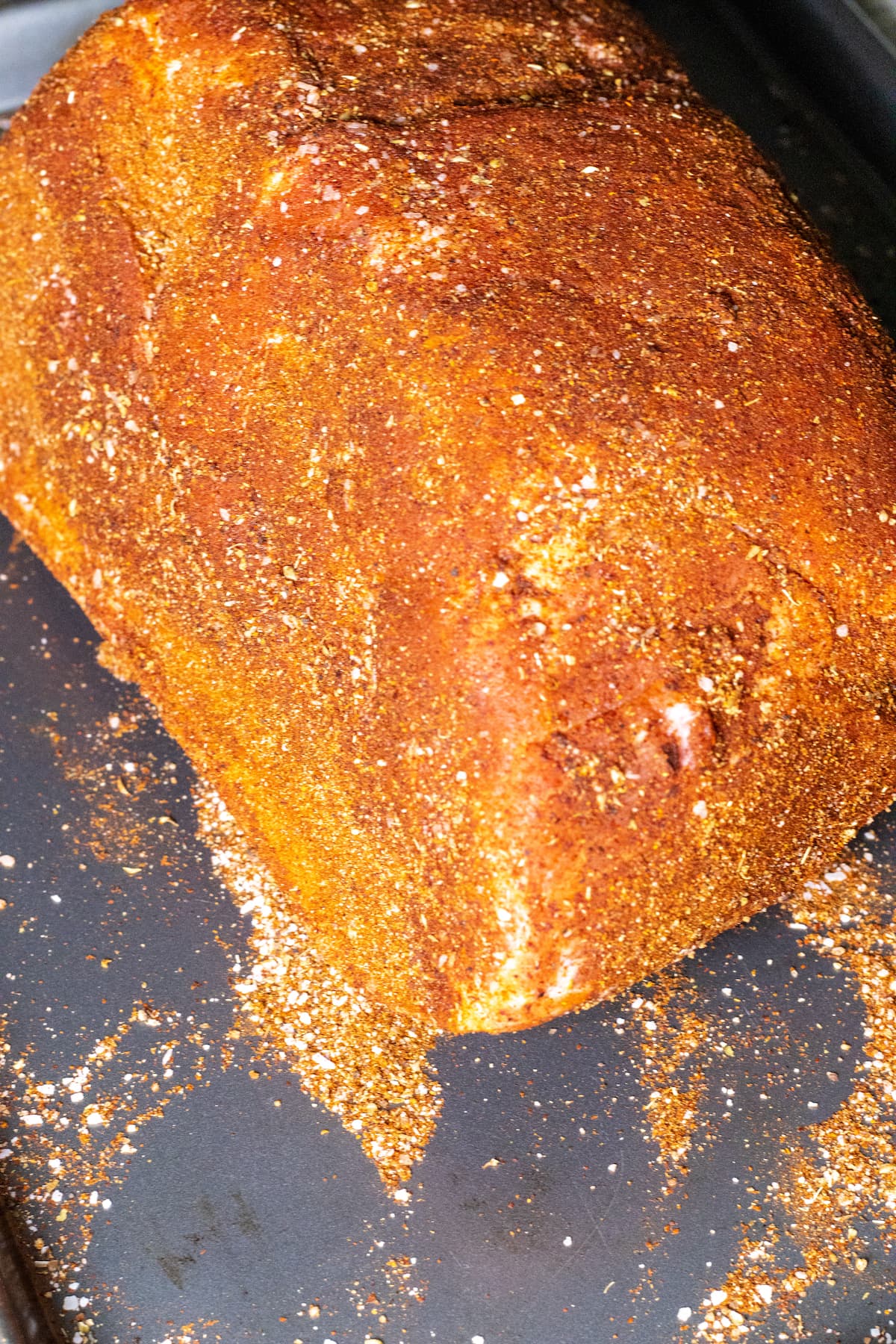 The smoke
This is where the magic happens. I prefer applewood or hickory for a Big Green Egg pork butt, but you could go with something bolder like pecan or mesquite if that's more your taste. Go for large chunks, you want smoke from your wood to burn throughout you cook. Wood chips tend to burn off too quickly for a low and slow cook. I make this pork butt on the Big Green Egg, so these tips are geared toward it, but should be fairly applicable to whatever smoker you use.
It is always easier to sneak up on a temperature on an egg. The thermal properties of the ceramic in a big green egg are great for holding heat and acting like an oven, but they also make it take forever to lower the heat. Keep a close eye on your temp as you get the egg started and make sure you start hitting the breaks early and come up to the temp you're looking for.
You're going for low and slow here. I like smoking pork butt at 200 and pulling it at 200 (I let it get up to 225 occassionally). I enjoy the symmetry of cooking the pork to ambient temperature. It also gives you an extra slow cook and super tender pork. You'll want to make sure you have plenty of lump in the egg and shouldn't need to add more or open the egg until it's time to pull your meat off. Remember, if you're looking you're not cooking.
Fill your fire bowl with your choice of lump and start your fire in a small part in the middle. Keep an eye on your temp and start adding your wood chunks as you get to 175 to 180. After you add your wood chunks add the plate setter (or however you set up your smoker for indirect cooking). Put on your grate and grate thermometer probe. You have a thermometer probe for your grate right? I highly recommend a probe at grate level, but you can still make a Big Green Egg pork butt if you don't have one, you'll just need to keep a closer eye on the internal temp of your meat and know your smoker.
When you first put on your smoke wood there will be large billows of thick white smoke. It will smell good and you'll want to rush to get your meat right in the middle of it. Don't. This smoke is bitter and isn't going to give you the flavor you're after. Wait until you get your temperature leveled off and your smoke turns into whispy thin blue smoke. You'll smell the difference between this smoke and the earlier white smoke.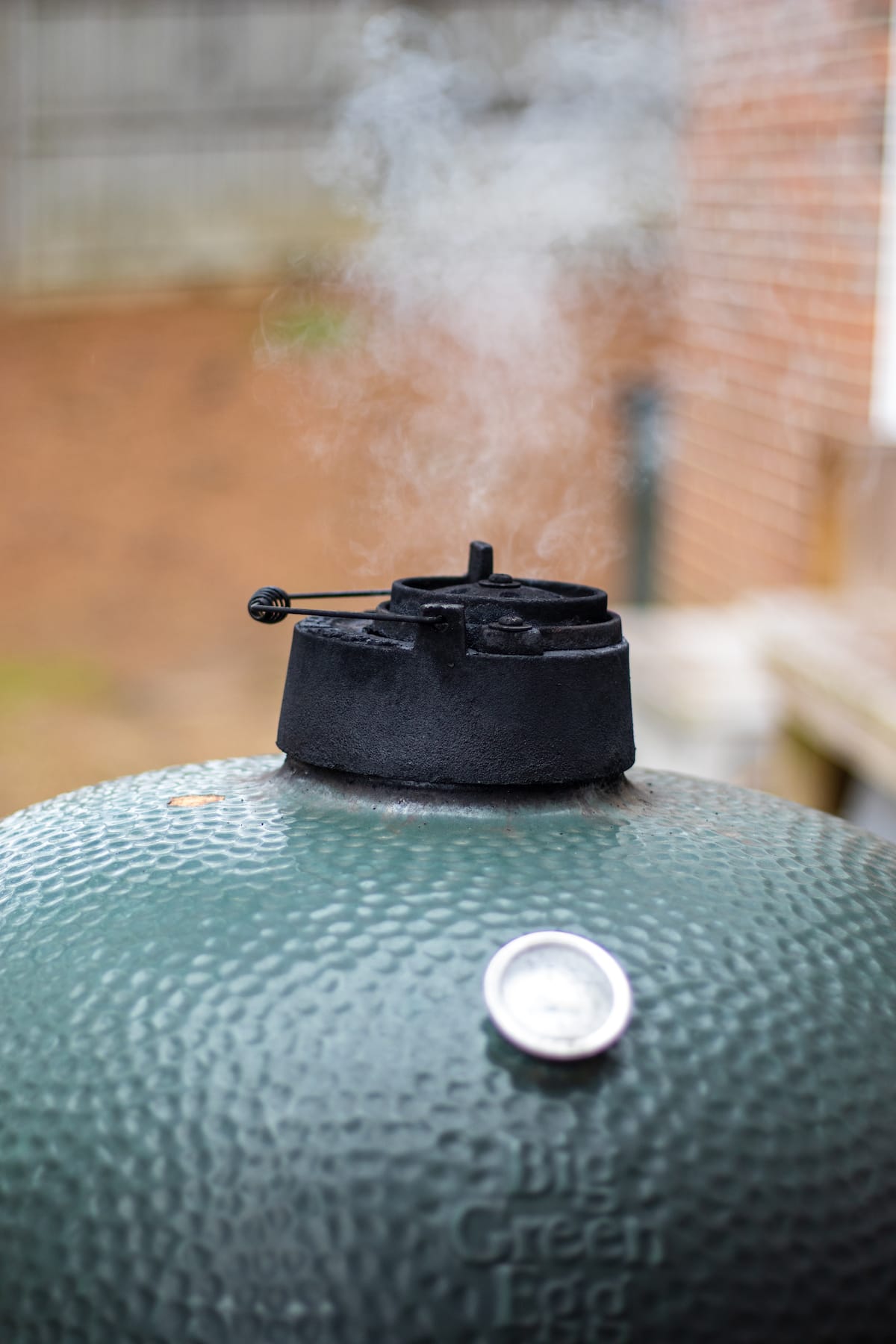 The cook
Insert your thermometer probe into the thickest part of your pork butt. Make sure you don't hit the bone. Add your Boston butt to the Big Green Egg. Shut your egg and don't open it again until you take your meat off. There is no need to baste or spritz a pork butt on a Big Green Egg. This cut of meat has enough fat in it there's nothing you can do that will make it juicier. All you're going to do is kill your bark and destabilize your smoker's temperature.
If you've never made a pork butt on the Big Green Egg before get ready for the stall. The folks at Amazing Ribs can explain it better than I can but be prepared for your pork butt to stall around 150-160 degrees. You will think you've lost your mind and you'll be tempted to start increasing your heat. Let it be. This is the slow part of low and slow cooking.
Speaking of slow, Boston butt on the Big Green Egg can be maddeningly slow on occasion. Cooking at 200 I generally plan on 2 hours a pound. Pulled pork on the Big Green Egg is not something you should try to time precisely, but as you'll see below, that's not a problem.
The rest
When you butt hits between 200 and 203 pull it from the smoker and wrap it in aluminum foil. Then wrap it in a large towel (don't use the good towels for this) and place it in an empty cooler. Make sure you rest your butt for at least an hour, but it can stay like this for several hours. This is why you should always plan to have your pork butt done early. It is far better to let it rest for three or four hours in a cooler than it is to be trying to get one to finish while everyone stands around the kitchen looking at you.
Every Boston butt is different and you'll be amazed how some seem to cook fast and other seem to take forever.
The pull
Once you've let your Boston butt rest it's time to turn it into pulled pork. You can do this a number of ways. I don't recommend using your fingers as the meat will still be super hot even if it's been in a cooler for a few hours. First, make sure your meat is on something that will keep the juices from running all over your counter. We usually put a cutting board on a rimmed cookie sheet for this part.
Remove the bone (it should slip right out) and begin shredding the pork. You can use forks to do this, I have a set of plastic bear claws that work really well. I'm a big fan of my pulled pork being inside-outside. You get the tender inner part of the smoked pork butt as well as the crispy seasoned bark. If you go to a BBQ restaurant and ask for inside-outside and they don't know what you mean it is time to leave. I find the bear claws make it easy to both shred the meat and incorporate the bark.
Time to eat
I'd say now for the fun part, but truth be told, as much as I love eating great BBQ I enjoy cooking them even more. But eating them is a close second. We like to serve pulled pork on the Big Green Egg on cheap hamburger buns. The buns act as a great base to soak up both our homemade BBQ sauce and our white BBQ sauce. This pulled pork really doesn't need a sauce, but I occasionally enjoy a combo of white and red on mine. A slice of good cornbread is also an excellent option.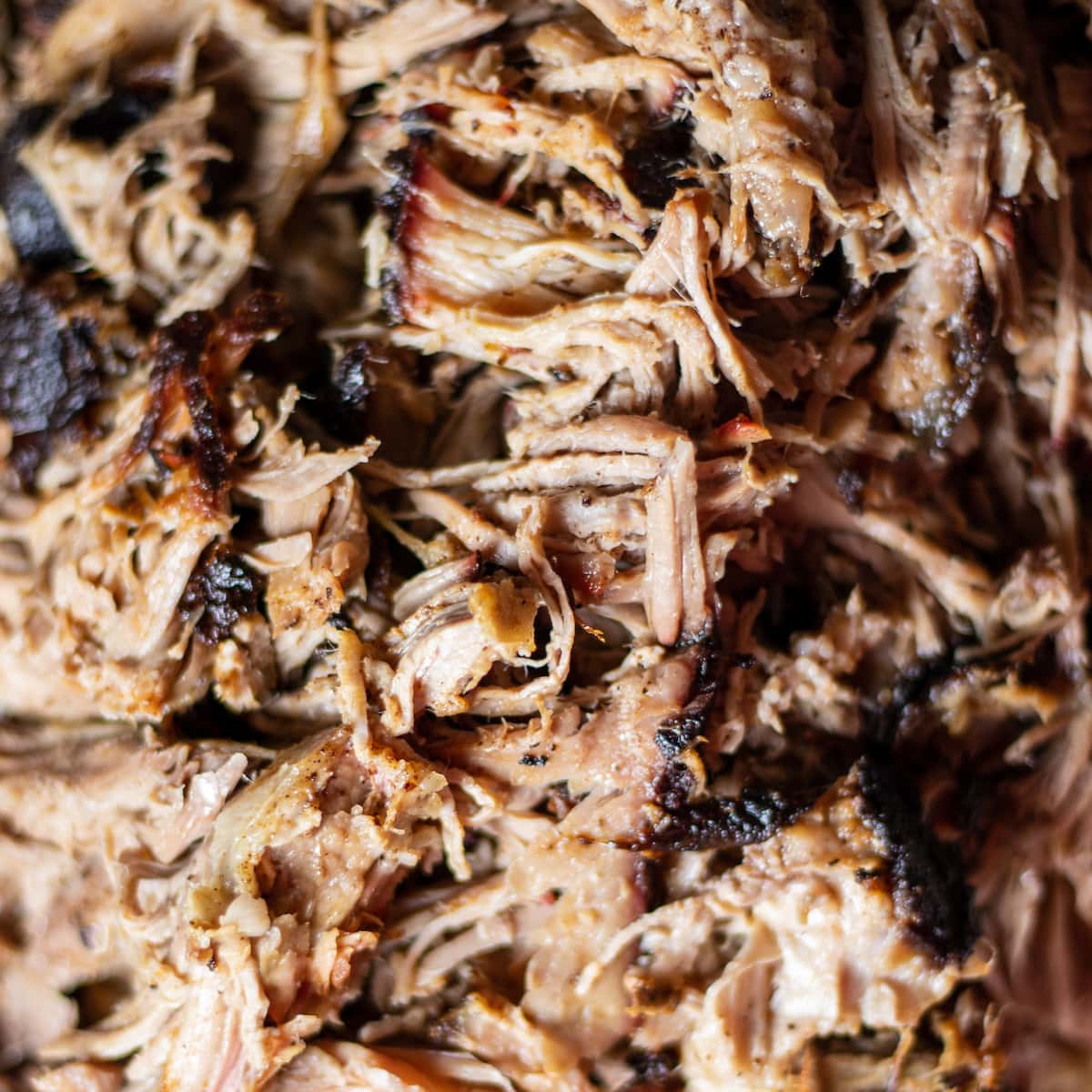 Equipment
Big Green Egg or other smoker
Ingredients
8

pound

Boston Butt

Pork Rub

or your favorite rub.
Instructions
Liberally apply rub to Boston butt and rub into the meat.

Place in a refrigerator uncovered preferably overnight.

Light smoker and add your choice of wood (I prefer apple and hickory for pork) and allow the initial thick white smoke to burn off.

Stabilize your smoker to 200°F, place a thermometer probe in the thickest part of your Boston butt taking care not to contact the bone.

Add the Boston butt to the smoker and maintain a temperature between 200°F and 225°F. Smoke pork butt until it reaches 200°F, about 2 hours a pound.

Carefully remove the smoked pork butt from the smoker, remove the temperature probe and wrap pork butt in aluminum foil then an old towel. Place in cooler to rest for at least 1 hour.

Just prior to serving remove the smoked pork butt from the cooler and shred the meat. Be sure to mix the crusty bark into the rest of the meat.
Nutrition
Calories:
399
kcal
|
Protein:
57
g
|
Fat:
17
g
|
Saturated Fat:
6
g
|
Trans Fat:
1
g
|
Cholesterol:
181
mg
|
Sodium:
197
mg
|
Potassium:
1025
mg
|
Calcium:
42
mg
|
Iron:
4
mg