I've made homemade BBQ sauce from scratch probably a hundred times over the last several years, but never really had a recipe. Good BBQ, like a good steak, doesn't need a sauce in my opinion. There are some exceptions to that thought though, like when I over cook a brisket....There are also some cuts that don't seem complete without a little sauce, looking at you ribs.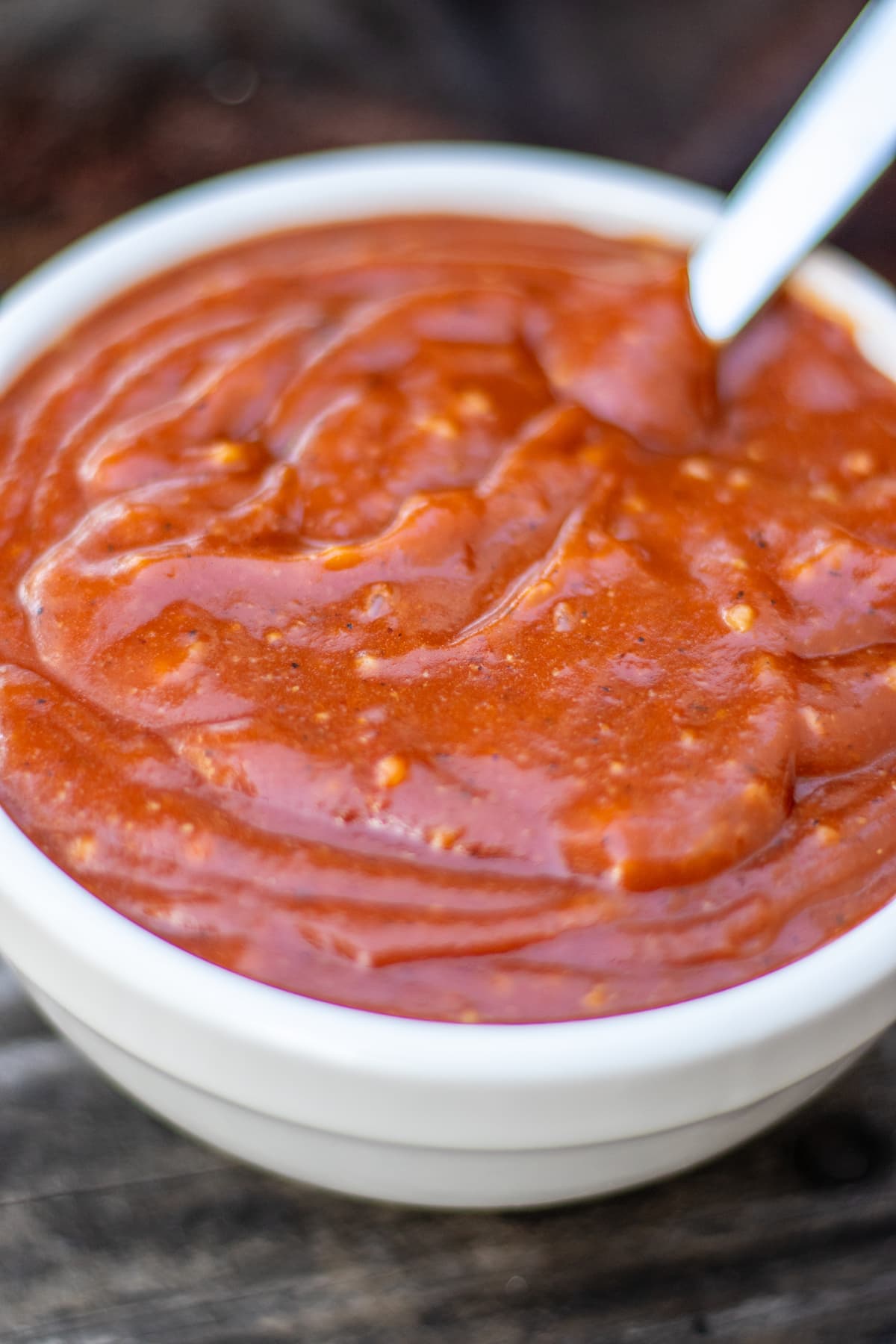 If you're going to use a BBQ sauce for whatever reason, you might as well go with a bold one. This sauce brings some heat, vinegary tanginess, and just a little sweetness at the end to hold it all together. I initially came up with this one to use on my version of Malcolm Reed's Chuck Roast Burnt Ends. Since his recipe uses chuck roast I wanted something to stand up to smoked beef. I've since used it on some pork belly burnt ends and decided it was time to add it to the canon.
My first several attempts at homemade BBQ sauce used tomato paste thinned with apple cider vinegar or distilled white vinegar. This approach is that it tends too get too tart. This requires too much sugar to balance the sharpness of the vinegar. Don't get me wrong, living in Tuscaloosa I love some strong vinegar sauce, its just generally not what I'm going for if I'm making homemade BBQ Sauce.
Work smarter, not harder
The solution to this always felt like a cheat to me. Trust the geniuses at Heinz Ketchup. They have perfectly balanced vinegar and tomatoes. I know this sounds like a Heinz commercial, but it really is the only ketchup that should ever be in your pantry. Rather than fighting to find a balance, the Heinz Ketchup lets you add the flavors you want. Keep this balance by adding a little sweetness when you add something tart. Here bourbon and honey balance out the vinegar in the Louisiana.
To make this homemade BBQ sauce melt a couple pats of butter in a small sauce pan. Add minced garlic and cook on low until soft. I prefer canned or fresh minced garlic here over the dried stuff. Next add some onion. Either onion powder, or if you're willing to go the extra mile you can grate some on a microplane. Continue to cook on low and begin to add the other dry ingredients. Add the mustard, honey, and Louisiana and stir to combine well.
Add the ketchup and stir in the remaining liquid ingredients. I add a couple of dashes of liquid smoke to taste. It doesn't necessarily make it taste smokey, but it does round it out nicely. This is especially helpful if you're using this sauce on something that you cook indoors. Let the sauce cook for 10-15 minutes on low once everything is combined then remove from heat. If you've made this ahead warm it on the stove or with a quick trip to the microwave before serving.
A sauce with a kick
When I say this sauce it bold, I mean it. The spice kick might be too much for some, but is perfect for things like burnt ends or dipping some chicken fingers in, and is the sauce used for our BBQ meatballs. It would also go great with the creamy tang of our white BBQ sauce on pretty much anything! We've been using it for our smoked chicken tenders for a great weeknight meal! Let us know what you put it on and how you liked it in the comments below and be sure to follow us on Facebook!
Ingredients
½

c

Heinz Ketchup

2

tbsp

Butter

1

Clover

Garlic

minced

¼

tsp

Onion Powder

Or a tsp grated fresh onion

2

tbsp

Bourbon

1

tbsp

Brown Mustard

1

tbsp

Honey

2

tbsp

Louisiana Hot Sauce

¼

tsp

Cumin

ground

¼

tsp

Black Pepper

ground

½

tsp

Liquid Smoke

optional especiallly if not applying on meat that's going back on the smoker.
Instructions
Melt butter in a sauce pot and add garlic. Cook gently until garlic is soft.

Add onion powder or grated onion and cook gently for another minute or two.

Add remaining ingredients and stir to combine.

Cook on low until sauce is warm and ingredients are well incorporated.
Nutrition
Calories:
40
kcal
|
Carbohydrates:
4
g
|
Protein:
1
g
|
Fat:
2
g
|
Saturated Fat:
1
g
|
Cholesterol:
5
mg
|
Sodium:
182
mg
|
Potassium:
32
mg
|
Fiber:
1
g
|
Sugar:
4
g
|
Vitamin A:
110
IU
|
Vitamin C:
1
mg
|
Calcium:
2
mg
|
Iron:
1
mg