Sous vide pork tenderloin is worth the price of buying an immersion circulator, but if you don't have one the folks over at Serious Eats have your back. We love grilling pork tenderloin, but such a lean cut of meat can be difficult to hit the sweet spot on, especially if you like a nice crust on it. Cooking it sous vide then searing the outside on the grill nails both every time!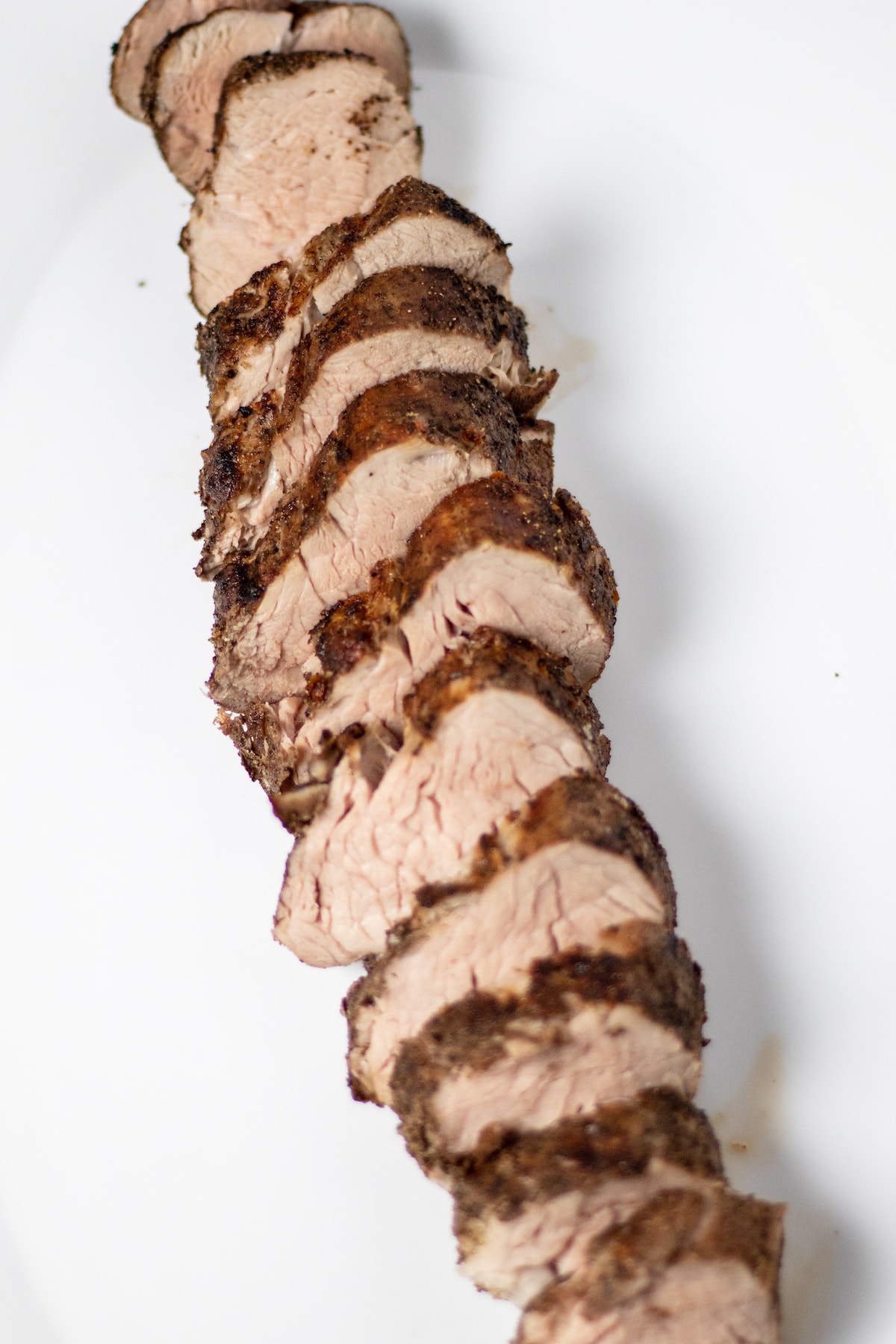 Sous vide pork tenderloin is mandatory for us on New Year's Day and makes a great dish for an elegant party, but don't think we only save it for special occasions. We make this pork at least once a month. It pairs well with almost anything you throw at it like Roasted Potatoes or Quinoa. Plus, any leftovers make great Cuban sandwiches.
I've been grilling pork tenderloins for years with varying degrees of success. It might be the shape, but I've never gotten the feel for grilling pork. It might be the fact that I'm not going to eat it underdone as I would beef. Underdone pork tenderloin isn't anyone's friend. I also find pork tenderloin fairly bland without a hefty marinade or a sauce. Enter sous vide.
Pork tenderloin is perfect for sous vide
Cooking a pork tenderloin sous vide solves both of my main complaints. Not only will your tenderloin be cooked perfectly all the way through, cooking it sous vide also allows you to fully infuse the tenderloin with flavor.
Not only is this delicious, but it's also super simple and almost entirely hands-off. Start by trimming any extra silver skin and excess fat. Rub with pepper and a little salt and place in your bag with some garlic, rosemary, and a little red pepper if you like a touch of heat. When cooking meat sous vide the flavors you add to the bag go a long way, so don't overdo it, the rosemary in the picture above is plenty. Add your bag to your water bath at 145F and cook for an hour and a half to two hours. If you need to let it remain longer I've left it three hours with no noticeable ill effects. If you're new to sous vide cooking, as usual, Serious Eats does a great job of breaking it down.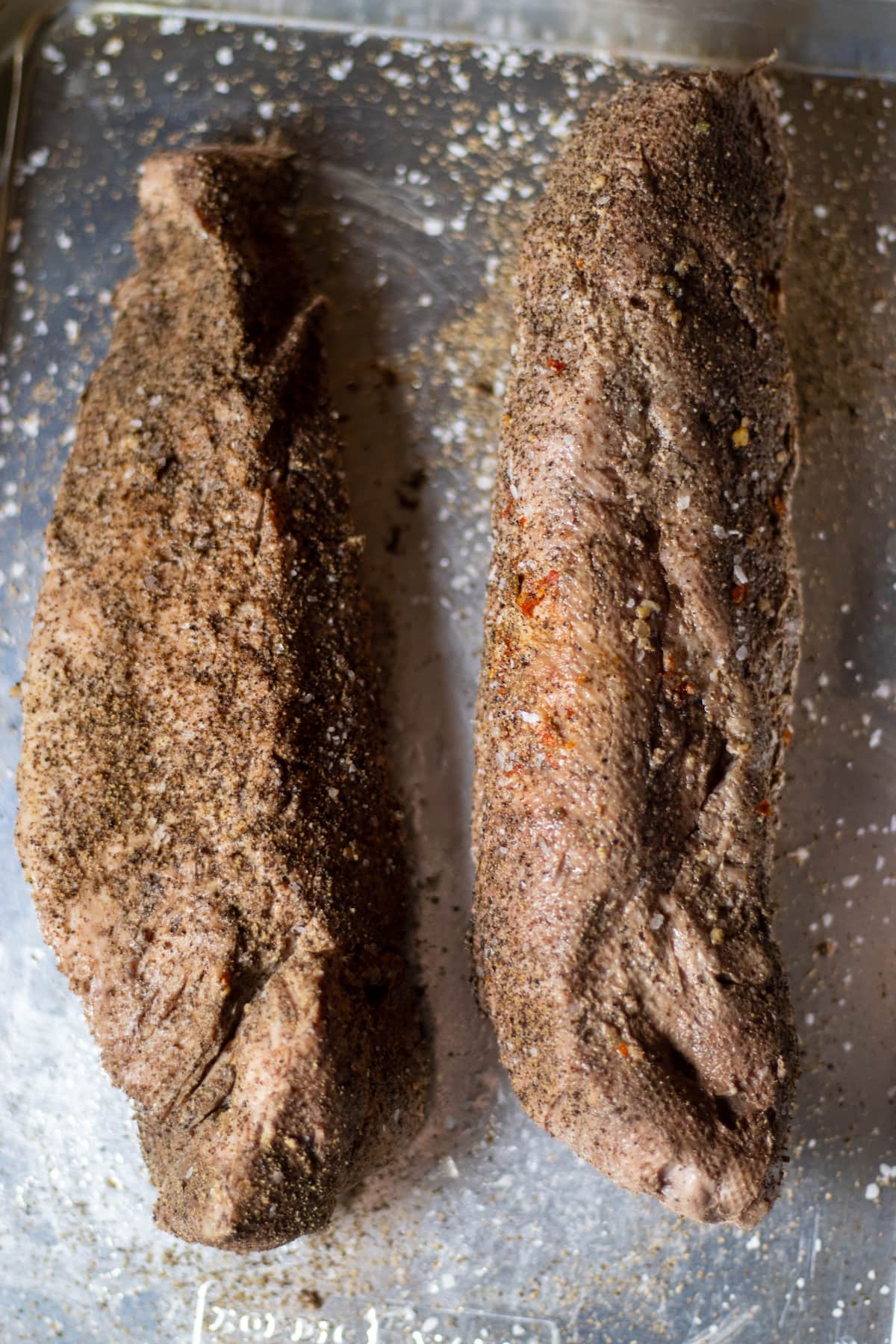 Remove the tenderloins from your bag and pat dry with a cotton cloth or paper towel. Peel off the rosemary stuck to the pork off and discard. I generally set the meat aside for 10 minutes or so to cool slightly and dry a little more. Remember exterior moisture is the enemy of the Maillard reaction and browning. Put any finishing touches on your sides because believe it or not you're almost done. When your grill or skillet is super hot, rub a little oil on your tenderloins and sprinkle liberally with salt and pepper.
Use high heat for a killer crust
Since you know your tenderloin is fully cooked all you have to do is concentrate on getting your crust done. You want to blast these guys with high heat and keep them moving. You don't want to cook the interior, you just want a nice sear on the outside. I always do this on a super hot 500+ degree grill, but there's no reason you couldn't use a cast-iron skillet. If you go the skillet route make sure you turn your vent fan up as high as it will go.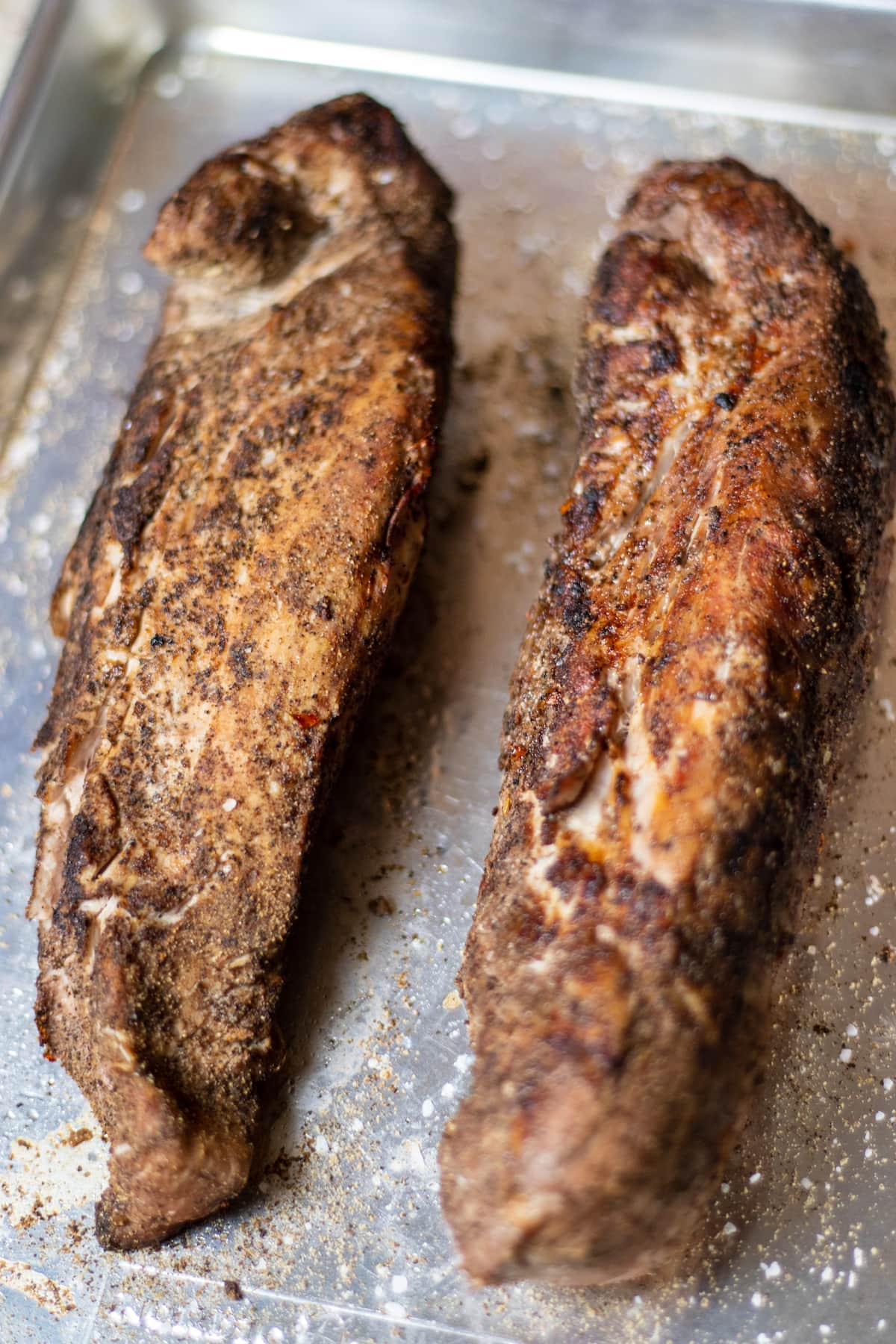 Another great perk of doing this sous vide is there's no resting time needed. Remove your seared tenderloins from the grill (or skillet) and plate your sides. Slice these about an inch thick with a sharp knife and serve.
This pork is going to blow you away. I you have any leftover it is great on a sandwich, or cube it up and season with some cumin, chili powder, and garlic and sauté it to serve with black beans and rice. Let us know what you think in the comments below and let us know if you managed leftovers!
Equipment
Immersion Circulator such as an Anova
Ingredients
2

Pork Tenderloins

about 1½ pounds

2

sprigs

Rosemary

rinsed and still on the stem

2

cloves

Garlic

minced

2

tsp

black pepper

ground

1

tsp

salt

¼

tsp

Red Pepper Flakes

optional

1

tsp

Vegetable Oil

or other neutral cooking oil
Instructions
Place your immersion circulator in your preferred container and fill with enough water to submerse bagged tenderloins. Heat water to 145°F.

Trim any excess fat and silverskin from tenderloins and rub with half the pepper and a pinch of salt.

Place pork tenderloins, garlic, rosemary, and red pepper into a heat safe plastic bag. I usually put put in one tenderloin then add the rosemary and garlic then add the other tenderloin.

Squeeze out the excess air or vacum seal your bag and place into the heated water.

Cook for 90 mintues to 2 hours making sure the bag stays submerged the entire time.

Remove tenderloins from bag and discard rosemary and the remainder of the bag. Pat tenderloins dry and allow to sit uncovered for a few minutes.

Rub lightly with oil and sprinkle with remaining salt and pepper.

Over a very hot grill or in a very hot heavy skillet sear each side of the tenderloins, rolling and moving frequently, until browned. This should be done over high heat and be done quickly enough not to overcook the tenderloin.
Notes
When it comes to adding flavors a little goes a long way when cooking meat sous vide, both garlic and rosemary can overtake the pork so don't over do it. 
Nutrition
Calories:
145
kcal
|
Carbohydrates:
1
g
|
Protein:
24
g
|
Fat:
5
g
|
Saturated Fat:
2
g
|
Cholesterol:
74
mg
|
Sodium:
448
mg
|
Potassium:
455
mg
|
Fiber:
1
g
|
Sugar:
1
g
|
Vitamin A:
25
IU
|
Vitamin C:
1
mg
|
Calcium:
12
mg
|
Iron:
1
mg