One of my favorite things is standing in front of a hot grill on a warm day drinking a cold beer and flipping burgers. While I always love grilling some thick steakhouse burgers, my true burger love is the gooey melty goodness of diner-style smash burgers. These smash burgers cook up in almost no time and create the perfect seasoned crust to top with cheese. We cook these smash burgers on the Blackstone, but you can make them indoors on a griddle or cast-iron frying pan. You can even make them on a cast-iron frying pan on the grill. One word of warning about making these indoors, they will splatter and smoke, so turn up the fan and expect to clean the stove when you're done.
This smash burger recipe makes eight patties for four double smash burgers. After a few tries, you'll find the sweet spot for your size preference. I prefer 3-ounce patties for doubles, 2-ounce patties for triples, and 4-ounce patties if making a single. Lauren prefers 2-ounce patties for doubles and I make 2 ounce singles for the kids. A food scale is helpful to portion out the meat but isn't strictly necessary. The larger patties in the photos of this post are 3-ounces and the smaller ones are 2-ounces.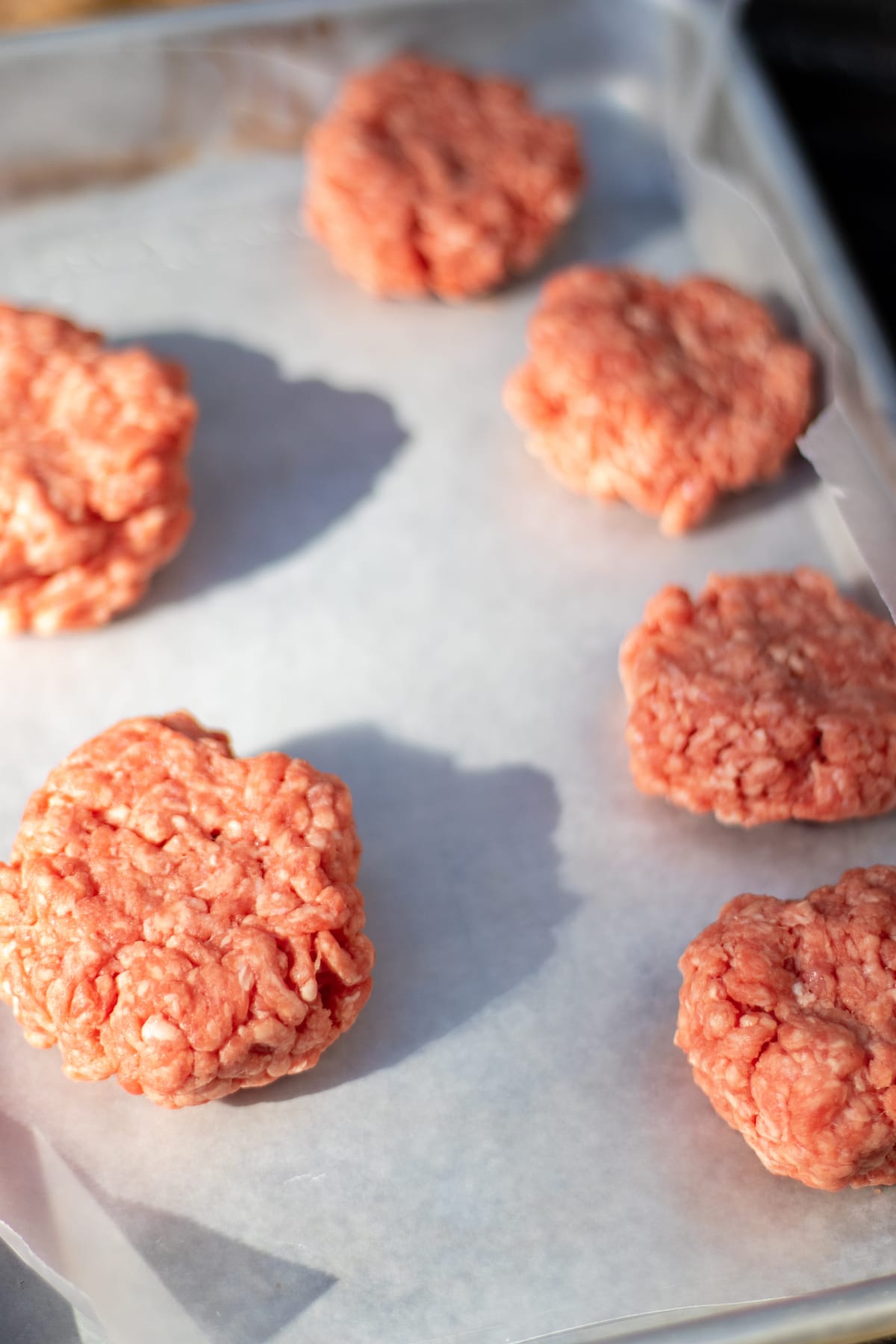 Once you've portioned your meat form it into puck-shaped patties as shown above. Try to work the meat as little as possible during this process. I've found that the puck shape leads to less splitting around the edges when you smash them than a ball does.
Prep your buns and toppings
Smash burgers on the Blackstone cook quickly so I gather everything I'm going to need for the process before I put them on the griddle. If you like grilled onions or toasted buns now's the time to get that done. Crispy bacon is a great addition. Once you have everything you need heat your Blackstone to piping hot.
We have done this on the grill with a cast-iron skillet, but I prefer making smash burgers on my Blackstone griddle. You want a heavy skillet or griddle that will hold its heat when you put your patties on. The key to the tasty crust in this smash burger recipe is the Maillard reaction. If you're not familiar with the science behind the Maillard reaction this piece by Serious Eats does a great job breaking it down. A thick pan or griddle will stay hot enough when the meat is added to create the Maillard reaction on your smash burgers.
Smash your burgers
The real secret to getting the Maillard reaction and that awesome crust though is in the name. Place your patties on your griddle and smash the heck out of them! You will need a spatula that won't break or bend when you press on it and preferably doesn't have any slots or holes in it. You might need to use a second spatula to press directly on the first. A bacon press or any hard flat kitchen tool would also work. I use the spatulas that came in my griddle accessory set.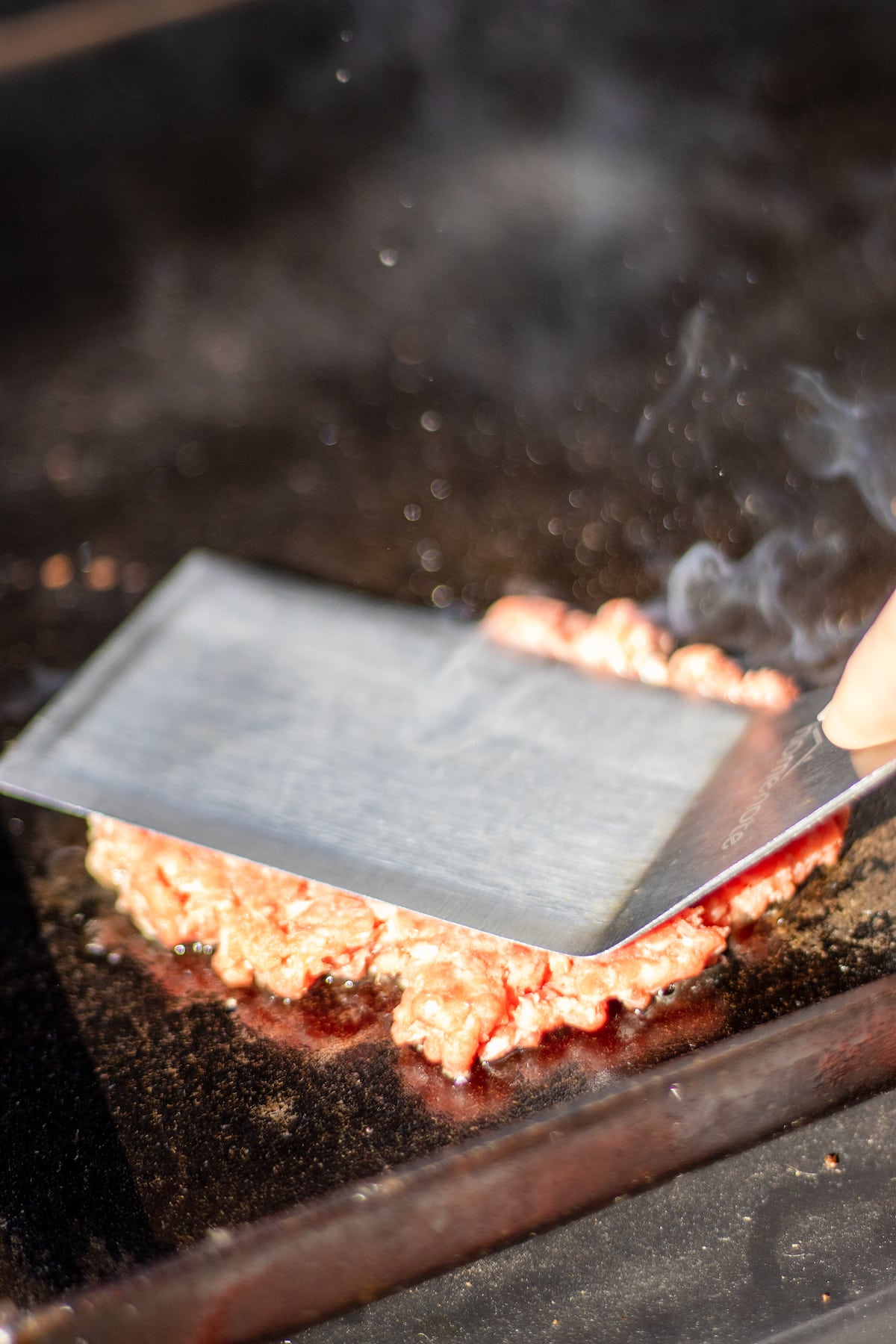 Smash your burger for about 30 seconds and move on to the next one. Once you have all your patties smashed season with salt and pepper. I keep a recycled spice shaker with a blend of salt and pepper in our pantry to use for this. Smashing a burger flies in the face of the old adage to never press down on hamburgers. If done at the beginning though the fat has not rendered yet and they won't be dry.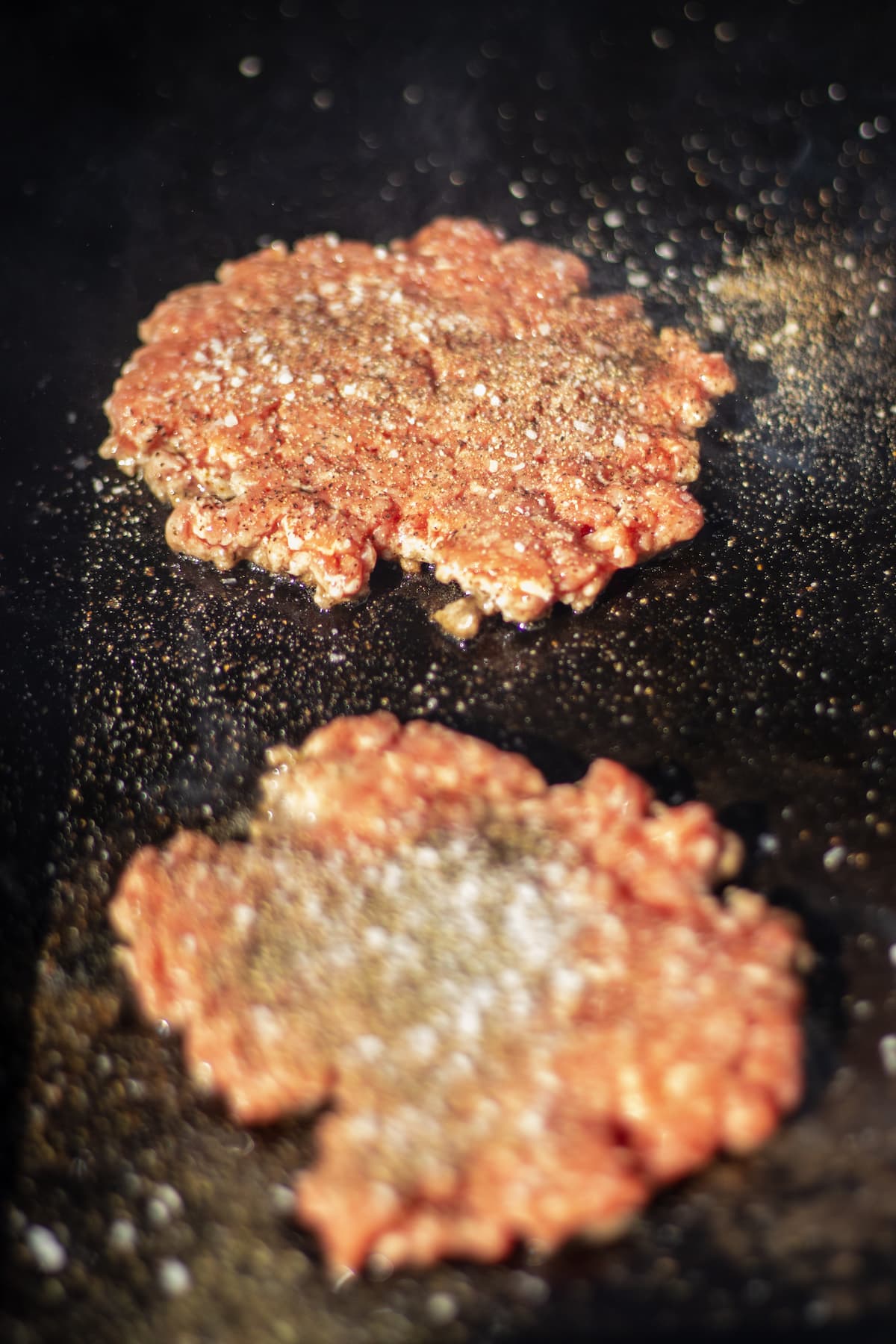 Cook for about a minute then flip. Be careful to not break your burgers. It will take a little more finesse than normal grilled burgers. You are basically scraping your smash burger off your griddle, but once you get the edge loose it should release fairly easily. After flipping, season the second side with salt and pepper and top half of the patties with American cheese. I'll explain why just half below.
I know there are loads of cheese options and some people are against ever using American cheese, but it's the cheese to use here. You're not going to get the gooey melty goodness with cheddar. But if you are a no American cheese diehard top them with whatever moves you.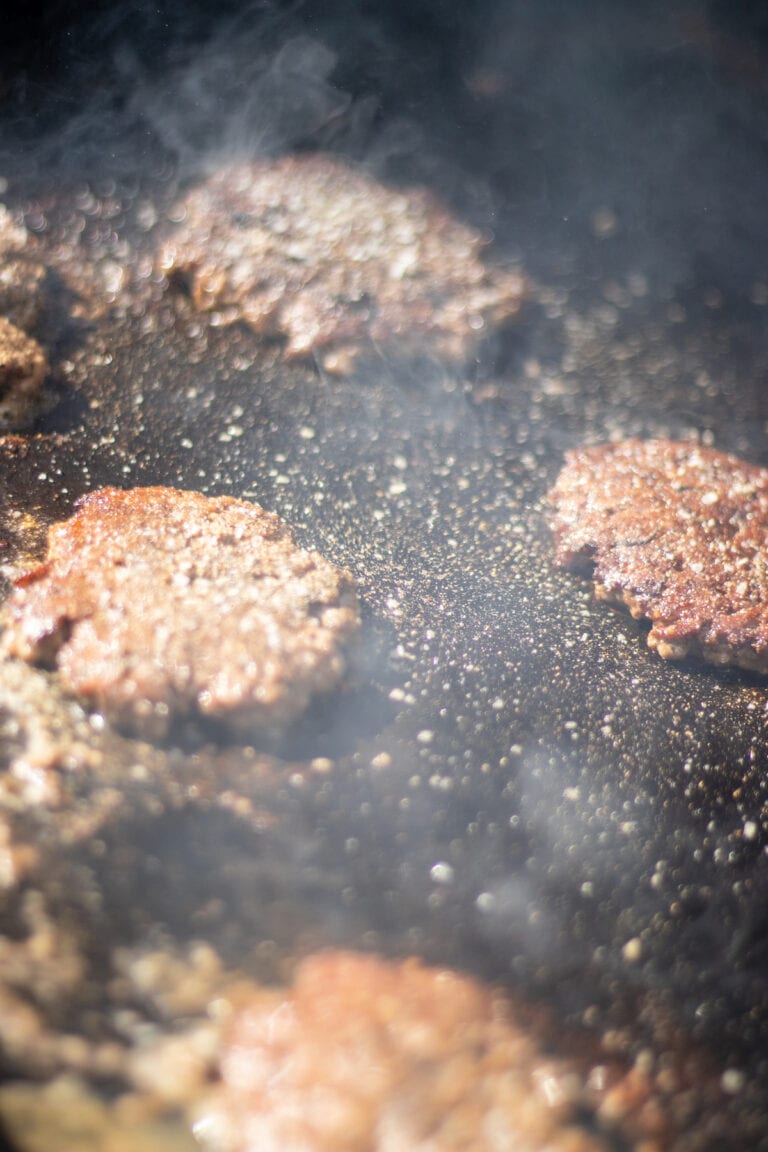 Stack them up!
This is where the real magic of smash burgers on the Blackstone comes. There is something special about the way the cheese melts into all the grooves of the patties when you turn these into a double. Instead of topping each smash burger with cheese and stacking them up, I like to build them in this order: bun-cheese-patty-cheese-patty-bun. The cheese on the bottom bun will melt when you place the patty on it, and it will help keep the bottom bun from getting soggy.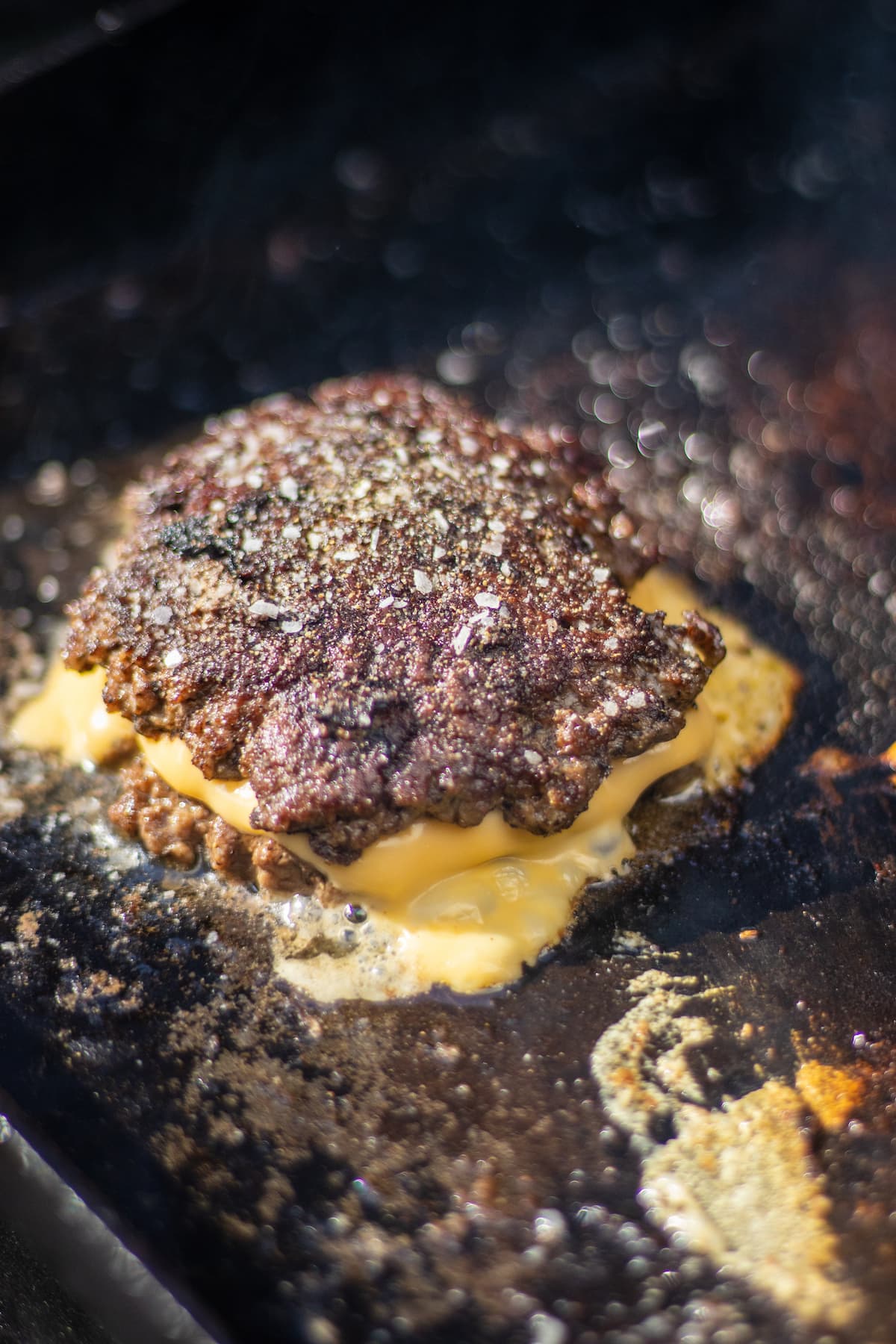 These guys cook quickly and the flip side should be done when the cheese has melted. Losen each patty using the same method as you used to flip your smash burgers. Stack a naked patty on top of each cheese-topped patty and place on your cheese topped bottom bun. Add whatever condiments you prefer and top with the remaining bun. These don't need to rest and should be served right away. Smash burgers on the Blackstone cook so fast we prepare whatever sides are needed and put these right on each plate cafeteria-style.
If you're like us and don't generally fry things smash burgers go great with our crispy roasted potatoes! Let us know below if you enjoyed this smash burger recipe and what you chose to top your burgers with.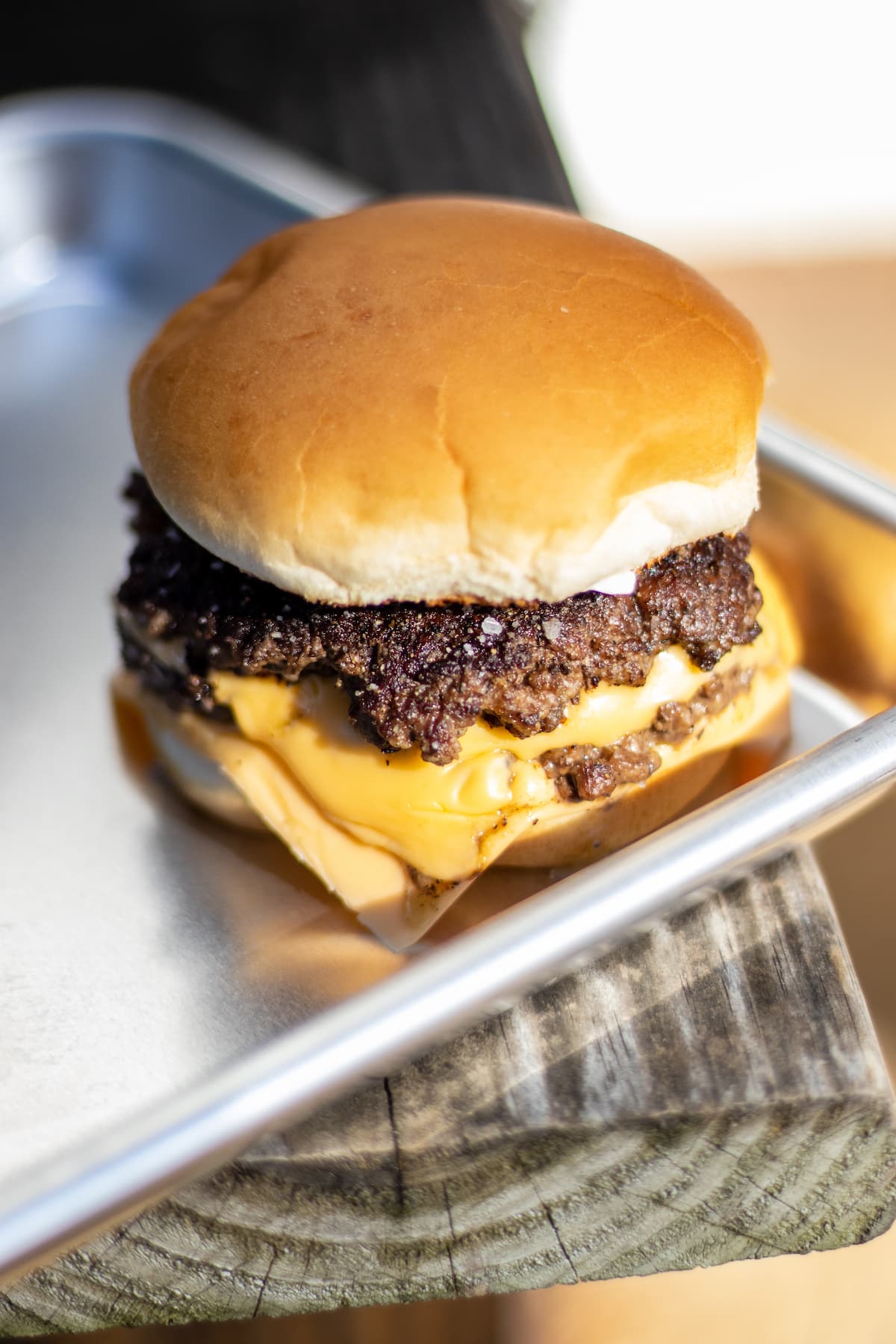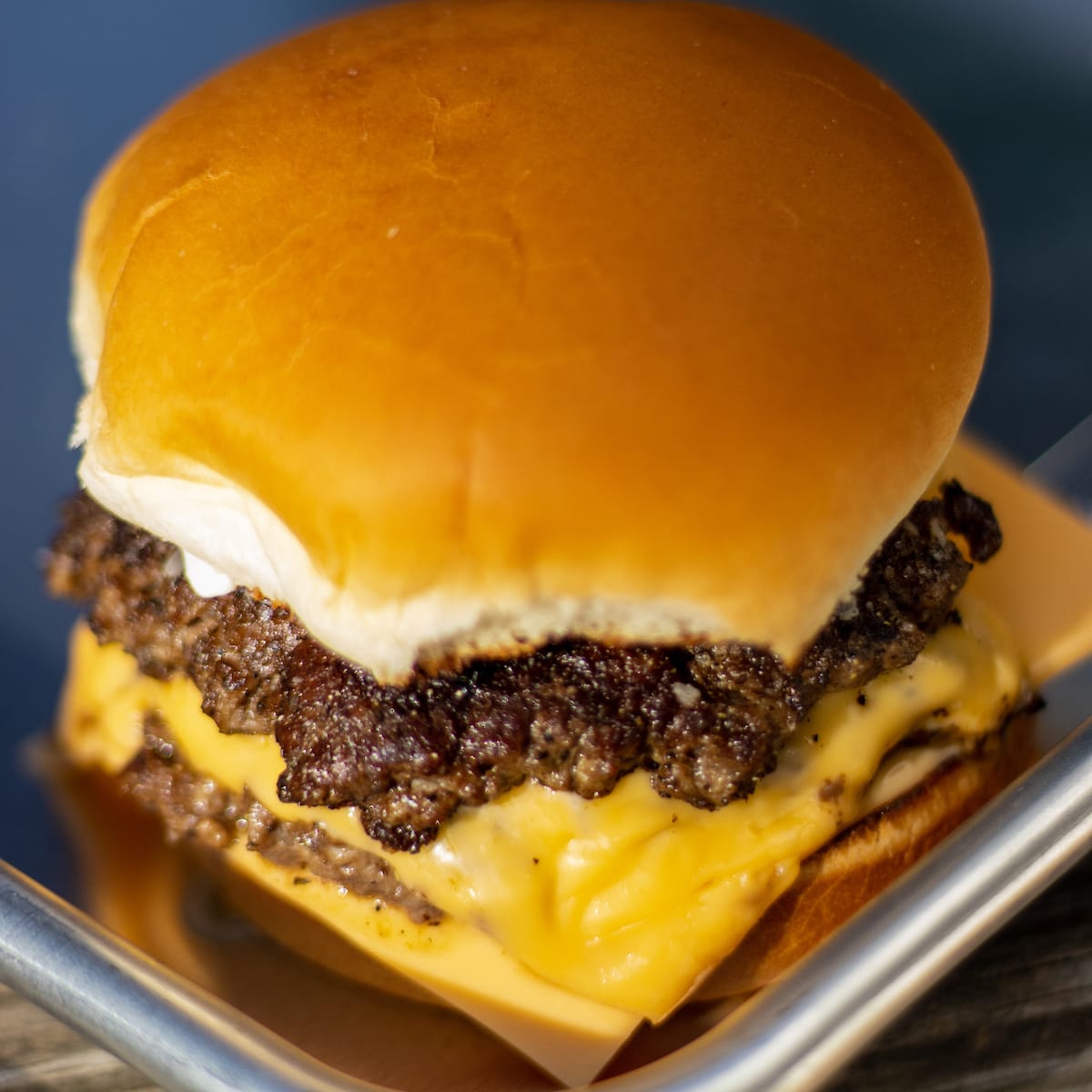 Servings:
4
Double Burgers
Equipment
Griddle or cast iron skillet

Non-slotted spatula
Ingredients
24

Ounces

Chuck

ground

8

Slices

American Cheese

4

Hamburger Buns

Salt and Pepper

to taste
Instructions
Portion out eight 3 ounce portions of ground chuck.

Gently form the ground chuck into thick puck shaped patties.

Toast your buns if desired and place the patties, one at a time, on your very hot griddle or in your cast iron skillet.

As you place each patty use the bottom of your spatula to press firmly on the patty smashing it onto the griddle and spreading out the meat, hold for about 30 seconds.

Season generously with salt and pepper and repeat with remaining patties.

Allow the patties to cook, about a minute or two should do it and flip by using your spatula to scrape under the patty being sure to keep the crust intact. You may need to do a little bit at a time for each side of the patty.

Season the other side with salt and pepper and top with cheese.
Notes
We do this outside on the Blackstone and have made them in a cast iron pan on the grill. If you can do it outside I recommend it as these splatter and smoke. 
Nutrition
Calories:
707
kcal
|
Carbohydrates:
23
g
|
Protein:
41
g
|
Fat:
49
g
|
Saturated Fat:
21
g
|
Cholesterol:
163
mg
|
Sodium:
1031
mg
|
Potassium:
569
mg
|
Fiber:
1
g
|
Sugar:
4
g
|
Vitamin A:
397
IU
|
Vitamin C:
1
mg
|
Calcium:
544
mg
|
Iron:
5
mg