This Chex mix recipe is great all year long, but we always end up making it around the holidays. The smell of this in the oven is amazing. It's even better with a Christmas tree and a fire in the fireplace. If you look at the back of the box of Chex cereal you'll see that this isn't a particularly original recipe, but it's my spin on it. This Chex mix recipe turns the flavor up to 11 and adds a bit of a kick.
Lauren always made Chex mix for the holidays. I didn't even know how to make it until a few years ago. A little before Thanksgiving of 2015 Lauren broke a finger on her right hand pretty badly and it fell to me to make the Chex mix under her careful tutelage. I've never been the best student and if a little of red pepper is good, why not a little more? My adulterations were a hit and over the last few years, I've managed to actually write down my version.
My first change, add more butter, because why not? Also, the additional butter helps the seasoning coat all the Chex. Next, I kicked up the seasoning and the spice a notch. When I first started making the Chex mix recipe I combined the dry seasoning with the soy sauce then poured it into the melted butter. This always left some of the seasonings behind in the mixing bowl and I couldn't stand to abandon flavor!
My Chex mix recipe
Here's what I do. Put two sticks of butter (not margarine) in a large roasting pan. We use our big turkey roaster, this makes a big portion and it will you'll need plenty of room for stirring. Put the butter in a 250-degree oven to melt. Remove the roasting pan from the oven when the butter has melted and add the dry seasoning mix. Stir to combine well, I use a flat-ended wooded spoon (this helps scrape the yummy bits off the bottom later). Once you've stirred in the dry seasonings add Worcestershire sauce and stir to combine.
This is where things get fun! Add the Chex mix, pretzels, and nuts and stir. Be sure to stir well to fully cover all the Chex with the butter and seasoning, but don't crush all your Chex! This is again where the flat-ended wooden spoon comes in. I place it along the edge and go straight down and stir from the outside to the middle. Some Chex will be injured in the process, but it has to be done.
Feel free to add your favorites in here, I know some people like rye chips, bagel chips, or some type of breadsticks. Personally, I'd make it all rice and corn Chex if I had my way. You can also adjust the spice to your liking, though this level is fine for our kids so it's likely not too spicy for most. We've used ground red pepper in the past, but since we've discovered Flat Iron Pepper Company we use their Dark and Smokey blend and grind it.
Amazing smells ahead!
Put the Chex mix into the oven and start roasting. It is going to smell great, but it's not done yet. Set a timer for 20 minutes, when it goes off give it another good stir and put it back in for another 20 minutes. Repeat this for an hour, maybe a little longer, stirring every 20 minutes until the Chex mix is crisp. Take a couple of bites each time you stir it and you'll be able to tell when it's done.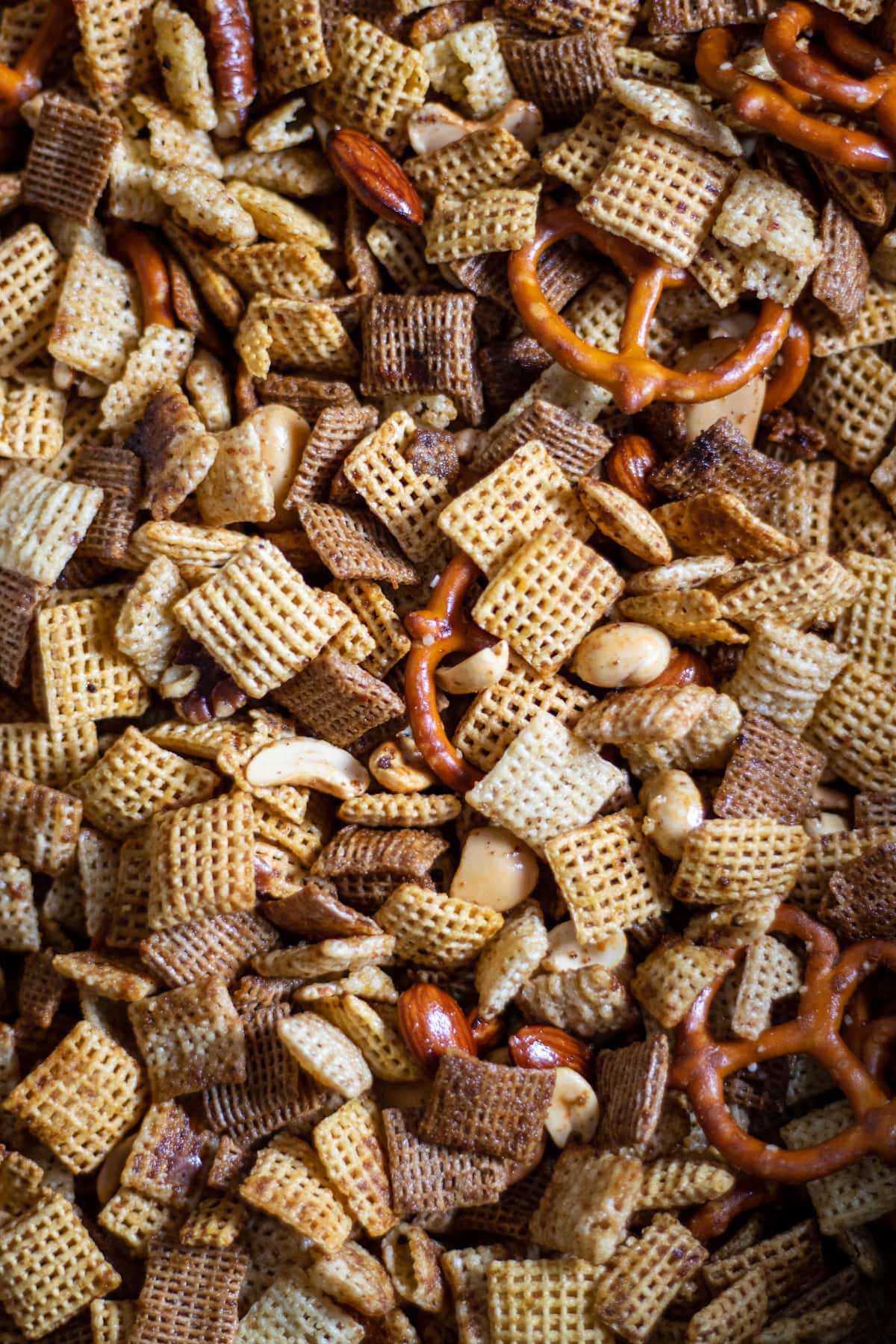 Once the Chex mix is done you'll need to leave it out to cool, we usually do this overnight before putting it in a large container or ziplock bag. It should keep for a few weeks, but it will never last that long! If you're looking for party ideas be sure to check out our Loaded Baked Potato Dip as well!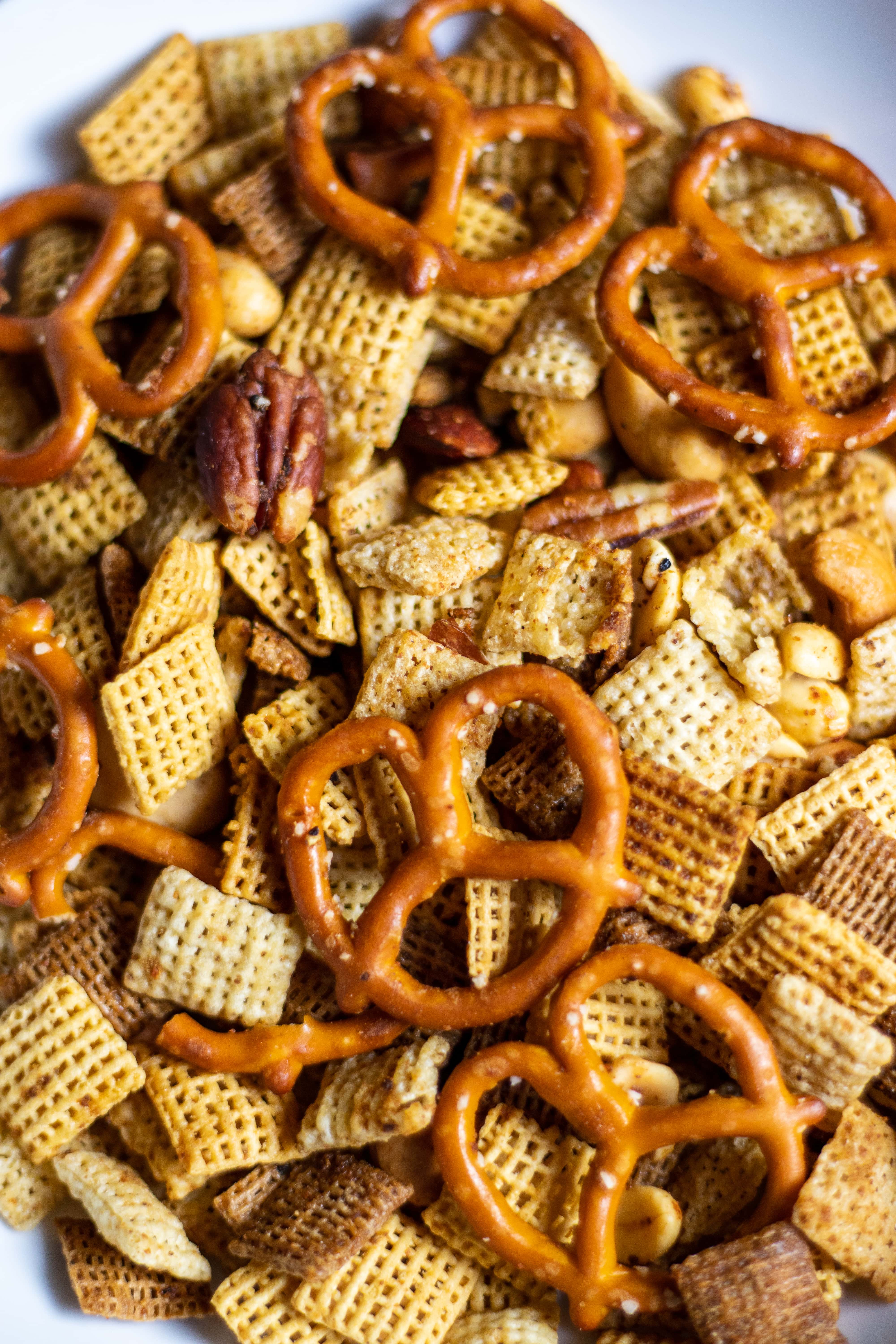 Ingredients
½

tsp

Red Pepper

or to taste, we prefer Flat Iron

1

tsp

Onion Powder

4

tsp

Garlic Powder

4

tsp

Lawry's Seasoned Salt

2

sticks

Butter

6

tbsp

Worcestershire Sauce

6

oz

Rice Chex

about half of a normal-sized box

6

oz

Corn Chex

about half of a normal-sized box

6

oz

Wheat Chex

about half of a normal-sized box

2

cups

Pretzels

10

oz

Mixed Nuts
Instructions
Preheat Oven to 250°F, add butter to a large roasting pan, we use our big turkey roaster but you could use a large disposable one if need be. It needs to be big so you can stir the Chex mix.

Place roasting pan in the oven until the butter is melted.

Add the seasonings and Worcestershire sauce to the melted butter and stir to combine.

Add the Chex, pretzels, and mixed nuts and stir thoroughly to coat the entire mix in the butter and seasonings.

Place the mix in the 250°F degree oven and roast stirring well every 20 minutes until the butter is absorbed and fairly dry. This is usually about an hour to an hour or so, you'll know by taking a sample with each stir when it's dry and crisp.
Notes
This recipe is a touch salty, but it's meant to be. If you'd like it lower in salt omit some of the seasoned salt. T
Nutrition
Calories:
197
kcal
|
Carbohydrates:
22
g
|
Protein:
4
g
|
Fat:
11
g
|
Saturated Fat:
5
g
|
Cholesterol:
16
mg
|
Sodium:
540
mg
|
Potassium:
139
mg
|
Fiber:
2
g
|
Sugar:
2
g
|
Vitamin A:
542
IU
|
Vitamin C:
4
mg
|
Calcium:
64
mg
|
Iron:
6
mg