Homemade Spaghetti Sauce was likely the first recipe I ever cooked that wasn't written on the side of a blue box. I moved into my first apartment-style dorm during my junior year of college. That summer I asked my mom to write down some of my favorite recipes. I asked for this one first. I only made this by reading the recipe once or twice before I memorized the basics. It would be interesting to pull out the original and see how it has changed over the last 20 years. This recipe is easy enough for a beginner to make and is a full, rich, tomato, meat sauce.
Some may try to tell you this sauce is bolognese or ragù bolognese, but it's not. It is Pure Americanized homemade spaghetti sauce. So far removed from its Italian cousin its name comes from the pasta most Americans eat it on 🤦‍♂️. But, it is tasty and it is what most of us know, so enjoy!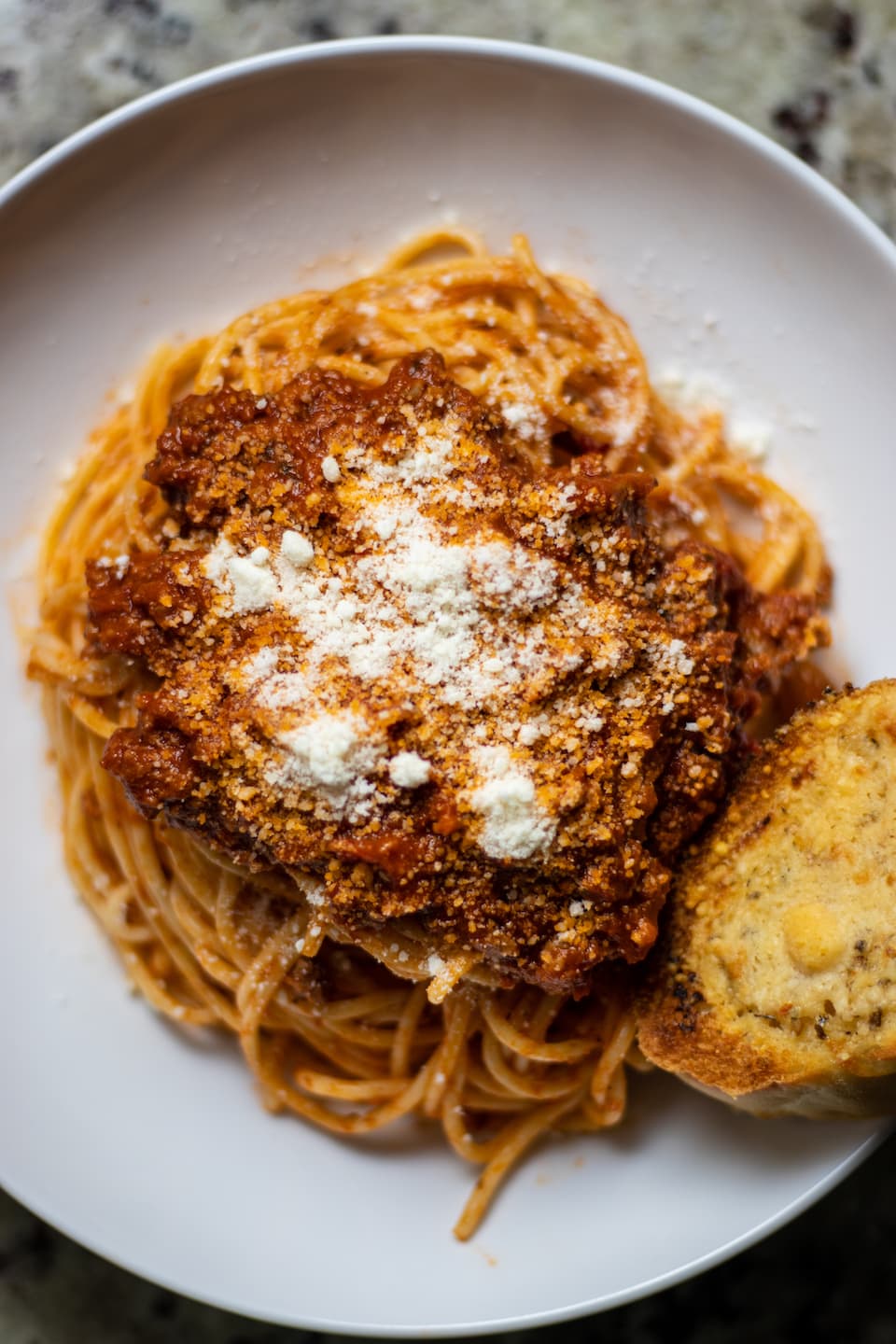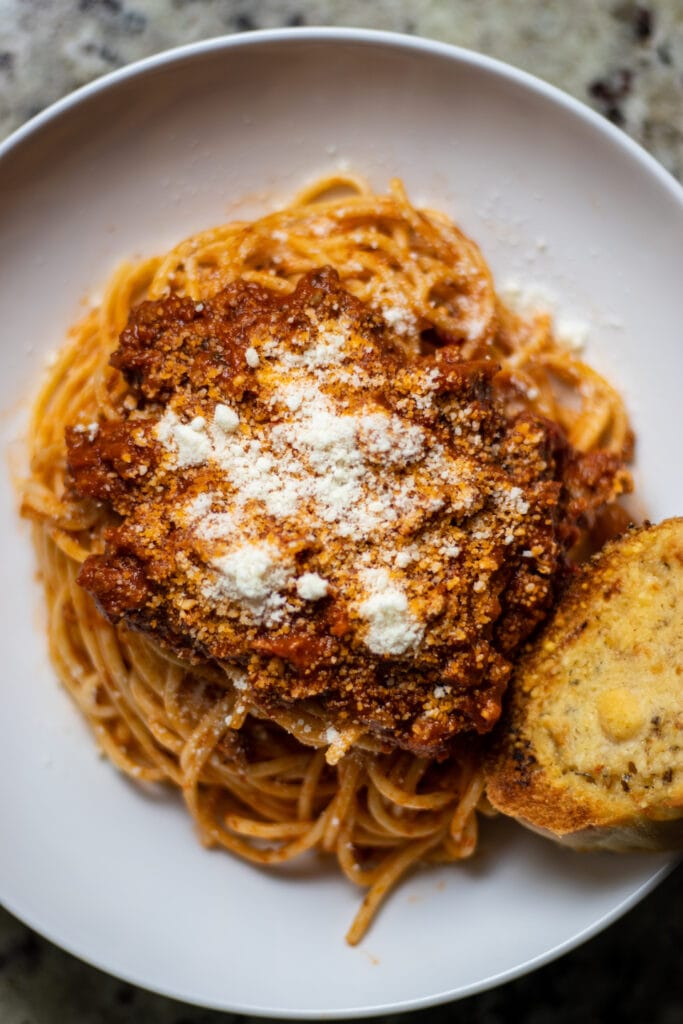 A slow simmer is the key to this one
This recipe should look familiar if you've made our Meatballs, it is largely deconstructed meatballs. Though pretty quick to put together, this homemade spaghetti sauce benefits from a long simmer. The key to a long simmer without spending the next week scrubbing the bottom of your pot is to use a good thick-bottomed dutch oven (we love our trusty Le Creuset for this). If you don't currently have a decent dutch oven I can't recommend getting one enough. We use our at least once a week in the summer and even more in the fall and winter. You could also make this stovetop and add it to a crockpot to let it simmer.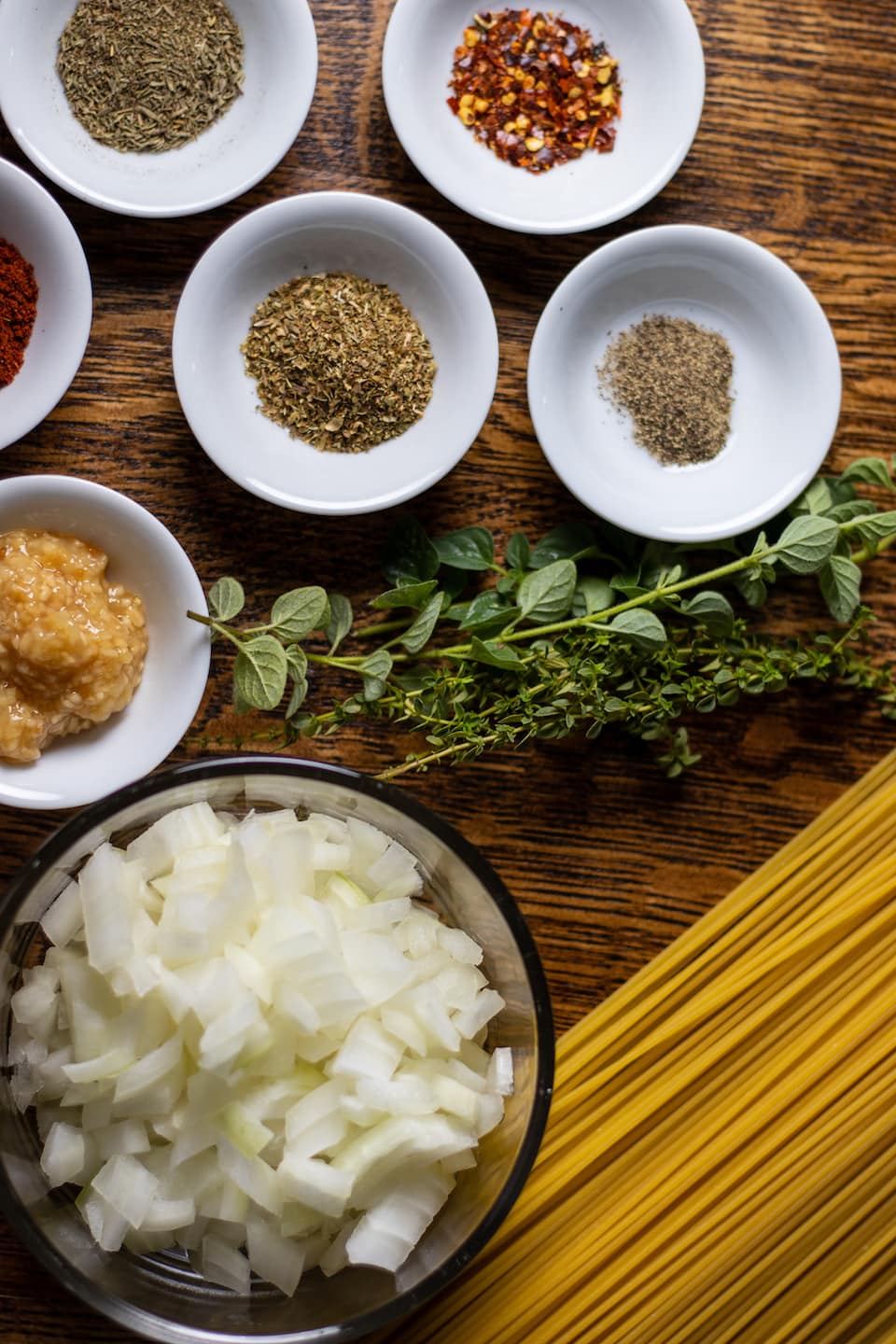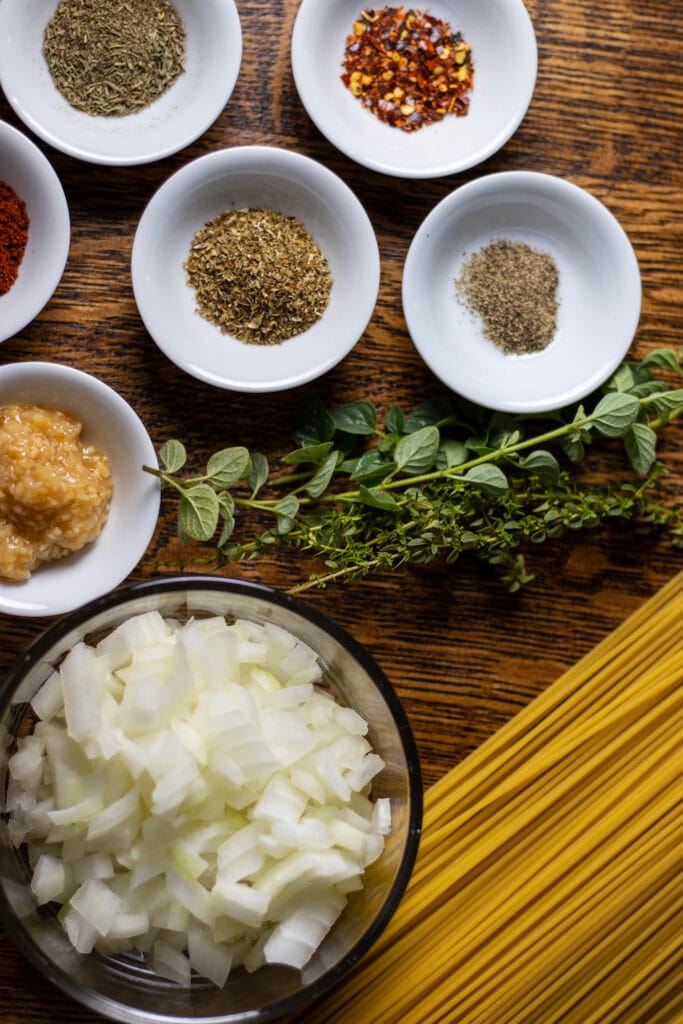 To start this one add a couple of tablespoons of olive oil to your dutch oven, I pour enough to coat the bottom. Add chopped onion and cook until translucent. I cook onions a touch past translucent due to an irrational fear of getting an onion with any amount of bite left to it...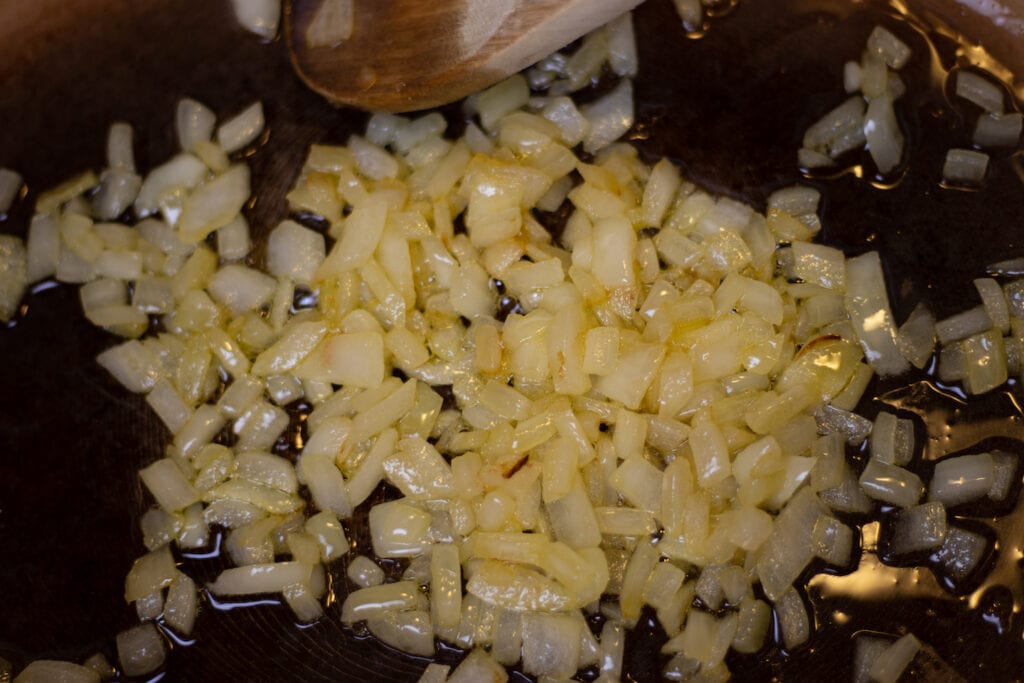 Cook the onions to your liking, lower the heat, and add garlic. Cook on low for a couple minutes stirring frequently. Add the remaining herbs and spices and stir. I use dried herbs in this recipe because they're always in the pantry and it keeps this easy. If you want to use fresh herbs don't add them yet. I prefer ground thyme, when dried thyme is all we have, I pour some in my palm and grind it with my fingers. You may have noticed we like spice, as written this recipe is tame enough for our kids, it really starts to pop if you up the red pepper though!
In this sauce, the meat is the star
I use roughly equal parts ground beef and ground hot Italian sausage for this recipe. You can use any ground meat you prefer (if your butcher has a "meatloaf mix" that works well), but keep in mind you may need to adjust the seasoning if you omit the sausage. My mom's original recipe just calls for ground beef and you can certainly go that route. As for the beef itself, I generally use chuck but you can go leaner if that's your preference. Remember as you sub in leaner meats you sacrifice a little flavor as well.
Add the meat to the cooked onions and bring the heat back up. Use a thick wooden spoon to stir the meat as it cooks to break up any large clumps and combine you meat mixture. For this sauce I prefer my meat to practically disappear into the sauce. Congratulations, it's all down hill from here!
You can't make a red sauce without tomatoes!
Remember, this an easy spaghetti sauce, it is not meant to be the most authentic sauce. I've never had any complaints though. With that disclaimer in mind it is time to add the canned tomato products. Add the tomato paste, sauce, and crushed tomatoes to the dutch oven. I feel fairly certain this doesn't matter, but I add the tomato paste first followed by the tomato sauce, then the crushed tomatoes. Once you've added the tomatoes maintain heat and stir constantly until bubbling. It will be spitting like mad, so watch out and I strongly recommend an apron!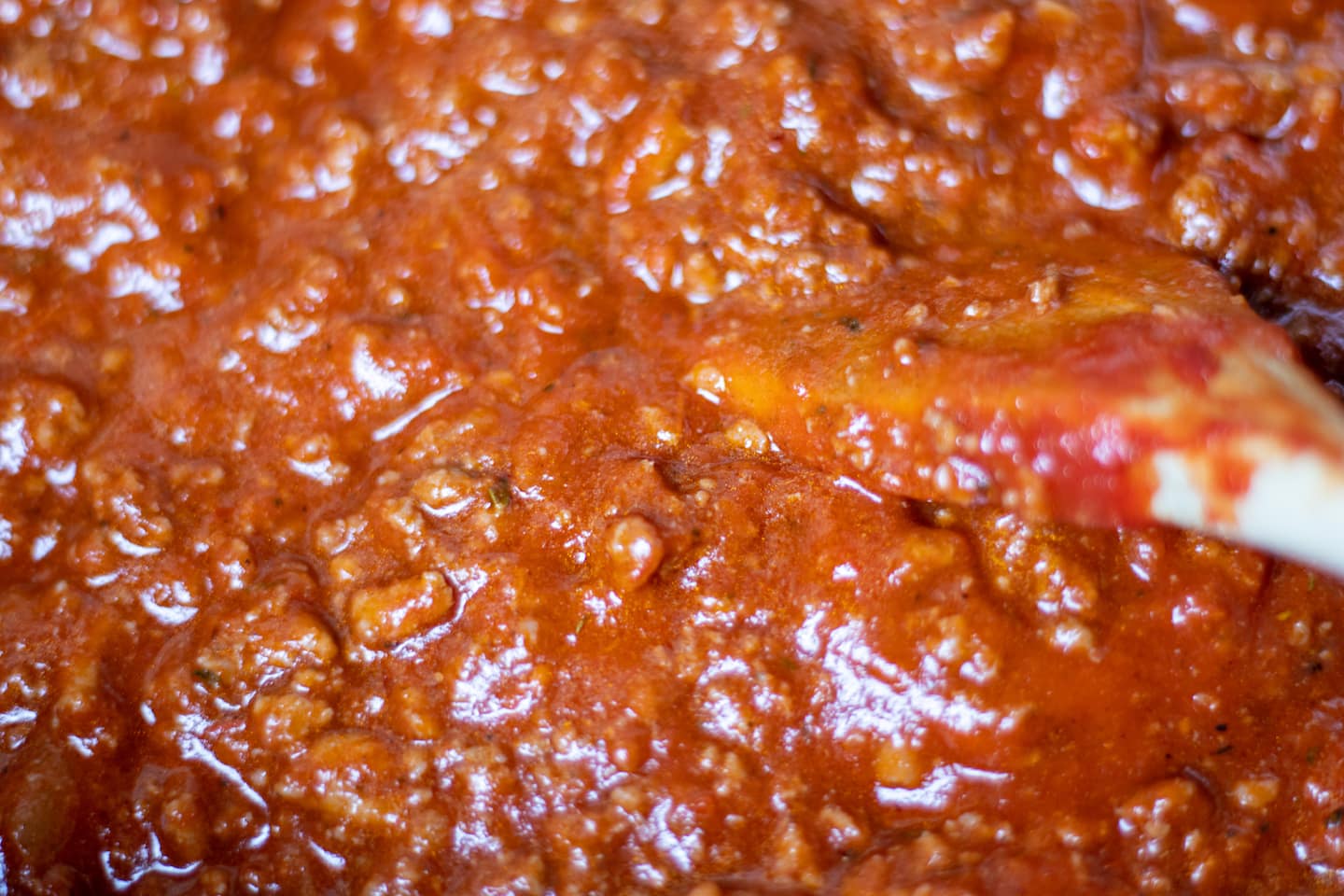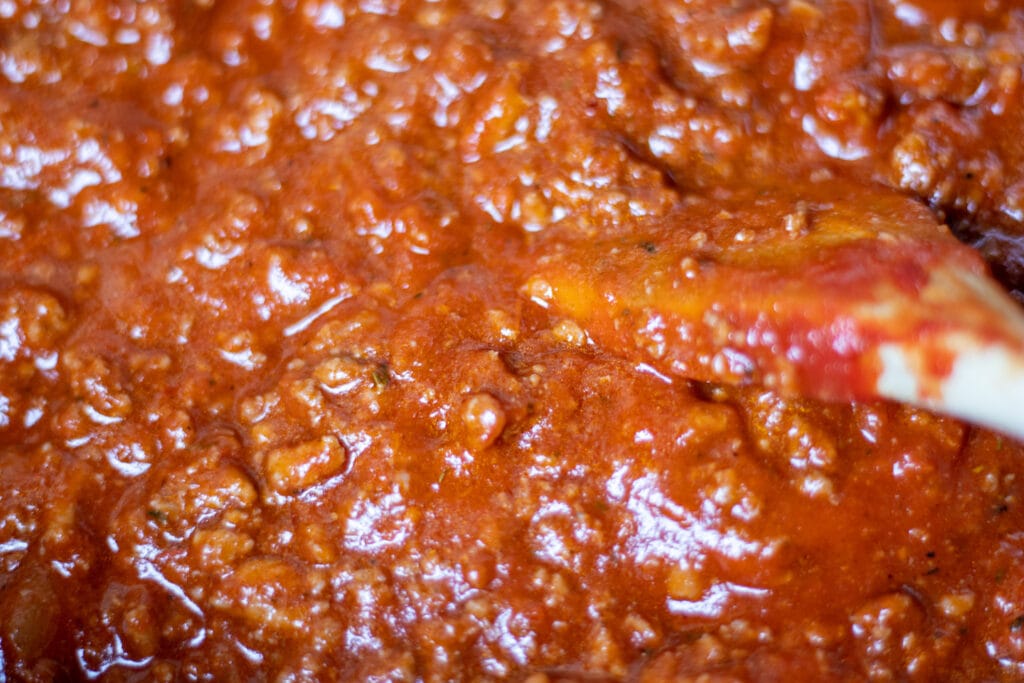 Once you've got it bubbling away and reduce the heat to low, add a bay leaf, and cover. We have one burner on our stove that is perfect for letting the simmer without burning. I recommend stirring frequently and keeping an eye out for any sticking on the bottom. This is also where you'd add any fresh herbs you want to use. We keep thyme and oregano growing and I generally add some here in addition to the dried herbs.
Just let it simmer
As I mentioned before, the key to this homemade spaghetti sauce is letting it cook for as long as you can wait. We often make it on a weeknight and let it cook until bedtime, put it in the fridge, and then let it cook the next evening before eating. One of the downsides of using canned tomato products is they can be acidic and a bit tart. I recommend you start tasting this sauce about an hour or so before you plan to eat it. If it is acidic or tart add a pinch of sugar. Tasting at this time will also give you time to add any additional seasoning you think it needs. You can salt here if you like, but with the sausage, I've never found it needed any additional salt.
This sauce gets super rich after it's cooked for a bit and can go on pretty much anything. We generally serve it over thin spaghetti, but it is great for anything you'd normally use a marinara for such as lasagna. I definitely recommend that you make a batch of Parmesan Garlic Bread to go with it! Let us know how you ate it in the comments below!
Ingredients
For the sauce:
28

oz

Crushed Tomatoes

canned

1½

lb

Ground Beef

chuck (you can go leaner if that's your thing)

1

lb

Italian Sausage

ground

15

oz

Tomato Sauce

canned

12

oz

Tomato Paste

canned

1

cup

Onion

diced

3

cloves

Garlic

minced

2

tbsp

Olive Oil

3

tsp

Chili Powder

1

tsp

Oregano

dried

1

tsp

Thyme

ground (if I just have dried I grind it in my palm before adding, but you don't have to)

¼

tsp

Black Pepper

¼

tsp

Red Pepper Flakes

or to taste

1

Bay Leaf
For the pasta:
1

lb

Spaghetti

dried (feel free to use whatever you want here!)
Instructions
For the sauce:
In a large dutch oven (we love our Le Cruset!) or other large thick bottomed pot add olive oil to coat the bottom and heat to med low.

Add diced onions and cook until translucent stirring frequently.

When onions are translucent add garlic and cook while stirring for about a minute.

Add ground sausage and ground beef stirring to combine and avoiding large clumps (check out the meatball recipe if you're into large clumps of meat 😁)

Add remaining seasonings and continue to cook meat until cooked through.

Add tomato paste and stir to combine.

Add tomato sauce and stir to combine.

Add crushed tomatoes and stir to combine.

Bring to a healthy simmer stirring frequently (an apron is helpful here, this stuff will spit at you like nobody's business).

Reduce to low and cover. If you're adding fresh herbs, now's the time!

Cook for at least a couple hours, but the longer this stuff has together the better! We like to start it on a Friday or Saturday night then put it in the fridge and let it cook most of the next day. You could also transfer to a crock-pot. Make sure your low setting is low enough to keep this one from burning on the bottom, it can happen in a flash.

An hour or so before serving begin tasting. Canned tomatoes can vary widely and a pinch of sugar may be needed to offset the tartness of some. Also adjust spice and salt levels if needed.
Nutrition
Calories:
597
kcal
|
Carbohydrates:
51
g
|
Protein:
28
g
|
Fat:
32
g
|
Saturated Fat:
11
g
|
Cholesterol:
83
mg
|
Sodium:
991
mg
|
Potassium:
1161
mg
|
Fiber:
6
g
|
Sugar:
11
g
|
Vitamin A:
1138
IU
|
Vitamin C:
20
mg
|
Calcium:
86
mg
|
Iron:
5
mg