Let's list some favorite foods: beer, ice cream...wait, stop! That's enough for me! Imagine a rich, creamy, deep chocolatey porter craft beer turned ice cream. We're not talking a light beer here. There's a time and a place for that, this ain't it!
Downtown North Porter Ice Cream is the perfect boozy summer treat, fall treat, or really anytime treat (when you make an ice cream from a strong porter it becomes winter appropriate ice cream right?). Ice cream lovers 21 and up only please! Now, it's not that boozy, but the ice cream is finished with straight Downtown North Porter (around 9.1% ABV) to really bring out those authentic flavors.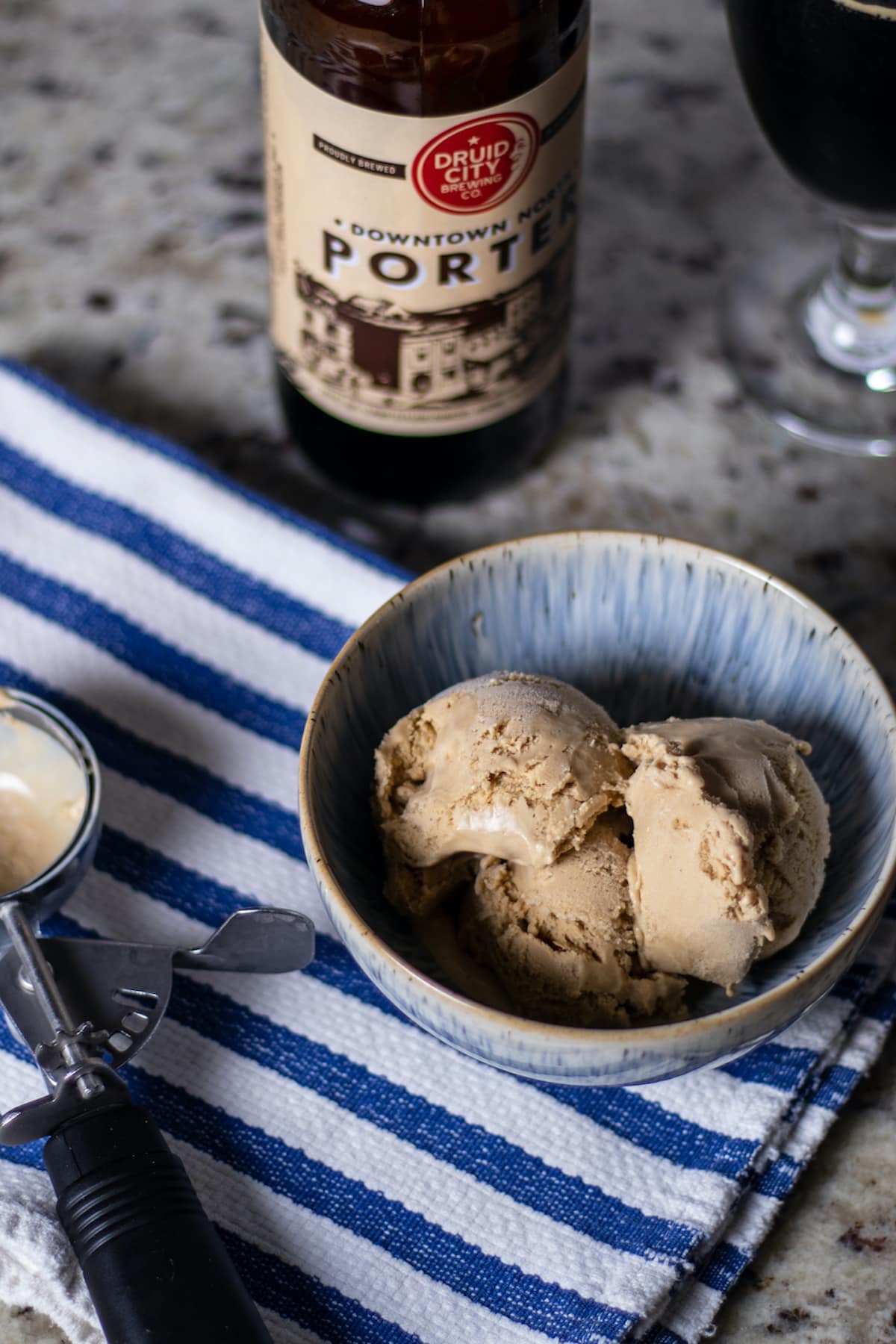 Druid City Brewing Company
The gift of Downtown North Porter Ice Cream is all because of a wonderful local establishment called Druid City Brewing Company. Druid City, for short, started as Tuscaloosa's first Craft Brewery and continues to refine the craft. It is owned and operated by Tuscaloosa legend Bo Hicks (and his band of lost boys).
Druid City holds a special place in our hearts. Our family spends countless hours in the intimate tap-room that truly feels like drinking beer in a friend's living room. When our son pooped in the potty for the first time, we took a trip to Druid City (or Mr. Bo's as he calls it) for his reward. It is hard to describe the warm environment, so if you're from Tuscaloosa, go check it out, if you're not it's worth trip to Alabama for I promise!
Downtown North Porter
Downtown North Porter, or now canned and distributed throughout Alabama as Parkview Porter, is one of Druid City's signature beers. Its name is a bit of a pun on lovely historic downtown of Northport, Alabama just across the Black Warrior River from downtown Tuscaloosa. It is dark, but not heavy. It's creamy in taste, but not in feel like a Guinness would be. It's malty, chocolatey, and has those yummy coffee undertones from the darker roast. Not to mention, it packs a punch with a deceiving 9.1% ABV. This beer will get you in trouble if you don't realize what you're getting into! These qualities translate into a silky, rich, and flavorful ice cream.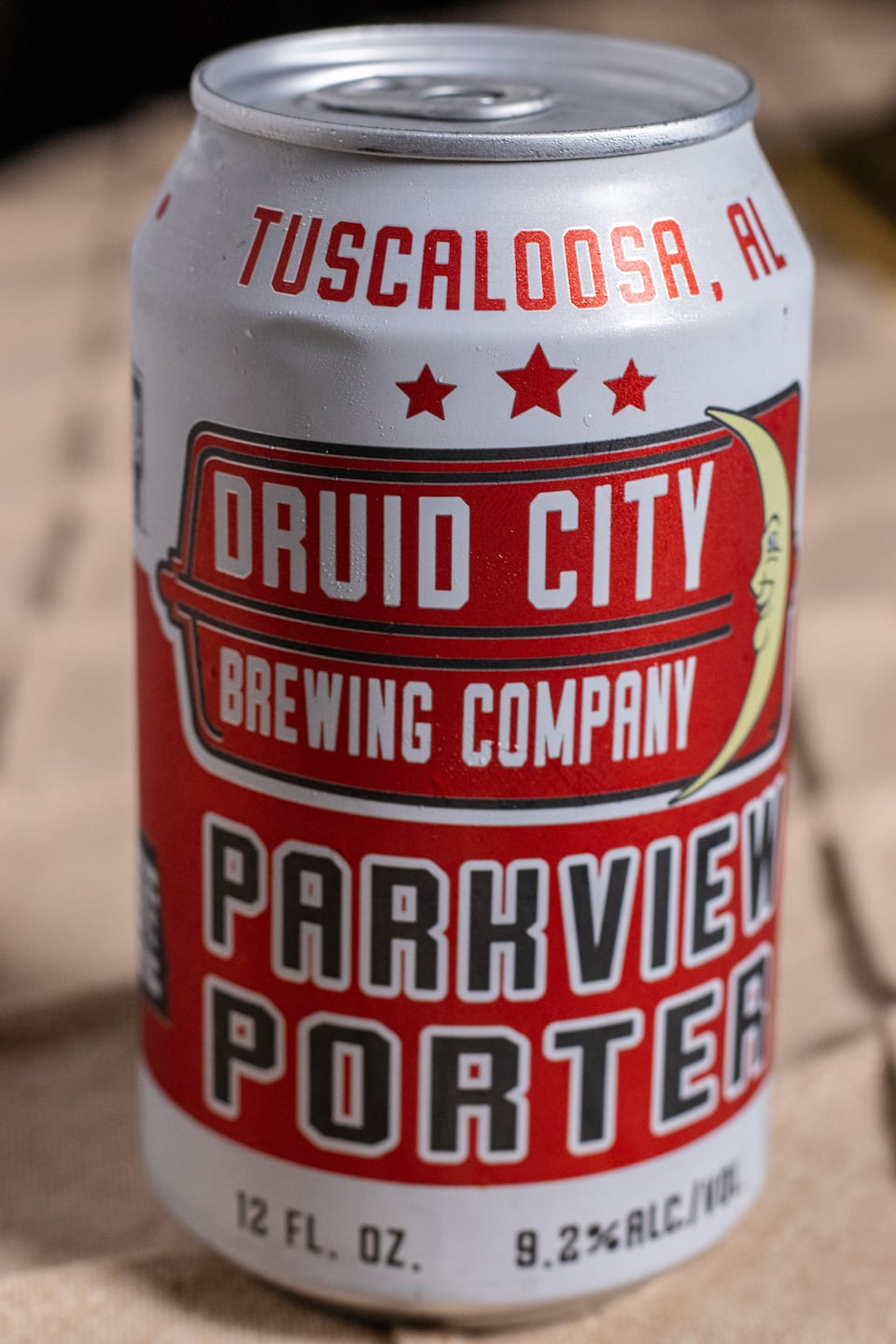 I had the idea for this marriage quite some time ago, but hadn't had the heart to sacrifice some North Porter to make it happen. Until one day we mentioned the idea to Bo Hicks, hero to many, close friend, supplier of beer for our daughter's first birthday, and video game opponent of our son, he promptly went inside and poured me a crowler to make it happen.
Let's turn this booze into some ice cream!
I have a really good base vanilla recipe I have perfected over the years so I thought, how hard can this be? Let's do this. I'll admit I was a little bit surprised when my first batch of the Druid City North Porter Ice Cream came out a winner!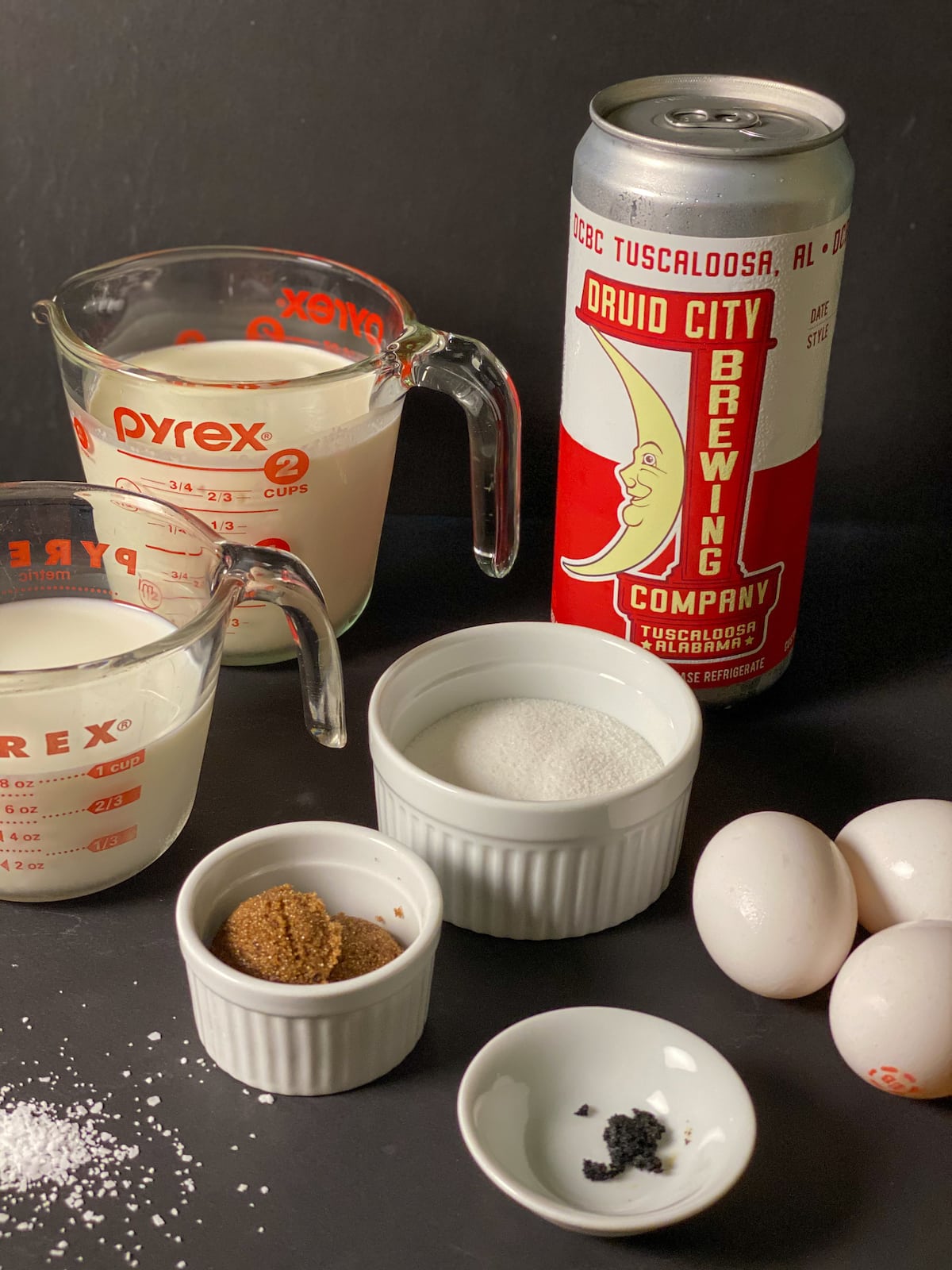 Making ice cream is definitely a plan ahead project, but it's not difficult if you follow these steps. Carefully crack the eggs and add the yolks to a large metal or glass bowl. Reserve the whites for another use. Add the milk and whisk the yolks and milk together thoroughly. Let this mixture stand at room temperature. This is a step I find useful to reduce the risk of scrambling the eggs later on.
Next, make the beer reduction by combining the brown sugar and cup of North Porter into a small heavy bottom saucepan. Let this mixture come to a boil and then reduce to a simmer, simmering until the liquid is reduced by about half. It will be concentrated, but not thick. Remove the pan from the heat and let cool while you proceed.
In a large heavy bottom saucepan combine the vanilla caviar (or extract), the heavy whipping cream, and sugar. Whisk this mixture and bring to a simmer making sure that all of the sugar granules are dissolved.
Watch your temper(ing)
Now for the trickiest part! The next step involves tempering the egg/milk mixture with the hot cream/sugar mixture. Slowly add the hot cream mixture in a steady stream to the milk/eggs while whisking vigorously and continuously. Then pour the combined milk and cream back into the heavy bottom saucepan. Add the salt.
Return the heat to medium, medium/high and whisk frequently. Don't leave it alone because the eggs will stick to the bottom and start to scramble! As the temperature increases, start whisking more frequently until the custard thickens enough to coat the back of a wooden spoon and not run when you run a finger through.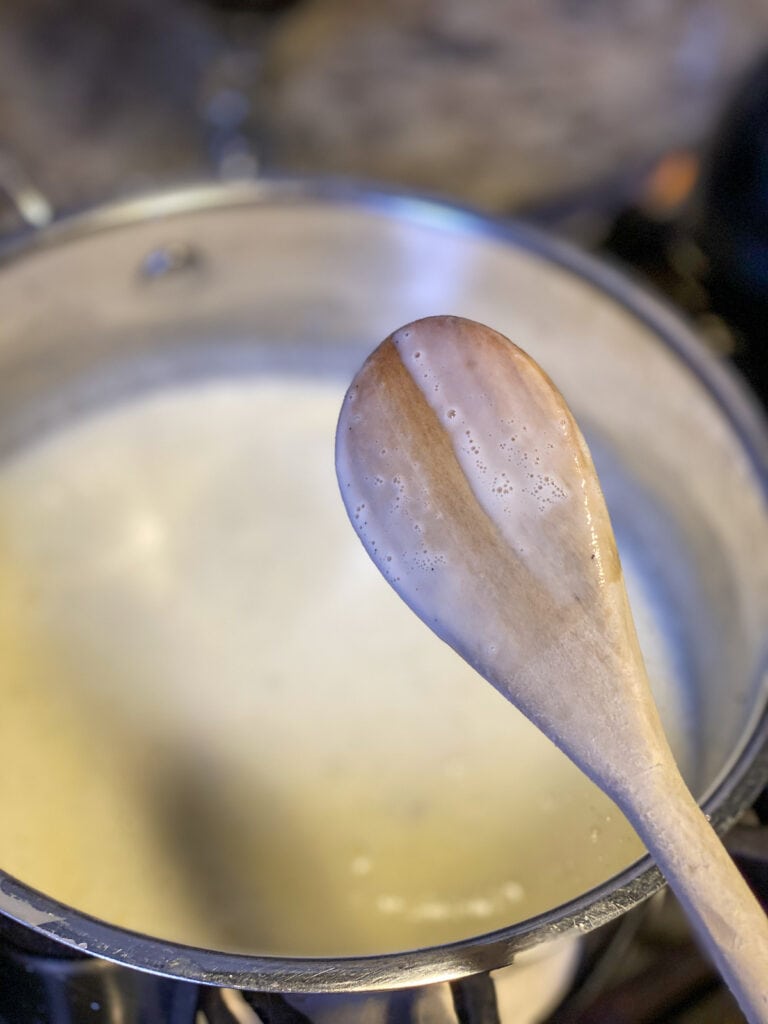 In order to be extra careful you don't have any little pieces of egg, pour the hot custard mixture through a sieve into a metal or glass bowl. Add the beer reduction, cover, and chill at least four hours or overnight before putting in an ice cream maker. Freeze in the ice cream maker for around 20 minutes adding a few tablespoons of beer toward the end. This allows fresh notes from the beer that highlight rounder undertones in the reduction. Remove and put the ice cream into a freezer safe container and freeze for at least 4 hours or overnight.
Mmm...beer reduction
The secret to making a beer based ice cream is the beer reduction. Just adding beer to the ice cream will produce ice cream that is too icy with a texture that is just plain off. However, making the reduction takes away some of the more delicate beer notes, so I add a few splashes unreduced beer at the end of the process to bring out the authentic flavor profile of the beer. It may sound odd to the uninitiated, but trust me the the combination of the reduction with some of the unadulterated beer is really complementary.
This Druid City North Porter Ice Cream doesn't disappoint. If you love coffee ice cream, you'll love this recipe. And, if you love Druid City's North Porter you'll love this recipe. So, it goes without saying, if you love ice cream and/or porter at all you'll love this recipe. Check it out and let us know how you like it in the comments!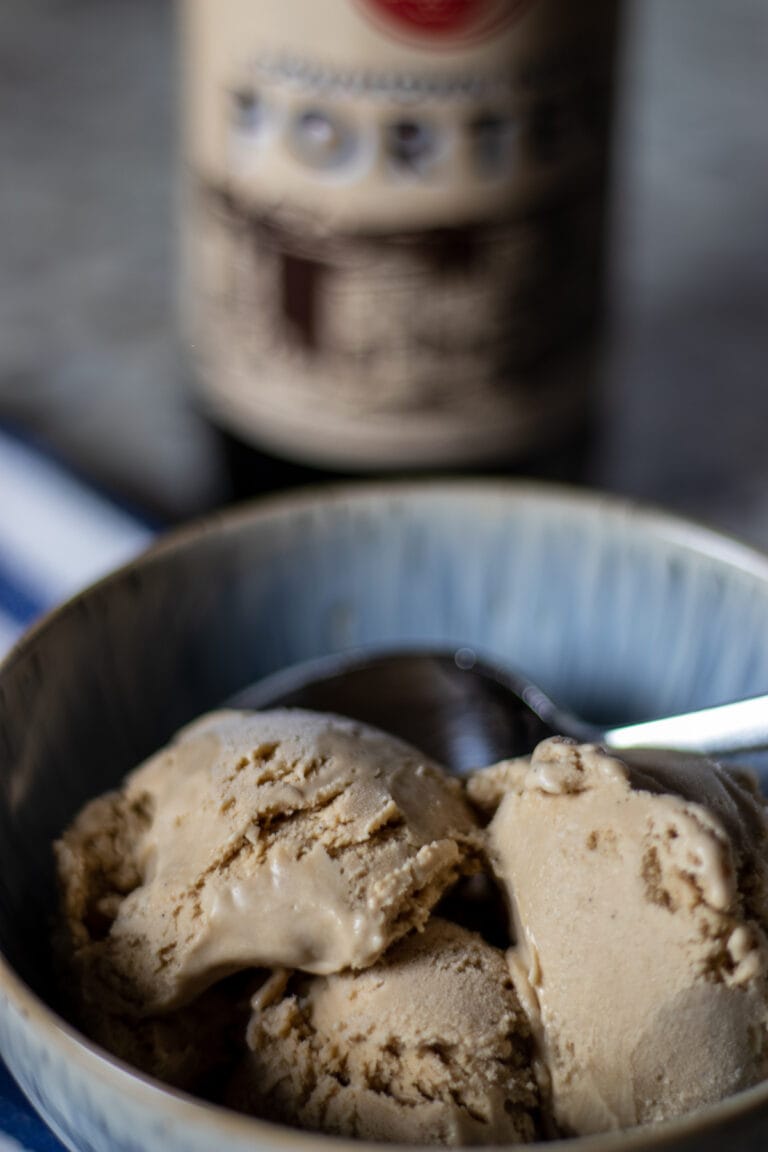 Ingredients
2

c

Heavy Whipping Cream

1

c

Whole Milk

½

c

Sugar

3

Eggs Yolks

reserve whites for another use

1

Vanilla Bean

or substitute with 1 tbsp vanilla extract

1

pn

Kosher Salt

1

c

Druid City North Porter

plus 2 tbsp reserved

2

tbsp

Brown Sugar
Instructions
Crack eggs and separate yolks from whites, placing yolks in a large mixing bowl. Reserve whites for another use.

Add 1 c of milk to the yolks and whisk until combined. Let this sit at room temperature as you proceed with the remaining steps.

Pour 1 c Druid City North Porter and 2 tbsps brown sugar into a small saucepan. Stir to combine, and bring to a boil on medium-high heat. Reduce to a simmer. Simmer until the mixture is reduced by half, about 20 minutes. Let cool while making the ice cream base.

If using, split the vanilla bean down the middle with a knife being careful to not fully cut through the bean. Use the back of the knife to scrape out the vanilla caviar (tiny seeds and pulp).

Combine the 2 c heaving whipping cream, the vanilla caviar (or extract), and the ½ c of sugar into a heavy bottomed sauce pan. Whisk ingredients and bring to a simmer on medium high heat. Simmer until all sugar is dissolved.

Temper the egg yolk and milk mixture by slowly adding the simmering whipping cream mixture to the bowl while whisking continously and vigorously. Return the contents of the bowl to the saucepan.

Place the sauce pan back on the stove. Add the pinch of salt. Bring the ice cream base (custard) to a simmer and whisk gently frequently for the first 5 minutes and then continously for another 10 minutes until it begins to thicken. Don't leave it alone! The ice cream base is ready to remove from the heat when you can draw a line on the back of a wooden spoon and it doesn't run.

Take the hot ice cream base and pour it through the sieve into a sealable container. This will catch any piece of egg that may have scrambled. Add the beer reduction.

Place the container into the refridgerator until chilled, at least 4 hours or overnight.

Place chilled ice cream into an electric ice cream maker. Add the 2 tbsps reserved Druid City North Porter. Mix until ice cream resembles soft serve around 20 minutes. At this point if you want it more that consistency you can eat it, but I generally place the contents into a freezer safe container and freeze overnight.
Nutrition
Calories:
423
kcal
|
Carbohydrates:
26
g
|
Protein:
4
g
|
Fat:
33
g
|
Saturated Fat:
20
g
|
Cholesterol:
210
mg
|
Sodium:
118
mg
|
Potassium:
123
mg
|
Sugar:
23
g
|
Vitamin A:
1362
IU
|
Vitamin C:
1
mg
|
Calcium:
112
mg
|
Iron:
1
mg