Hashbrown Casserole (or funeral potatoes) is an American classic. If you have a church cookbook it contains at least one version. This dish was on the back of frozen Ore-Ida diced potatoes when I was a kid. It even appears on the menu at Cracker Barrel. Most of the recipes I have seen have some critical flaws. And frankly, I think my version is better than Cracker Barrel's hashbrown casserole. There I said it.
Turn up the flavor
The first step to improving standard hashbrown casserole or funeral potatoes is to add more flavor. Potatoes are perfect flavor vehicles, and while fat and dairy are a great start, we can do better. First, in addition to black pepper, add some red pepper to the mix. It doesn't need to be spicy, but a little bit of heat really makes you appreciate the creaminess. Next, add some garlic. Garlic and a bit of spice go so well in potatoes I can't think of a reason you'd ever want to leave them out. Take a look at our roasted potatoes and you'll see this theme again.
The only thing crunchy should be the Corn Flakes
Potatoes are one of those foods that don't do underdone well. One of the downsides to starting the recipe with frozen potatoes is it can be hard to tell when they've cooked through. For years this was a source of conflict in our house. After taking the casserole out too early one time I've been paranoid of again having dense, raw feeling potatoes. We've worked out two great ways to avoid this issue. The first is to make this casserole the night before, minus the Corn Flakes, and let it sit covered in the fridge. Since we frequently make this as a breakfast or brunch side this has the added benefit of being mostly hands off the morning you're making it. The Second is by utilizing sous vide to cook and season the potatoes. More on that below.
This recipe does not contain onions. Not only do I think they're unnecessary, they usually detract from this dish. People never seem to cook them before adding them. This creates a raw onion taste that takes over. Since the onions seem to always go in raw they also end up al dente. Oh, the church potlucks of my youth when, in my exuberance, I piled my plate high with hashbrown casserole only to be met with the overpowering flavor and toothsome crunch of virtually raw onions.
But Cracker Barrel hashbrown casserole has onions some will cry! If you are insistent on adding onions, please do so sparingly, and cook them until translucent before you add them.
Gratuitous use of sous vide?
Most of you are probably familiar with Maslow's Hammer, or the concept that when you have a hammer, everything looks like a nail. Kitchen tools certainly fall into that category. From people making grilled cheese in an air fryer to the search for an answer to "will it sous vide?" Some would argue that my suggestion below is Maslow's Hammer on a culinary scale and gratuitous use of sous vide. I contend that it may be unnecessary, but the benefits it provides render it not gratuitous.
Please note, using sous vide as part of this recipe is not, by any means, a time-saving method. If you have an immersion circulator and would like to give the sous vide addition a shot add your potatoes, black pepper, red pepper, garlic, a pinch of salt, and a couple of tablespoons of butter to your preferred method of bagging. Place your bag of potatoes in your water bath at 150F for an hour or two. The potatoes will want to float so be sure to weigh them down using your preferred method. I generally use a carefully placed woodworking claim and a wooden spoon to hold floating food down.
Once your potatoes are done you can remove them and move on to making the rest of the recipe, or stick them in the fridge until you're ready.
Stir and bake
If you can open containers and stir, you can make hashbrown casserole/funeral potatoes. Combine your potatoes, sour cream, cheese, cream of chicken soup, black pepper, red pepper, and garlic to a large mixing bowl and stir to combine. If you used the sous vide method above you'll just need to mix the potatoes from your bag with cheddar cheese, cream of chicken, and sour cream.
Add your potatoes mixture to a greased 13x9 casserole dish. If you're not going straight to the oven, stop here.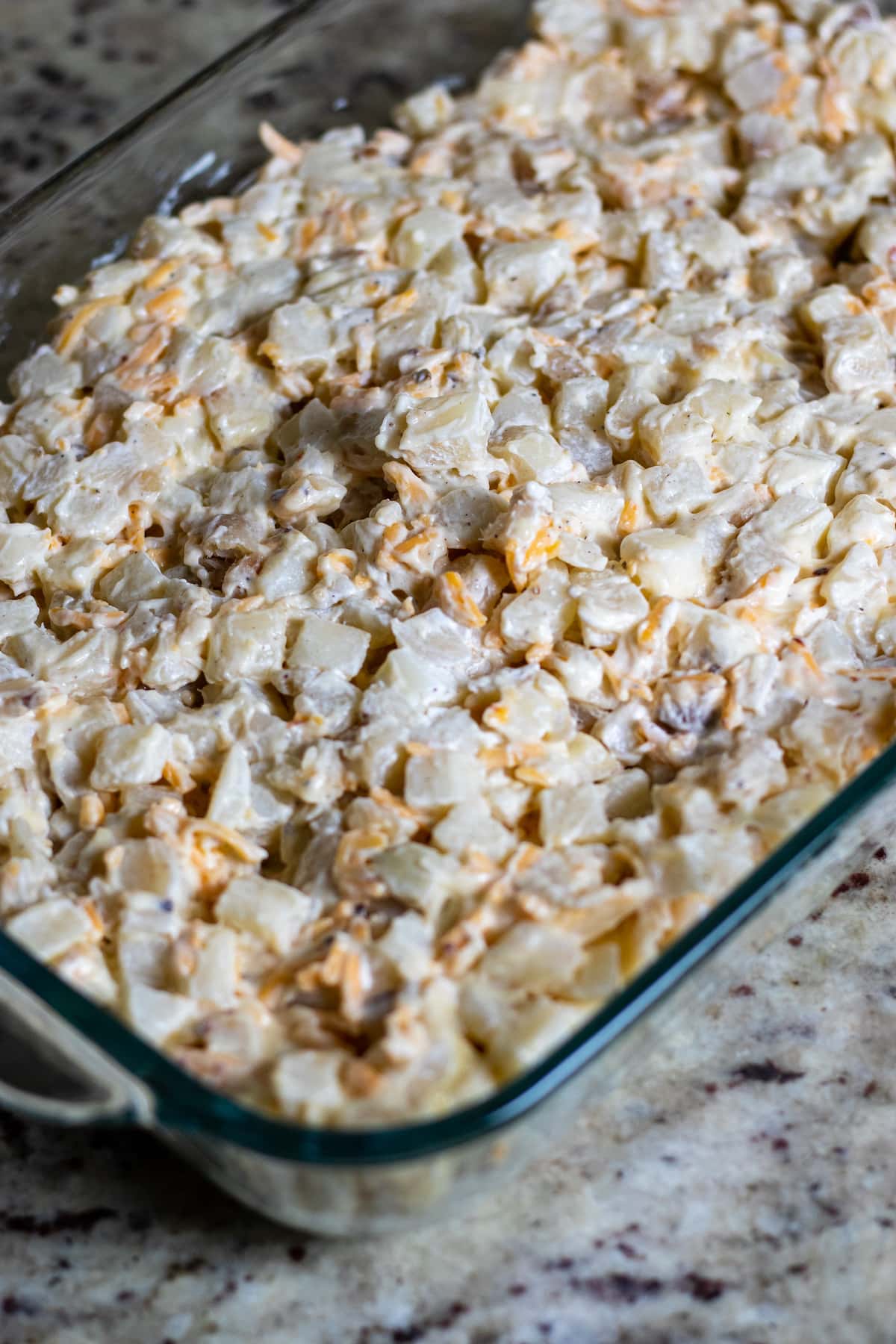 One last step
When you're ready to cook your hashbrown casserole top generously with Corn Flakes. I mean generously, I love the buttery crunch they provide and go for a full three to four cups of them. I also recommend shelling out the extra for name brand Kellogg's Corn Flakes, though they're not paying me to say so. Melt a stick of butter and drizzle over the top of the Corn Flakes.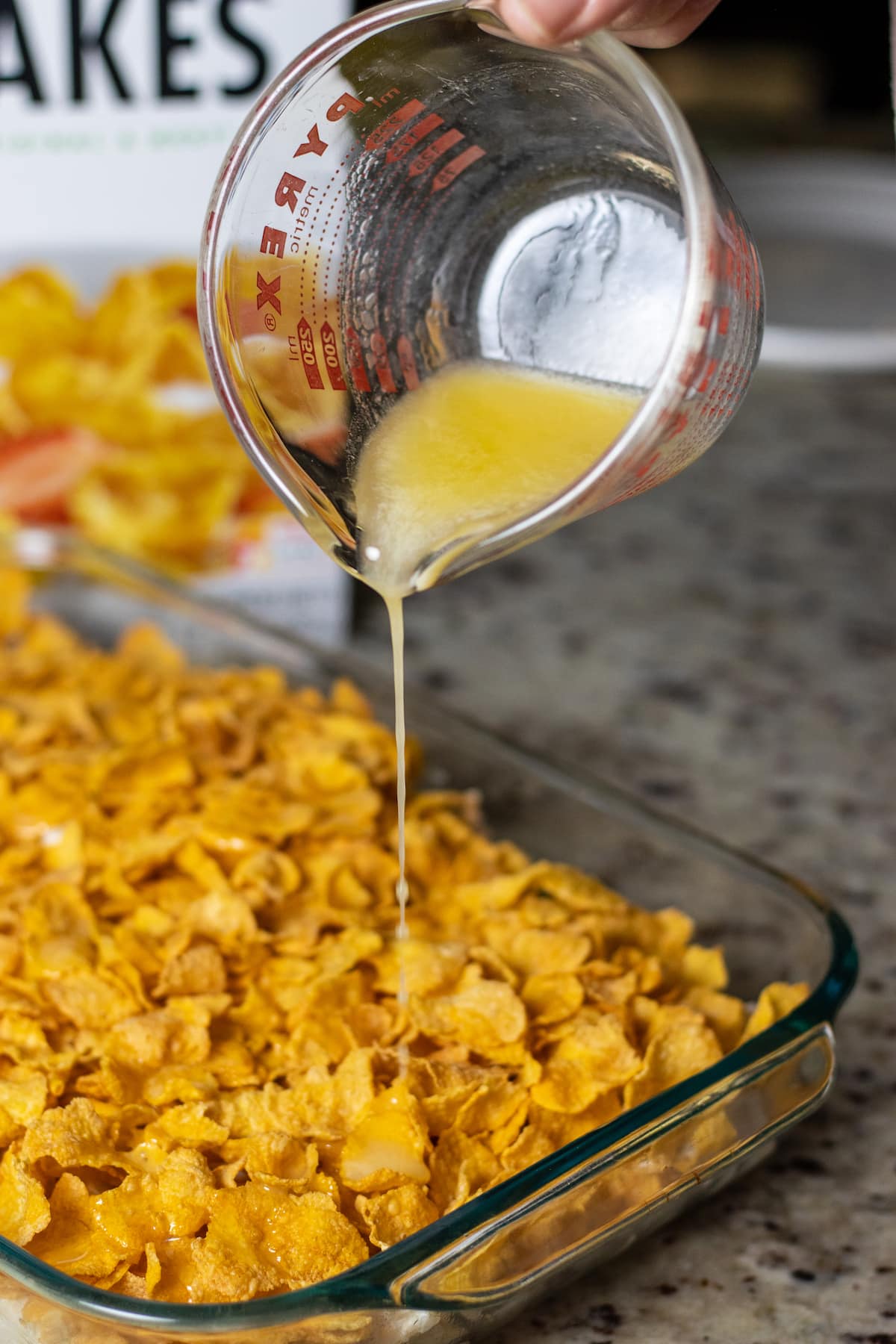 Place your casserole into a 350F degree oven for an hour to an hour and a half. You want to make sure the potato mixture is hot and bubbly and the Corn Flakes will get nicely toasted. If you decided to skip the overnight step and the sous vide step I recommend cooking this for as long as you can keeping an eye on the Corn Flakes. This casserole can be removed from the oven when finished and will stay warm for quite a while.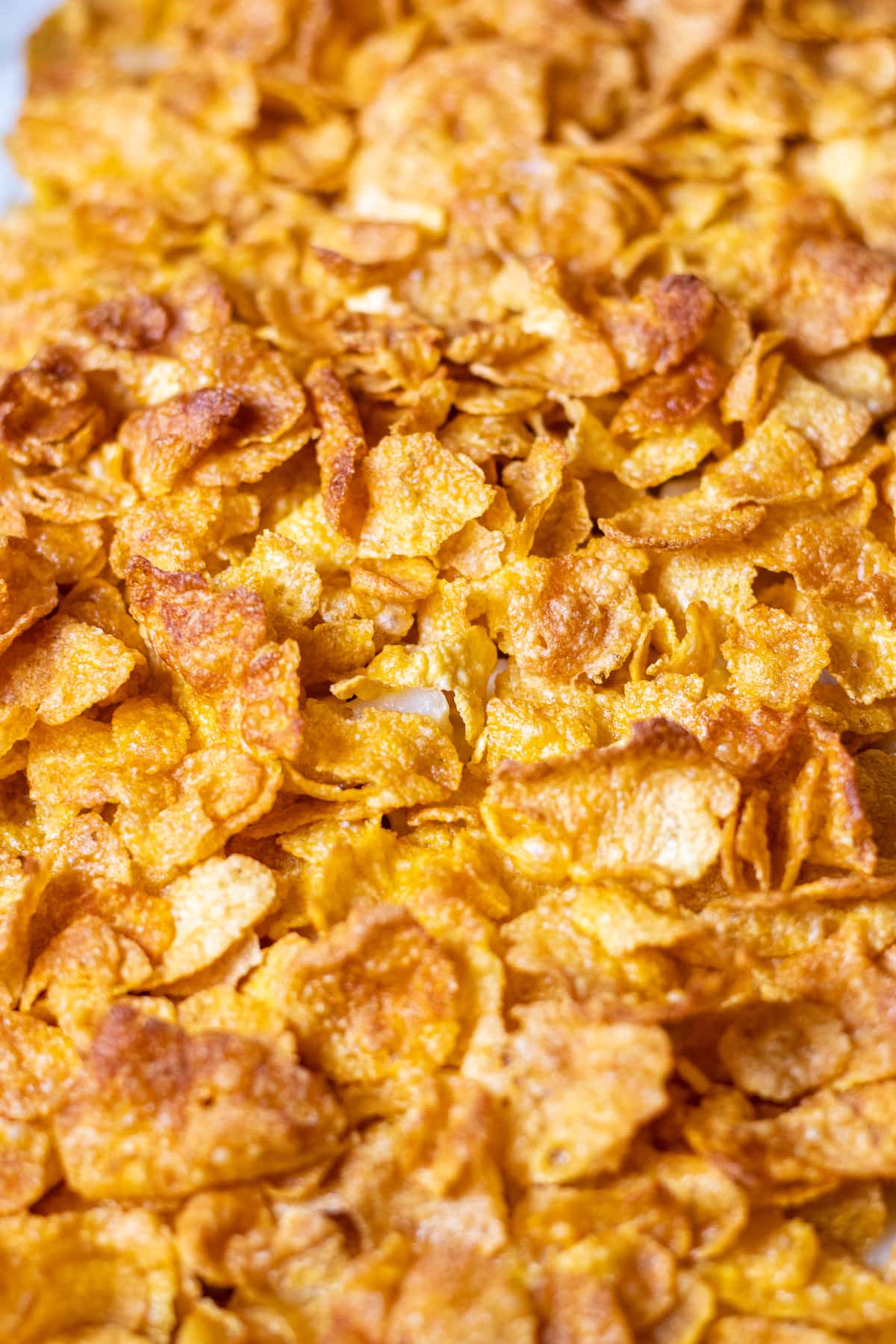 Reheating leftovers
Should you have any leftovers, this casserole reheats well if you get creative. You can reheat leftovers in the microwave, but know your Corn Flake topping will be soggy. You can also reheat in an oven-safe dish (adding extra Corn Flakes is a nice touch here), but it can be slow going. My absolute favorite way to reheat these is by scooping them into the middle of a waffle iron. Again, adding some fresh Corn Flakes helps. If you don't feel like fooling with a waffle iron, I recommend you scoop your leftovers into a nonstick skillet and mash them into a patty with a spatula. Cook on medium heat and flip after a few minutes.
Did anyone know these were called funeral potatoes?
I've spent 80% of my life living in Alabama, and the other 20% in Tennessee and Florida, so I acknowledge my southern bias. I assumed these were a southern creation and had only ever heard them called hashbrown casserole. That is until I looked up their origin to write this and learned of the popularity of this dish in the LDS church and discovered a large portion of the country calls them funeral potatoes. Let me know what you grew up calling these in the comments below and don't forget to follow us on Facebook!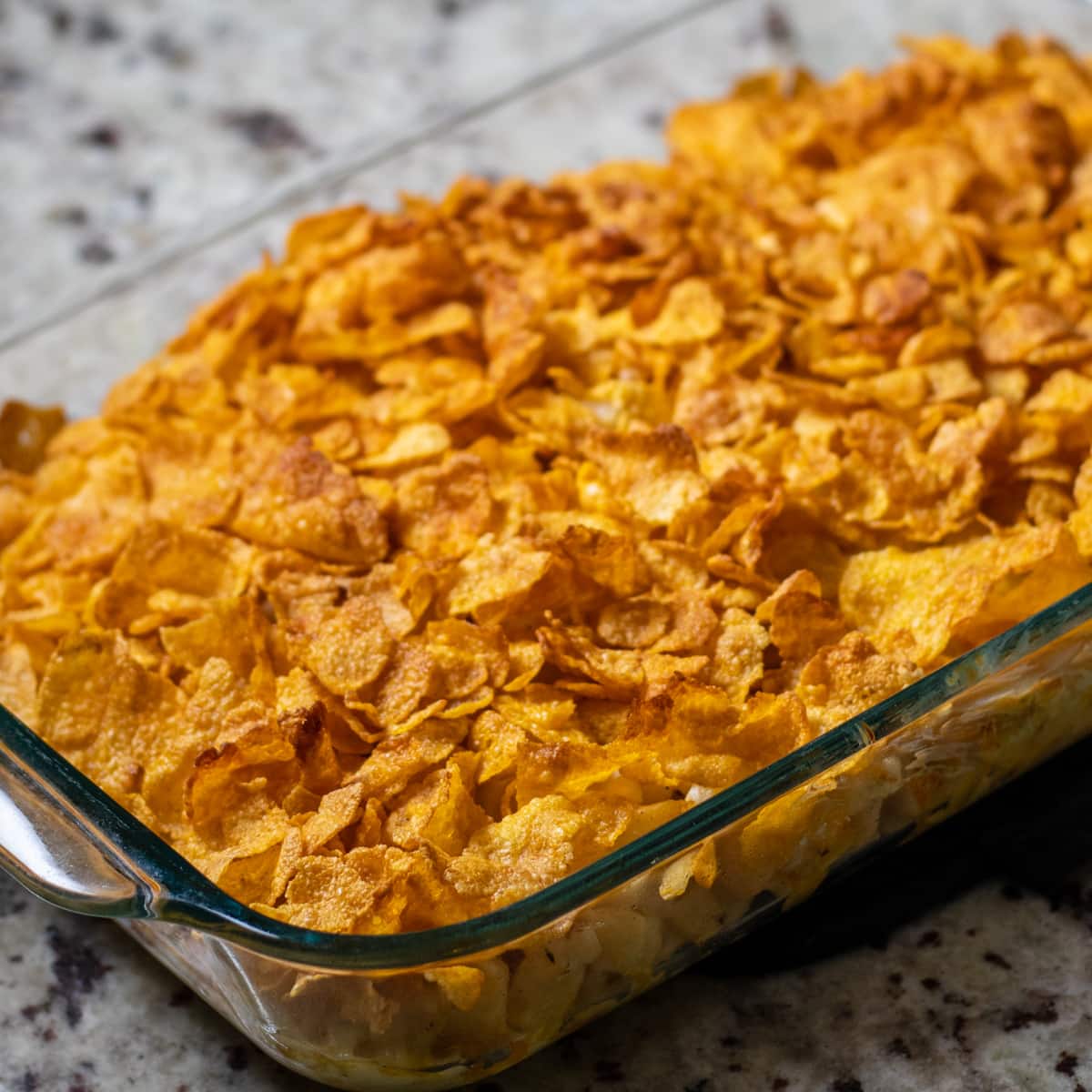 Equipment
Immersion Circulator such as an Anova (if using)
Ingredients
2

pounds

Hashbrown cut potatoes

frozen

1

can

Cream of Chicken Soup

½

cup

Sour Cream

2

cups

Cheddar Cheese

shredded

1

stick

Butter

melted

¼

tsp

Red Pepper

flakes or ground

½

tsp

Black Pepper

ground

2

cloves

Garlic

minced

3-4

cups

Corn Flakes
Instructions
Traditional Method
Combine all ingredients except butter and Corn Flakes in a large mixing bowl and stir until well combined.

Pour potato mixture into a greased 13x9 inch casserole dish, cover, and refrigerate overnight. If you can't refrigerate overnight, add 30 minutes to the cooking time.

When ready to cook remove cover and top liberally with Corn Flakes.

Drizzle Corn Flakes with melted butter and bake at 350 for an hour to an hour and a half until cornflakes have darkened and the potatoes are bubbling.
For Sous Vide Option
If making sous vide combine potatoes, red pepper, black pepper, and garlic above plus a couple of tablespoons of butter and a pinch of salt into a heat-safe Ziploc or vacuum seal bag. Seal according to instructions and place into a 150°F water bath for 60 to 90 minutes. It will want to float on you so be prepared to weigh it down.

Remove the bag from the water bath (you can refrigerate your bag if desired until ready to make) and combine with cream of chicken soup, cheese, and sour cream.

Pour potato mixture into a greased 13x9 inch casserole dish. If making ahead, stop here, cover, and refrigerate until ready to cook.

When ready to cook remove cover and top liberally with Corn Flakes.

Drizzle Corn Flakes with melted butter and bake at 350 for an hour to an hour and a half until cornflakes have darkened and the potatoes are bubbling.
Notes
You may notice I don't include onions in this recipe. Personally, I think onions totally wreck this dish. If you love the Craker Barrel version and insist on onions dice and saute half a small onion until transparent and add to the potato mixture.
Nutrition
Calories:
325
kcal
|
Carbohydrates:
27
g
|
Protein:
9
g
|
Fat:
21
g
|
Saturated Fat:
12
g
|
Cholesterol:
56
mg
|
Sodium:
431
mg
|
Potassium:
446
mg
|
Fiber:
1
g
|
Sugar:
2
g
|
Vitamin A:
786
IU
|
Vitamin C:
7
mg
|
Calcium:
195
mg
|
Iron:
4
mg